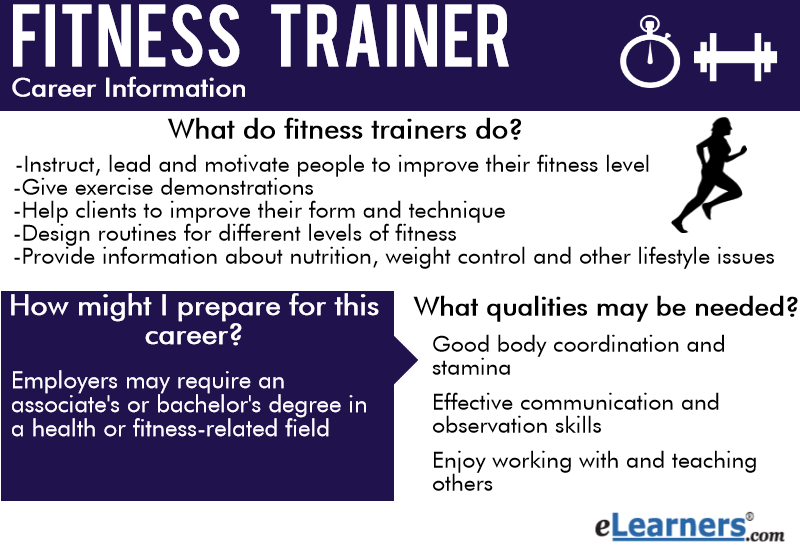 Fitness trainers instruct, lead and motivate people to improve their fitness level. This often involves giving exercise demonstrations, helping clients to improve their form and technique, designing routines for different levels of fitness, and providing information about nutrition, weight control and other lifestyle issues.
Personal fitness trainers tend to work with a single client or small group, whereas group fitness trainers lead and organize group classes. There are also specialized fitness instructors who teach moves and positions for yoga or Pilates.
What Are They Known For?
Good body coordination and stamina
Effective communication and observation skills
Enjoy working with and teaching others
What Is the Job Outlook for Fitness Trainers?
The job outlook for fitness trainers includes an expected growth rate of 13% between 2012 and 2022. [i] According to the Bureau of Labor Statistics:
"As businesses and insurance organizations continue to recognize the benefits of health and fitness programs for their employees, incentives to join gyms or other types of health clubs is expected to increase the need for fitness trainers and instructors." [i]
How Might I Prepare for this Career?
Although education and training requirements vary between employers, a growing number now require fitness workers to have an associate's or bachelor's degree in a health or fitness-related field (such as exercise science or physical education).[i] Coursework in these programs often includes topics such as nutrition, exercise techniques and group fitness.
According to the BLS, employers show a preference for certified trainers. The National Commission for Certifying Agencies (NCAA) is a good resource that lists accredited certifying organizations.
Which Online Degrees Might Support this Career Goal?
---
[i] http://www.bls.gov/ooh/personal-care-and-service/fitness-trainers-and-instructors.htm