88 Sponsored Online Programs Available
EducationDynamics maintains business relationships with the schools it features
Earning an Online Criminal Justice Bachelors Degree
Earning an Online Criminal Justice Bachelors Degree could help students pursue a career in which they may be able to make a real difference in their community and in the
world. Criminal justice work is far more than catching criminals. These professions often require empathy, great communication, good judgment, leadership, stamina, and strength, according to the BLS. If you're someone who likes to follow rules and help others do the same, earning an online criminal justice degree could be a great opportunity to pursue a career in the field.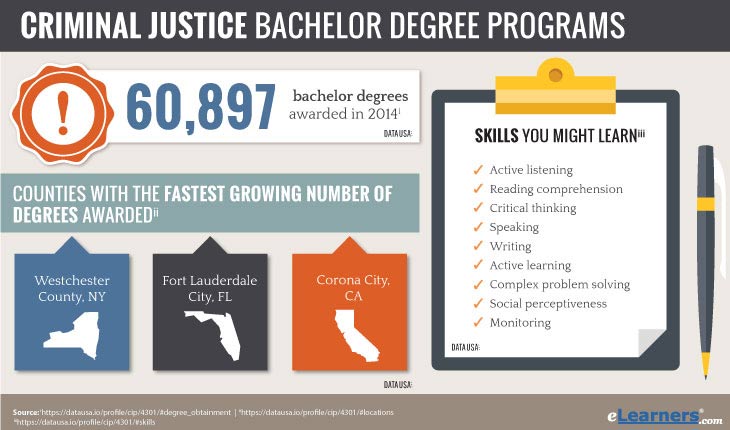 Enforcing criminal justice is the way societies uphold rules and regulations. The system in the United States is designed to prevent crime and to deal with those who break the law. The field of criminal justice includes three categories—police, courts, and correction—though many criminal justice professionals spill into all three areas of the system.
DID YOU KNOW? Though every person is presumed "innocent until proven guilty," a U.S. jury can never find a defendant "innocent." Instead, the defendant is found "not guilty."
What Potential Careers Can I Pursue with an Online Criminal Justice Bachelors Degree?
Earning an online Criminal Justice Bachelors degree could allow students to pursue careers such as federal or special agents,i probation officers, corrections specialists,ii forensic science technicians, fish and game wardens, and intelligence analysts.
In addition to median salaries ranging from police and detectives at $60,270vi to probation officers at $49,360 vii , some of these fields involve round the clock shifts and may include opportunities for overtime.viii
FUN FACT: In ancient times through the Middle Ages, exile, or banning someone from returning home, was a common form of punishment.i
Click To Tweet!

Online Criminal Justice Bachelors Degrees and Programs ~ Essentials
There are many online criminal justice degree programs that may put you on the right path to pursuing your career in the justice system.
Some online criminal justice bachelor's degrees from accredited institutions specialize in fields including juvenile justice, corrections and criminalistics, terrorism prevention, and emergency management. Many of these programs are entirely online courses of study.
Generally, online criminal justice bachelor's programs require a high school diploma or equivalent to get started. Then, there are typically four years of study to earn an online bachelor's degree in criminal justice. Program lengths vary by school.
The online criminal justice bachelors degree curriculum often delves into law and government, history, computer skills, and psychology. Also, in the field of criminal justice, students could hone in their active listening, social perceptiveness, speaking, critical thinking, and monitoring skills.
Just as cybercrime experts use technology for their professions, the Internet has allowed accredited educational institutions to provide online degree programs. Since computer skills are essential for some of these professions so an online degree could be a great way to start proving your meddle in the criminal justice field.
Be sure to do a little detective work. Seek accredited institutions to assure they have met quality and educational standards and a degree from these programs will be honored and valued by future employers.
The online option can provide flexibility for those who can't commute to classes on campus every day. These programs could open doors for people who live a country away from a college or university that is a great match, with the perfect program for them. It's also a great opportunity and a flexible option to keep you job while enhancing your career with an online criminal justice degree.
DID YOU KNOW? Studies have shown many suspects who are arrested have prior criminal histories. Those with a greater number of prior arrests are more likely to be arrested again .ix
Advanced Learning in Criminal Justice
A bachelor's degree in criminal justice can serve as a stepping stone for ongoing education. There are also many online master's and doctorate programs to help students reach their career objectives including leadership roles.
Masters and doctorate programs have several areas of focus including business administration, homeland security, cybercrime and security, criminology, crisis management, and social justice. The key is to search for a program that fits your interests and ambitions in the criminal justice realm.
Regardless, earning these degrees could lead to a rewarding and fulfilling criminal justice career, making your community and world a safer place. The only crime would be if you didn't take the first step and apply.
Learn more about how to get started earning your online criminal justice bachelor's degree by checking out the sponsored listings right here on eLearners!
---
[i]bls.gov/ooh/protective-service/police-and-detectives.htm#tab-4 [ii]bls.gov/ooh/community-and-social-service/probation-officers-and-correctional-treatment-specialists.htm#tab-4 [iii]bls.gov/ooh/life-physical-and-social-science/forensic-science-technicians.htm [iv]onetonline.org/link/summary/33-3031.00[v]onetonline.org/link/summary/33-3021.06[vi]bls.gov/ooh/protective-service/police-and-detectives.htm [vii]onetonline.org/link/summary/33-3051.01#WagesEmployment [viii]bls.gov/ooh/protective-service/police-and-detectives.htm#tab-3 [ix].bjs.gov/content/justsys.cfm