1-on-1 Interview with Kirby Lavallee 
Growing up, Kirby Lavallee always enjoyed helping people and going the extra mile to see them prosper. Little did he know this would turn into a successful career that would involve serving as a law enforcement officer, Deputy Sheriff, and then went into Investigations.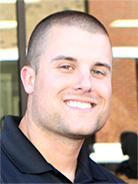 Once he decided that a career in law enforcement was for him, Lavallee earned his Bachelor of Science in Criminal Justice from the University of Central Florida and graduated with a Master of Arts in Criminal Justice Administration.
In 2010, he became a certified law enforcement officer in the state of Florida, which then allowed him to serve as a Deputy Sheriff for five years before starting his own business. During his time as a Deputy, Lavallee also became certified as a Drug Recognition Expert. Lavallee is also licensed as a private investigator in Florida and certified to carry a firearm.
Lavallee has served as an expert in articles on the topic of the legalization of marijuana and he conducts training sessions on the risks of impaired employees; general safety; and avoiding becoming a victim of crime. While serving as a Deputy Sheriff, he received numerous awards for DUI enforcement that were a direct result of his hundreds of detailed investigations that in turn led to successful prosecutions.
Enjoy our full interview with Kirby Lavallee for his insights on the ins and outs of the field of criminal justice and law enforcement in particular.
eLearners: Tell us a bit about how you got into police work.
Growing up, I was always interested in police work and luckily, I ended up meeting some guys on the force. In school, I found that some of my best mentors were deputies that I knew—they showed me the ropes and explained the challenges of the job. As I came close to graduating of high school I was torn between my passion for law enforcement of my love for cooking. I was offered a full scholarship to Johnson and Wales University for culinary arts but I ended up turning that down and decided to pursue a career as a law enforcement officer. After graduating, I was offered a management position with Valor Security Services, which I loved, but I always knew in my heart that I wanted to do law enforcement. Then, I was hired at the Hillsborough County Sheriff's Office.
eLearners: Is there a lot of overlap between your private investigations work and your work at the County Sheriff's Office?
There are a lot of similarities when it comes to private investigating and law enforcement. Many of the investigations I do now are the same types of things I did as a deputy. The difference is that now, I have more time to devote to cases than I did then. I still use many of the same skills and we work very closely with law enforcement officers—so my policing background has helped me be more effective on the job today.
eLearners: Could you describe a typical day on the job?
There really is no typical day on the job. Each and every moment is different. Different types of cases, people, and assignments. Every day brings something new and you have to adjust to change frequently.
eLearners: What's involved in becoming a certified drug recognition expert?
To be considered for Drug Recognition Expert certification, you have to be proficient in DUI investigations. You must have a solid foundation in the field sobriety exercises, be familiar with all signs of impairment, and be proficient in conducting investigations. Before you can apply to Drug Recognition Expert (DRE) School, you have to be recommended by two DRE's, a State Attorney, and your agency head. Once you're accepted, you will attend a vigorous and challenging two-week training class. During this time, you'll have to pass several tests and become proficient in various practical exercises. And at the end, you'll have to conduct your own drug evaluations and complete your final exam with a passing grade of 100%.
eLearners: Are there certain traits that you think help people be more successful—or more suited to—police work? How important is training?
The most important trait that someone should have is patience. In law enforcement, you will be tested each and every day by the public. You must be able to remain level-headed and work through a wide variety of situations. You should also be a "people person" and have great communication skills. I've found having the ability to make people feel comfortable makes a world of difference. And I think that this can't really be taught. Training is very important, but it will not prepare you for how to deal with people on a personal level.
eLearners: How have you seen the industry change since you first started out? Do you think police are now subject to more public scrutiny than they have been in the past?
I've seen several changes since I entered the field in 2010. Agencies are getting more restrictive on officers and there is more scrutiny. In addition, the nation as a whole has become less supportive of law enforcement due to recent national events. And officers are no longer backed by their agencies when things happen because the agencies are worried about how the public will view them. In the past, there were no body cameras or GPS units in police vehicles. Nowadays, police wear body cameras and the video is watched anytime there is an incident or use of force—and their vehicles are tracked. It seems like more police officers are afraid to do their jobs, because they know that they will be heavily scrutinized for their decisions. In some cases, police officers have made bad decisions, but this is not the case everywhere. Agencies around the nation need to realize that there are bad apples in every industry and avoid having kneejerk reactions.
eLearners: In your opinion, is this a good time to enter the field? Why or why not?
It is a rough time to enter the field because of the scrutiny police are currently facing. I think that it is only going to continue to get tougher in the near future. Putting the scrutiny and monitoring aside, it's becoming an increasingly more dangerous profession. Law enforcement has always been a dangerous job, but these days some people don't seem to think twice before killing a cop. There is less respect for what the men and women of law enforcement do to keep everyone safe. Additionally, agencies all around the country are understaffed and that increases safety risks for officers. If someone is considering entering the field, they have to 110% love the job, understand the different variables and risks involved, and have a passion for helping others.
eLearners: Do you have any other advice for students who are considering pursuing their criminal justice degree?
I always recommend that students explore their options. As with any field, you have to know what is out there—and take a look at the pros and cons. You also have to think about the long- term and where you see yourself down the road. It's important to choose a career path that will allow you to advance and give you flexibility to experience different assignments. There are so many jobs within criminal justice that it can be overwhelming at first. Really look into all of the options and choose what you really want—not just what is easiest. I would also strongly recommend reaching out to professionals within the field and getting their prospective on the job. Gaining inside knowledge is always helpful when it comes to making a good sound decision. And as always, make sure your heart is in it! In the field of criminal justice, you will have many trying days, but as long as your heart is in the job it's all worth it.
---
The expert interviewed for this article may be compensated to provide opinions on products, services, websites and various other topics. Even though the expert may receive compensation for this interview, the views, opinions, and positions expressed by the expert are his or hers alone, are not endorsed by, and do not necessarily reflect the views, opinions, and positions of [eLearners.com] or EducationDynamics, LLC. [eLearners.com] and EducationDynamics, LLC make no representations as to the accuracy, completeness, timeliness, suitability, or validity of any information in this article and will not be liable for any errors, omissions, or delays in or resulting from this information or any losses or damages arising from its display or use.