Private Investigators uncover facts and analyze information about legal, financial and personal information for clients. They typically work for individuals, attorneys and businesses (or run their own agency).  Private investigators spend the majority of their time gathering information through interviews, performing computer and records searches, conducting surveillance, investigating cyber crimes and doing background checks. Investigators may also go undercover to get information.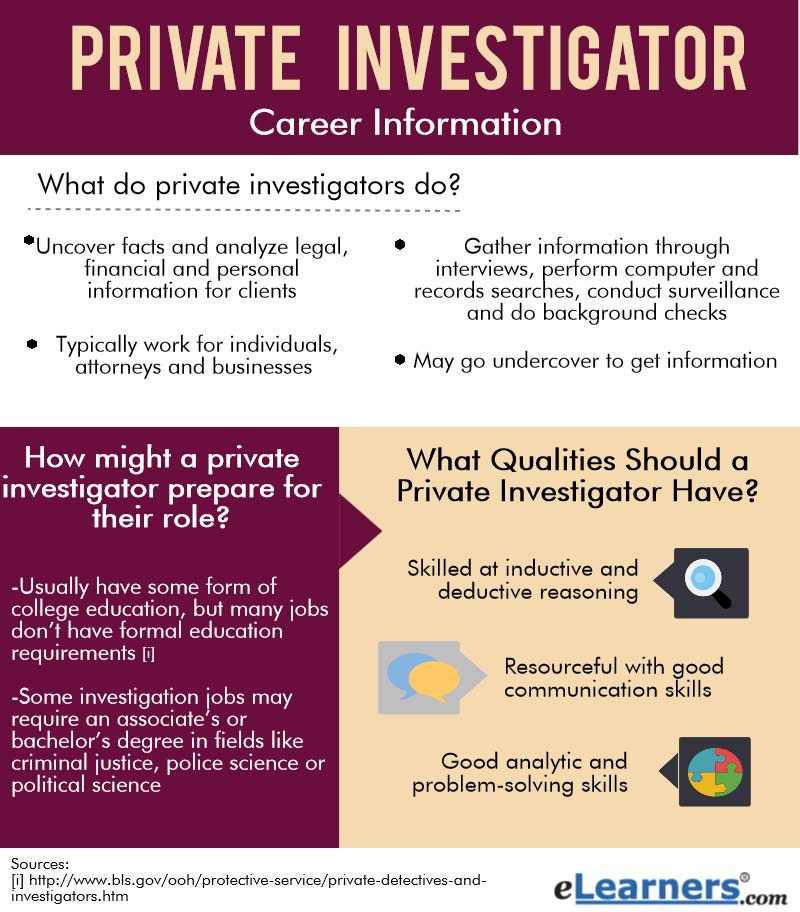 What Are Private Investigators and Detectives Known For?
Skilled at inductive and deductive reasoning
Resourceful with good communication skills
Enjoys analyzing information and problem-solving
What Is the Job Outlook for Private Investigators and Detectives?
Employment of Private Investigators is expected to grow by 11% between 2012 and 2022.  Candidates for these positions should see another 3,300  jobs added to the U.S. economy during this time period. The annual media pay for Private Investigators and Detectives is $45,740.[i] (Continue reading below)
How Might I Prepare for this Career?
According to the Bureau of Labor Statistics (BLS), private investigators usually have some form of college education but many jobs don't have formal education requirements (as a lot of the training is on-the-job). However, some investigation jobs may require an associate's or bachelor's degree in fields like criminal justice, police science or political science. [i]
If you're interested in becoming a corporate investigator, the BLS recommends a bachelor's degree with coursework in finance, accounting and business. Similarly, many computer forensic investigators need a bachelor's degree in a computer science, criminal justice or computer forensics.
Which Online Degrees Might Support this Career Goal?
---
[i] bls.gov/ooh/protective-service/private-detectives-and-investigators.htm#tab-6