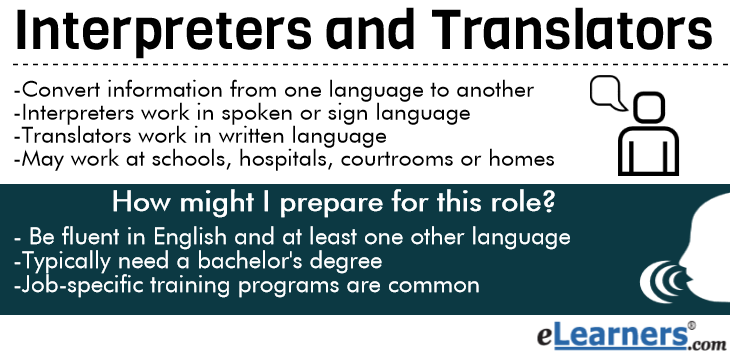 Do you have a knack for language and communication? Do you speak another language fluently? If so, you may want to consider a career as an interpreter or translator. Both roles involve for converting information from one language to another – interpreters work in spoken or sign language while translators work in written language. Schools, hospitals, courtrooms and conference centers are common employers for interpreters, while many translators work from home.
How Might Interpreters and Translators Prepare for Their Work?
The most important requirement for both positions is that you be fluent in English and at least one other language. Both interpreters and translators typically need a bachelor's degree, although majoring in a language isn't always necessary. Job-specific training programs are also common, particularly if you work as a court or medical interpreter or translator. While there is currently no universal certification for these jobs, there are quite a few different tests you can take to demonstrate ability. For example, the American Translator's Association offers certification for members in 24 language combinations.
What's the Average Salary and Job Outlook for This Career?
The annual median pay for interpreters and translators is $45,430. Between 2012 and 2022, the projected growth rate for interpreters and translators is 46% (while the average growth rate for all occupations is 14%).[i]
Which Online Degrees Might Support This Career Goal?
Employers often look for interpreters and translators who hold bachelor degrees, but these professionals don't always need to major in the language they hope to translate. Instead, it may be helpful for aspiring interpreters and translators to study the fields they hope to work in, for example finance, information technology, education, or international business.