2 Sponsored Online Programs Available
Earning an Online Degree in Technology Management
Technology management involves applying management skills to the discovery, development, operation and effective use of technology. You may have a variety of options to choose from when it comes to programs. And, earning your Technology Management Degree Online may be a great way for you to gain both the technical and business skills required to pursue a career in the exciting—and ever-changing—field of technology.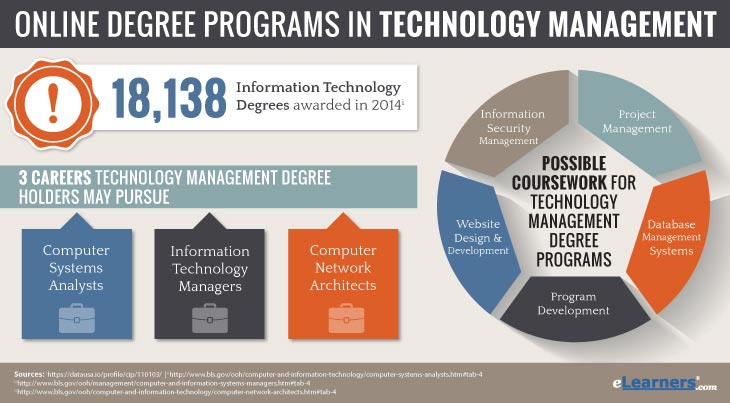 Did you know?

5 MBs of data weighed one ton in 1956. Yikes! Click To Tweet!
Essentials of Technology Management Degree Online Programs
Because there is a greater emphasis on cloud computing, continued expansion by businesses into digital platforms, and increased cybersecurity risks, the demand for computer and information technology professionals is only projected to rise. As to what you may get out of enrolling in an online technology management degree program, the specifics will vary depending on the degree level (more on that later), the type of program (think Bachelor of Arts vs. Bachelor of Science), and the school that you attend.
However, you'll receive training in both business—like finance, statistics, management—and technology—like programming, database administration, networking. The best part is that since your technology management degree program is online. So you'll have the flexibility to continue working—and fit your coursework within your busy schedule. And these days most online programs offer nearly the same coursework as campus-based programs. You're just going to interact with your classmates and professors online in a technology management degree online rather than in person.
How to choose a technology management degree level
You may find that a Technology Management Degree Online is available at both the undergraduate and graduate level. So you can choose from associate, bachelor, master, or doctorate-level degree programs. The type of degree program that you choose will really depend on your current level of education and your professional goals. For example, if you only have an associates degree but you're looking to earn your masters degree you'll first need to earn your bachelors degree. You get the drill! And if your goal is to pursue higher-level positions in technology management you may want to consider earning a graduate degree. At the end of the day it's really up to your particular wants and needs for a technology management degree online .
Cyber what?

A 15-year old successfully hacked NASA in 1999. Wonder what he's up to now… Click To Tweet!
Associates degree programs in technology management: An inside look
An online Associate of Science (AS) in technology management degree program may be a good fit if you want to get an introduction to field. In general, associates degrees in tech management typically take around anywhere from 2 to 4 years. This means 60 to 120 credit hours to complete depending on the program and school you attend. Because technology management is a more technical field you may be more likely to see AS programs rather than Associate of Arts (AA) programs. That's because AA degrees tend to have a greater focus on the humanities.
Some of the types of courses you may take in an associates degree in technology management program may include: intro to application development, computer platform technologies, fundamentals of information technology, and applied statistics. And earning your associates degree may also be a great stepping stone to help prepare you for…
Bachelors degree programs in technology management: The basics
When it comes to bachelors degree programs in technology management you may have a couple of different options. The two primary types of bachelors degrees are a Bachelor of Arts (BA) and a Bachelor of Science (BS). BA degree programs (like associates above) tend to focus more on liberal arts courses, while BS programs are more focused on the sciences –such as the field technology management.
The coursework for bachelors degree in technology management programs tend to combine business fundamentals—like accounting, statistics, and analytical problem solving—with information technology essentials like networking, security, database administration, and programming. Earning an online technology management bachelors degree may also be a good way to help prepare to take your education to the next level.
Masters degree programs in technology management: What you need to know
Master of Science (MS) degree programs are more focused on the sciences and the technical aspects of information technology. Whereas a Master of Business Administration (MBA) in IT management will balance a strong foundation in business management with technological know-how. This type of program may help prepare you to pursue positions such as IT manager or director of information technology.ii Regardless of the exact masters degree program in technology management that you choose, you can count on having to complete a thesis or capstone project. Finally it usually takes around two years to complete a masters degree depending on whether you're enrolled full-time or part-time and on your previous education experience.v
Doctorate degree programs in technology management: The highest level
The doctoral degree is the highest academic qualification you can earn in the country.vi The Doctor of Philosophy (PhD) program in technology management will focus on helping students conduct their own research in the field including topic areas like information security, IT and organizations, or data mining. Another option is a Doctor of Business Administration (DBA) in technology management, which may focus on helping students gain the practical skills and knowledge to come up with technological solutions to meet business needs. As part of any doctoral program you'll need to: complete the required graduate-level courses; pass entrance examinations in your chosen specialty; and propose, present, and defend your dissertation.
Who knew?

92% of the world's currency exists only on computers! Click To Tweet!
What's the structure of your online program?
This is an important consideration! That's because different online technology management degrees are—for lack of a better word—different. For example, synchronous courses generally mean you have to log in at a specific time and are basically taking your classes in real-time. While asynchronous courses may be accessed at any time during the day (since components are pre-recorded) so you tend to have some more flexibility in terms of when you log in. And the structure of online technology management degree programs—including required posts, discussions or assignments—will vary further depending on the school and tech management program you attend.
Other potential key benefits of online learning
Earning your degree online may also be beneficial if you tend to be on the shy side, as sometimes responding in a discussion boards is less daunting than speaking up in front of the class. We've all been there! On a related note, it's also important to remember that you won't be alone in your technology management degree online. You'll still have plenty of interaction with fellow students and professors, you'll just be using technology to do it. And, depending on the program you choose, you may also have access to resources to help you succeed in your studies—including online tech support, tutoring, libraries and even career counseling. So it is important to speak with someone from your prospective schools to get more information on exactly what types of support they provide to their online technology management students.
Take the next step now!
Check out our sponsored listings of colleges and universities that offer a wide variety of online technology management degree programs. You may see programs offered at different levels like Bachelor of Science in Business Administration – Information Technology, MS in Management – Information Technology, Master of Science in Computer Information Systems – IT Project Management, or Doctor of Business Administration – Management of Engineering and Technology. Click the Request Info button to learn more about your perfect degree program and get contacted by colleges today!
---
[i]bls.gov/ooh/management/computer-and-information-systems-managers.htm#tab-6 | [ii] bls.gov/ooh/management/computer-and-information-systems-managers.htm#tab-4 | [iii] ed.gov/about/offices/list/ous/international/usnei/us/associate.doc | [iv] ed.gov/about/offices/list/ous/international/usnei/us/bachelor.doc | [v] ed.gov/about/offices/list/ous/international/usnei/us/master.doc | [vi] ed.gov/about/offices/list/ous/international/usnei/us/doctorate.doc |