Some transfer students need financial assistance in order to fulfill their academic goals of earning a degree. While researching the different options for financial aid that may be available for qualified transfer students, perhaps you should look into your eligibility for transfer student scholarships. There may be scholarships for transfer students out there that are available to qualified, eligible students and which may help with school-related costs. Be sure to keep eligibility requirements and deadlines in mind when you consider applying for any transfer student scholarship.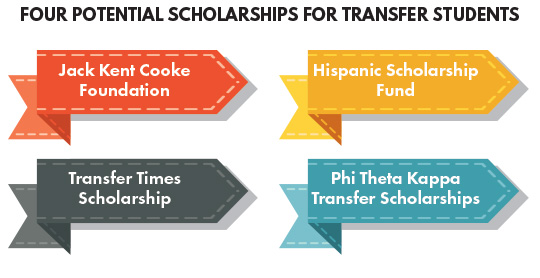 Transfer Student Scholarships
Jack Kent Cooke Foundation: This scholarship is for qualified students who are transferring from community colleges to top four-year universities. The total scholarship pool of $30,000 is awarded to 60 qualified students who are nominated. Because students cannot apply for this directly and must be nominated, transfer students should contact a representative in order to be considered for nomination for this scholarship.[i]
Hispanic Scholarship Fund - Community College Transfer Students: Among other criteria, students of Hispanic heritage who are transferring from community college to a four-year university or graduate school. This scholarship for eligible transfer students is merit-based and the amount awarded to the chose qualified students range from $500 to $5,000.[ii]
Transfer Times Scholarships: Transfer Times publishes a biannual magazine for transfer students with editions specifically for students in Iowa, Illinois, Indiana, Ohio, Michigan, and the Upper Midwest. Transfer Times conducts a scholarship contest in the amount of $1,000 and eligibility varies by region.[iii]
Phi Theta Kappa Transfer Scholarships: Phi Theta Kappa members who are transferring to enroll in a bachelor's degree program may be eligible for an award from this scholarship fund. Phi Theta Kappa Honor Society awards more than $37 million in total to more than 700 affiliated four-year colleges and universities. Eligibility and awarded amounts may vary by region and institution.[iii]
Tau Sigma National Honors Society Scholarship: Tau Sigma is an organization specifically geared toward transfer students and members who qualify may be awarded a transfer student scholarship.[iii] The chosen recipients in 2014 were awarded amounts ranging from $750 to $2,500.[iv]
If you or your family members belong to an organization or club, research whether they award scholarships for qualified transfer students or any scholarships to eligible college students in your major. It can't hurt to ask and it may alert you to other opportunities and ways which you can apply for financial aid for transfer students, if you qualify!
---
[i] usnews.com/education/blogs/the-scholarship-coach/2013/02/07/check-out-these-scholarships-for-transfer-students | [ii] hsf.net/en/scholarships/programs/ | [iii]usnews.com/education/blogs/the-scholarship-coach/2013/02/07/check-out-these-scholarships-for-transfer-students | [iv]tausigmanhs.org/scholarships.html