What is a Transfer Student?
Sponsored Programs Available
EducationDynamics maintains business relationships with the schools it features
You've heard the term before, but you may be wondering: what is a transfer student? A transfer student is someone who has earned credits for study at one school or institution but, for whatever reason, wants to go to a different institution and bring over the credits she or he has earned. Transfer students need to apply to the new school or institution they want to transfer to, and the applicant will need to provide, among other information, transcript(s) from previous academic performance and credits earned.
Different kinds of transfers[i]:
Vertical Transfer (or a traditional, forward, upward, 2/4): A student transfers from a two-year institution to a four-year institution.

Lateral Transfer: A student transfers from a four-year institution to another four-year institution or from a two-year institution to another two-year institution.

Reverse Transfer: A student transfers from a four-year institution to a two-year institution (this may include students who enroll temporarily, perhaps for a summer term).

Co-enrolled or Concurrent Enrollment: A student who is taking courses at an external institution while she or he is still enrolled in classes at another institution.
Being a transfer student is not the same as being a visiting student. While attending college, a student may decide to study at a different college for a semester or two, or go abroad to another country to study. This is not permanent and these are considered visiting students. A transfer student is one that is permanently leaving one school in order to attend another program, and needs to have any applicable credits transferred to their new program plan.
Reasons to Transfer Colleges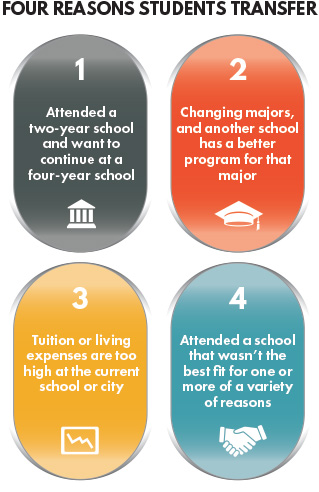 Why do students transfer? A student may have several reasons to transfer colleges and here are some examples:
You attended a two-year school and want to transfer to a four-year school.

You attended a school you thought was the right choice, but for personal, social, residential, economic, or academic reasons, it's not the best fit for you.

You're changing majors and another school has a better program for that major.

You, your family, or your spouse is moving and needs a school in your new location.

Tuition or living expenses are too high at the school or in the city where you're currently enrolled.

You're commuting and the location is too far or difficult to get to for classes.
Statistics about Transfer Students
If you're reading this, you probably have your own reason to transfer colleges. And whatever it is, you're not alone. Thousands of students transfer each year. We've compiled some statistics on transfer students.
Of the 2.8 million students who began their postsecondary education in the fall of 2006, approximately 1/3 transferred once or more before earning their degree.[ii]

50-80% of first-time community college students typically express a desire to transfer and earn a higher degree.[ii]

About 3/4 of transfer students who are enrolled in public two- and four-year institutions transfer to an in-state institution.[iii]

In the fall of 2006, the national average acceptance rate for transfer students was 64%, comparatively similar to the 69% acceptance rate for first-year students.[iv]
Schools with most incoming transfer students in 2013[v]:
RELATED ARTICLES
RELATED ARTICLES
- See more at: /transferable-courses/#sthash.0I2PZmkI.dpuf
What is a Transfer Student?
---
[i] nacacnet.org/research/transfer/Pages/The-transfer-process-defined.aspx |  [ii]  nacacnet.org/research/transfer/Pages/Transfer-is-Trending.aspx  | [iii] nces.ed.gov/pubs2014/2014163.pdf  | [iv] chronicle.com/blogs/headcount/on-transfer-studentstransfer-friendliness/23499 | [v] colleges.usnews.rankingsandreviews.com/best-colleges/rankings/most-transfers