That's right: there are basically only eight things that you need to do before you're ready to go back to school. The first three are ongoing things to work on: nothing you can master in a day, but worth pursuing and refining over time. The last five are one-time action items (mostly decision-making) that may require some soul-searching, but most likely, can be accomplished easily with some good, old-fashioned research.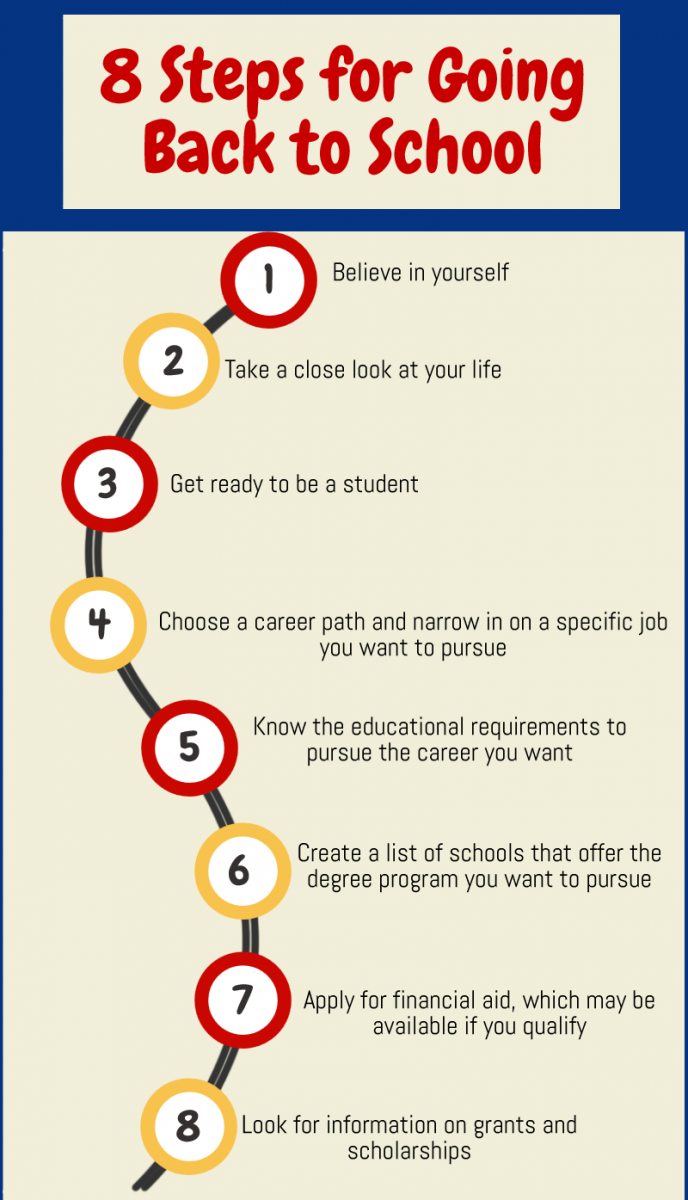 1. Believe in Yourself
The most important thing you can do for yourself is to have confidence in your abilities to manage work, family, AND school. If you have an innate belief that you are smart and capable enough, then nothing can stop you. Why? Because you won't let anything stop you and because you have a plan for success.
2. Take a Close Look at Your Life
Fact: There are only twenty-four hours in day. With such a busy agenda, you need to become very efficient. Examine your day-to-day schedule and determine when you can make time to study. Make a weekly, monthly, and long-term schedule as well. Review your household budget (you have one, right?) and figure out how much you can afford to pay for:
tuition and fees

textbooks

a new PC or laptop (if you can afford one — we definitely recommend it)

high-speed Internet connection (if you don't already have broadband — which we also strongly recommend that you have), etc.
Create an emotional support structure that works for you. Lean on friends and family to help you — you're a busy person. Take care of yourself by eating well, getting enough rest, and exercising. You will need all the energy you can get to be on top of your game.
3. Get Ready to Be a Student
You don't need to be a computer genius, but you do need to have a basic working knowledge of how to use your computer and the Internet.< Taking online courses means reading and writing, and a lot of it! Get in the habit of reading and practice those writing skills!> < Also, don't think the best (i.e. most successful) students magically know how to study — they have to work at it. You, too, can get ahead by learning strategies for taking good notes, how to do research for papers, etc.
4. Choose a Career Path and Narrow in on a Specific Job
Most likely, you already have an idea of the industry in which you want to work: information technology, education, healthcare, etc. Now you need to get focused and identify a specific job that really interests you. If you're not decided on an industry, take a free career interests test to identify some fields that you may not have considered. You might also benefit from using resources from a career resource center in your state. Each state has a center or organization dedicated to providing its residents with information about local industries, employers and even career training information.
5. Know the Educational Requirements to Obtain the Job You Want
Use the BLS Occupational Outlook Handbook to decide what level of degree (associate's, bachelor's, master's, etc.) and what field of study you need to pursue. Talk to folks who are already employed in your dream field to find out what their educational path was. Look at job listings to see what level of degree and majors are required or preferred.
6. Create a List of Schools that Offer the Degree You Need
Request free information from online schools, do research on the Internet, and make phone calls to get all the information you need. Compare the schools side-by-side.
7. Apply for Financial Aid
The biggest mistake is to not apply for financial aid. The FAFSA is a free application and worth the time to fill out. You will need a completed FAFSA to learn if you are eligible for federal, state, and institutional financial aid. Do not be afraid of student loans. Understand the difference between good debt and bad debt.
8. Look for Grants and Scholarships
Scholarships will not come looking for you! There's legwork involved, but scholarship hunting is definitely worth it. Search our list of scholarships.