15 Sponsored Online Programs Available
Online Degree Programs in Information Technology
Are you interested in a field that involves science, engineering, business, and—of course—computer systems?i Would you enjoy working with configuration management software, program testing software, and web platform software?ii Do you have good critical thinking, deductive reasoning, and information processing skills?iii If so, you may want to consider pursuing an online information technology degree —otherwise known as IT. Earning an online degree in information technology may be a great way to build the skills and knowledge you need to pursue a career in this ever-changing field. And, there's the added bonus of having the flexibility to fit your studies into your busy work or family schedule. If you're intrigued, check out some common questions and answers about IT programs below.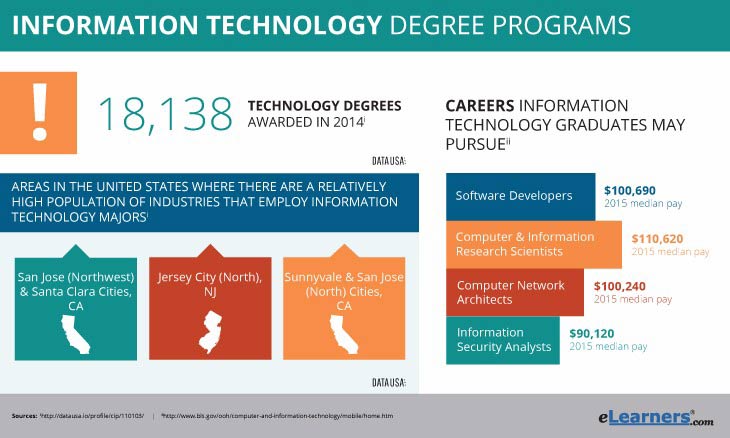 Still not convinced? Here are some more signs that IT could be for you:
You have to have the latest, greatest phone, computer etc.
You don't mind working evenings or weekends to meet deadlines or solve unexpected technical issues.
You don't even touch the instructions for your tech gadgets.
You have some knowledge of electric circuit boards, processors, and chips or general computer hardware and software.
You enjoy math, programming, or physics. For real!
TECH INDUSTRY INSIGHT
We asked professionals within IT: What do you love most about IT?
"I love the wide variety of IT careers! IT jobs pay top salaries and IT services risen to one of the top industry jobs. It's worth the hard work and time it takes to get a degree, the rewards are worth the hard work."

Click To Tweet!


-Diane Randall, MA, CHHC AADP
What are different degree levels of an online information technology degree?
When you start considering different programs, you may find that you can earn an informational technology degree at a variety of education levels, but the most common path is generally a bachelor's degree. That's because the majority of information technology positions—like computer systems analysts, computer and information systems managers, and computer network architects—generally require an entry-level education of a bachelor's degree in an IT or a computer-related field. But that doesn't mean that potential employers don't appreciate applicants who've earned a master's degree! We'll get to that in a minute.
Bachelor-level IT degree programs
If you're just starting out in the field—or have some experience—earning a bachelor's degree in IT may be a great way to enhance your knowledge and skills. Some examples of different types of bachelor-level degrees you may want to consider include a bachelor of science degree (BS) in information technology; a bachelor of arts (BA) in information technology; or a bachelor of information technology (BIT). It's important to remember that these programs (and titles) will really vary between schools, so you should speak to reps from your colleges of interest to get more detailed information on the specifics of each degree. Typically, online bachelor's degree programs may be completed in between three and four years. And, they can be a stepping stone to…
Graduate-level IT degree programs
Ready to master information technology? When it comes to the graduate level, you may be interested to know that certain employers in IT may prefer applicants who've earned a master's degree in business administration (MBA), with a concentration in information systems.vi And if you're interested in pursuing more technically complex jobs, earning a master's degree in computer science is also something you may want to consider.vii Another option to explore is pursuing a master of science in information technology. Regardless of the program you choose, earning a master's degree may be a great way to show that you've gained advanced skills and specialized knowledge in the field. In general, online master's degrees tend to take two years to complete.viii
Doctorate-level IT degree programs
Have you ever fancied yourself as a Ph.D.? If you decide that you want to pursue a job as a computer and information research scientist, you'll need to earn a Ph.D. in computer science or a related field like computer engineering.ix Keep in mind that this type of degree program usually requires four or five years of study after earning a bachelor's degree. And, during the first two years of a Ph.D. program, students usually take a variety of computer science classes and then spend their remaining time doing research within their chosen specialty.ix So it's not for the faint of heart!
What about online information technology degree specialties?
This is where you choose the area of study in information technology that really grabs your interest (and complements your skill sets). Here are some of the many different areas of specialization to consider.
Computer & Information Security
Become an expert on creating protective security solutions and disaster recovery plans.
Computer Programming
Learn a variety of programming languages and how they can help you with debugging to meet the needs of the end user or client.
Databases
Discover how to plan and implement solutions for data storage, back up data, and operations for data recovery.
Network Architecture and Design
Understand how to design and implement secure networks tailored to meet the needs of businesses and organizations.
Multimedia and Animation
Apply your creativity to the techniques and skills necessary to use digital media equipment and software.
Software Engineering
Use programming and design techniques to speed development and increase the reliability of modern software systems.
Telecommunications
Help shape the future of wireless networks, optical communications, and 21st-century computer and systems engineering.
Web Development
Utilize e-business marketing strategies in creative web design for animation, audio, and video using the latest software and applications.
What courses may students take in an online information technology degree programs?
As you see above there are variety of different types of degree programs and specialties to choose from. And as we've mentioned—repeatedly—coursework really does vary from school to school. With that in mind, here are some of the types of courses you may decide to take when you earn your online information technology degree.
Object oriented design
Database design and management
Information systems design
Operating systems
Cyber laws and ethics
Website design
Computer platform technologies
Technical communication
Network management
If you enroll in a graduate level or higher program, you may also be required to complete a final major project, capstone, or thesis as part of your degree. Another important thing to look into is whether or not there are any aspects of your coursework that may need to be completed either in-person or on-campus, rather than strictly online.
What are some potential IT careers after an Online Information Technology Degree?
Well, we've already mentioned quite a few! But before we get into that, did you know that the U.S. Bureau of Labor Services (BLS) reports that employment of computer and IT occupations is expected to grow by 12% (which is faster than average) from 2014 to 2024x? Not only that, the BLS projects an increase of 488,500 new jobs in the same time period, due in part to increased demand for things like cloud computing, collection and storage of big data, and mobile computing.x
Now let's get back to three careers in IT that you may want to look into.
Computer network architects are responsible for designing and building data communication networks including local area networks (LANs), wide area networks (WANs), and intranets. That can include anything from small network connections to cloud infrastructures. The 2015 median annual salary for this role is $100,240—and the job outlook from 2014 to 2024 is 9% growth.xi
Computer systems analysts study an organization's computer systems and procedures, and then design information management systems solutions to make them more effective. They also have the task of helping the business and IT sides work together to meet each other's needs. The 2015 median annual pay for this role is $85,800—and the job outlook from 2014 to 2024 is 21% growth, which is must faster than average.xii
Computer and information systems managers (or IT managers) are like the gatekeepers of computer-related activities in an organization. This means they help to determine the information technology goals and then implement computer systems to meet them.xiii The 2015 median annual salary for this role is $131,600—and from 2014 to 2024 the job outlook is predicted to be 15%, which is must faster than average.xiii
Now, these are just some of the many different career paths you may pursue after you earn your online information technology degree, some others include: database administrator, software developer, computer and information research scientist, computer programmer, computer support specialist, or computer and information security analyst.
How do you make it happen?
We make it easy! Just check out our sponsored listings of schools that offer online information technology degree programs. You can also narrow your search by area of interest and degree level. And, then just reach out to the schools that seem like your best fit to request more details about their programs. Good luck!
---
[i] onetonline.org/link/summary/15-1121.00?redir=15-1051.00 | [ii] onetonline.org/link/summary/15-1121.00#ToolsTechnology | [iii]onetonline.org/link/summary/15-1121.00#Skills [iv]bls.gov/ooh/computer-and-information-technology/home.htm [v]ed.gov/about/offices/list/ous/international/usnei/us/bachelor [vi]bls.gov/ooh/computer-and-information-technology/computer-systems-analysts.htm#tab-4 [vii]ed.gov/about/offices/list/ous/international/usnei/us/master.doc [ix]bls.gov/ooh/computer-and-information-technology/computer-and-information-research-scientists.htm#tab-4 [x]bls.gov/ooh/computer-and-information-technology/home.htm [xi]bls.gov/ooh/computer-and-information-technology/computer-network-architects.htm [xii]bls.gov/ooh/computer-and-information-technology/computer-systems-analysts.htm#tab-1 [xiii]bls.gov/ooh/management/computer-and-information-systems-managers.htm#tab-1