You might find several colleges that offer colorful Web sites, attractive tuition prices, and quick degree options, but unless these schools are in line with your career goals, they are not good choices for you.
Understandably, money is an important factor to most students. Time commitment is a concern for many people, too. Believe it or not, though, online students should be considering other factors first. What are those more important factors?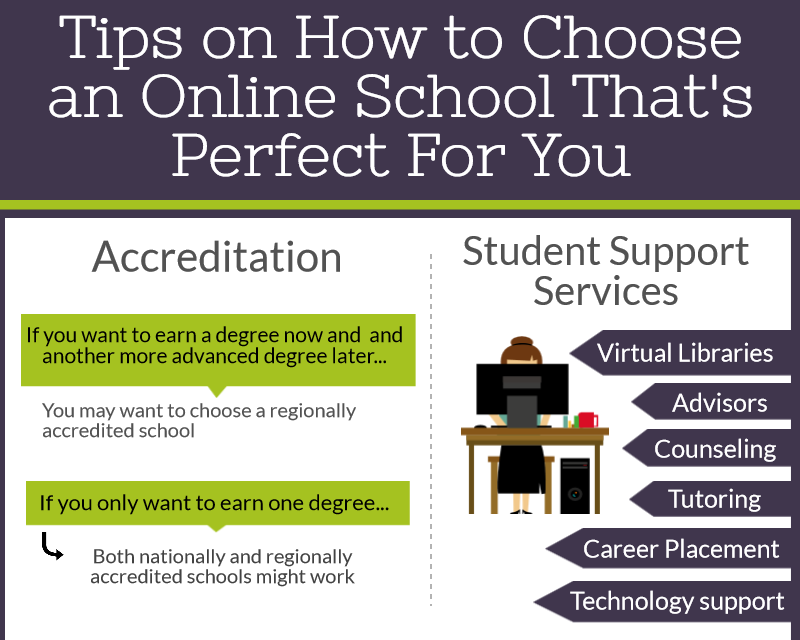 State-Approved for Licensing
If your career requires a professional license, you need to find a college that is approved by your state's board of licensure or accredited by the necessary professional organization. Examples of such careers include: teaching, nursing, psychology, and law. Approval varies from one state to the next. Make sure you contact the appropriate office, in the state where you plan to work, and ask about qualifying degree programs.
Tradesmen — like plumbers and electricians — also need to earn licensure in most states. But unlike nurses, teachers, and psychologists, they can usually qualify to take the state exam just by completing enough hours of training and course work. Usually, states do not pre-approve the specific colleges or vocational schools they can attend.
Regionally Accredited
If you're interested in earning one degree now (like an associate's or a bachelor's), but you know that your career will require an advanced degree later on, it's important that you choose a college that is regionally accredited.
Some schools are nationally accredited, while others are regionally accredited (you can view the differences and similarities here). Generally speaking, regional accreditation is not better or worse than national. But regionally accredited degrees are more often recognized by 4-year colleges and universities — the types of colleges that offer bachelor's, master's, and doctoral degrees.
If you're only concerned with getting one degree, this issue won't impact you. And nationally accredited schools offer a wide selection of certificates, career training, and degrees — often in a streamlined format that caters to working adults with specific occupational goals.
But again, students should carefully consider their long-term plans before committing to a degree that can't be built into a higher credential. If you think you might one day want or need a higher degree from a regionally accredited school (including public universities and "name brand" colleges), you should limit your school search to regionally accredited colleges.
Scheduling Flexibility
Many traditional colleges only offer 2 start dates: 1 in the fall, and 1 in the spring. Students are locked into a strict semester schedule, which prevents them from graduating early, or working at their own pace.
Online schools, by contrast, are designed to accommodate working professionals. Many offer multiple start dates, all year round, so eager students can get on track immediately. Online semesters are often shorter than traditional semesters. Instead of taking 4 classes at once, for 14 weeks, students might take 1 or 2 courses at a time, for 8 or 10 weeks. The same amount of class time is dedicated to each course, but online schools' expanded resources allow them to work from this more efficient model.
Some online schools offer self-paced courses. Self-pacing allows students to complete assignments at their own leisure, instead of struggling to meet strict due dates. And although there is a long-term deadline for completing these courses, students are free from the weekly pressure to test and contribute or else risk grading penalties.
If your schedule is especially complicated, you probably want to limit your college search to schools that offer scheduling flexibility. It's important to be realistic about your family life and work hours. Unless you're certain that you can complete regular course work, and study at regular intervals, you don't want to risk your GPA on a traditional schedule college.
Student Support Services
Online schools often charge the same tuition or higher tuition than campus-based schools. As a prospective student, you might wonder where that money goes — especially since there are no lawns to mow or dormitories to repair.
The answer is simple: online schools put their extra money towards student support services. Most offer comprehensive technology support, virtual libraries, tutoring, counseling, even career placement.
Many traditional schools provide similar services, but the scope and efficiency are hardly the same. Online schools have the capacity to check in with individual students on a weekly basis. Advisors know you by name, and take a personal interest in your course-by-course progress.
To some students, this might sound unnecessary. But many online students credit their support services with helping them to persevere through tough classes and stressful assignments. If you are not an independent learner, and you lack the ability to self-motivate, you probably want to focus your college search on schools that guide their students with hands-on support services.
Reputation
There are thousands of colleges in this country. Hiring managers can't memorize them all. And most don't bother to try.
Even if employers tried to rank applicants' college degrees, they'd have a hard time comparing schools from different regions, with different specialties, and different philosophies. Aside from the obvious top-notch Ivy League schools, college reputation is a very subjective quality to measure. And students' reasons for attending certain schools (scholarships, sports interests, family needs, etc) don't necessarily represent their intellectual or professional capacities. In other words, most students don't attend the most prestigious college they could have entered.
Still, if you're entering a competitive field, you can probably improve your chances of success by focusing your college search on highly-recognized schools. Financial advisors, consultants, and accountants are the professionals most often cited in this category. General business professionals are also sometimes concerned about school reputation, but experience in an industry can override a less than popular school name.
The other good news is that, thanks to distance learning's popularity, there are plenty of premier options for online degree seekers. You can study completely online, and still graduate from a highly prestigious school, like Drexel University, NYU, Northwestern, UMASS, or Fordham.
If a program suits all your other needs, but lacks a strong reputation among your coworkers and superiors, you can also find ways to supplement the school name. By joining a high-profile professional organization or getting your work published in an industry journal, you can beef up your credentials with the big names and titles that people in your sector value.
Choosing a College if You Don't Yet Have a Career Goal in Mind
Choosing the school that's right for you is secondary to the question of choosing a career goal that is right for you. Too many students latch on to a school or a degree program without forming a complete plan. Down the road, they are surprised to learn that they need a professional license, or that jobs in that field are scarce in their community, or that they don't enjoy working behind a desk.
If you do not have a career goal in mind, do not start searching for a college or university. Instead, follow these steps:
Find Your Passion
Choosing a career goal is a lot like choosing a partner or a spouse. You need to share the same values, interests, lifestyle, and long-term plans. You also need to have a passion for your work. So ask yourself, "What do I love to do?" If you're not sure, ask other people who know you well. Sometimes we're blind to our own best talents.
Be Willing to Dream
Don't dismiss career goals (yet) just because they seem too difficult or far-fetched. If your dream is to become a Grammy-winning music artist, you may have to adjust your plans a little, but you should work from the same root passion. Music can tie into many careers. Would you enjoy working as a music teacher? What about as a digital recording professional or a media producer?
There will always be people who have more experience than you — no matter what industry you choose. The way to succeed is to genuinely care the most.
Know the Facts of Your Career Goal
Once you have a career goal, investigate the career requirements. How do people in that field acquire those jobs? Do they need a bachelor's degree? A master's degree? A doctorate? Do they complete on-the-job training? Do they have to pass a test or earn a state license?
Are You Willing to Put in the Time?
Once you know what's required, it's time to make some decisions. Let's say you've just discovered that lawyers must attend 4 years of college, plus 2 years of law school, plus pass the bar exam. Are you willing to study for 6 years? If so, good for you! You can now move on to your college search. If not, you need to revise your career goal.
Time spent in school isn't the only factor to consider. Some career goals require a lucky break. For instance, if you want to become a successful actor, comedian, fashion designer, or writer, schooling alone can't guarantee your success. Are you willing to wait for an opportunity? To work odd jobs in the meantime? Or do you want a steady career, straight out of college?
Other careers require schooling plus reputation building. For example, you can't just graduate with a political science degree, and expect to be elected governor. Similarly, most chefs don't graduate from culinary school and expect to run a high end restaurant. Jobs in real estate, sales, event planning, and small business start-ups share these same criteria. If you want a competitive paycheck straight out of college, you may have to redefine your career goal.
Once you're confident in your plans, you can start comparing schools and colleges, based on how well they accommodate your specific needs.