American higher education is well regarded throughout the world. The United States currently hosts half a million foreign students, more than any other country. But it's not always practical for foreign students to travel internationally to study, whether because of visa issues, family responsibilities, or simply disinclination to come to the United States. In that case, becoming an e-learner is a great way to enjoy the benefits of an education from an American school while still remaining comfortably at home.
Many foreign students considering applying to a school in the United States have an additional consideration. They have some credit from a university in their home country that they would like to transfer to the American institution, or they have a bachelor's degree from a university in their home country and would like for it to be recognized to qualify them for admission to an American master's degree program.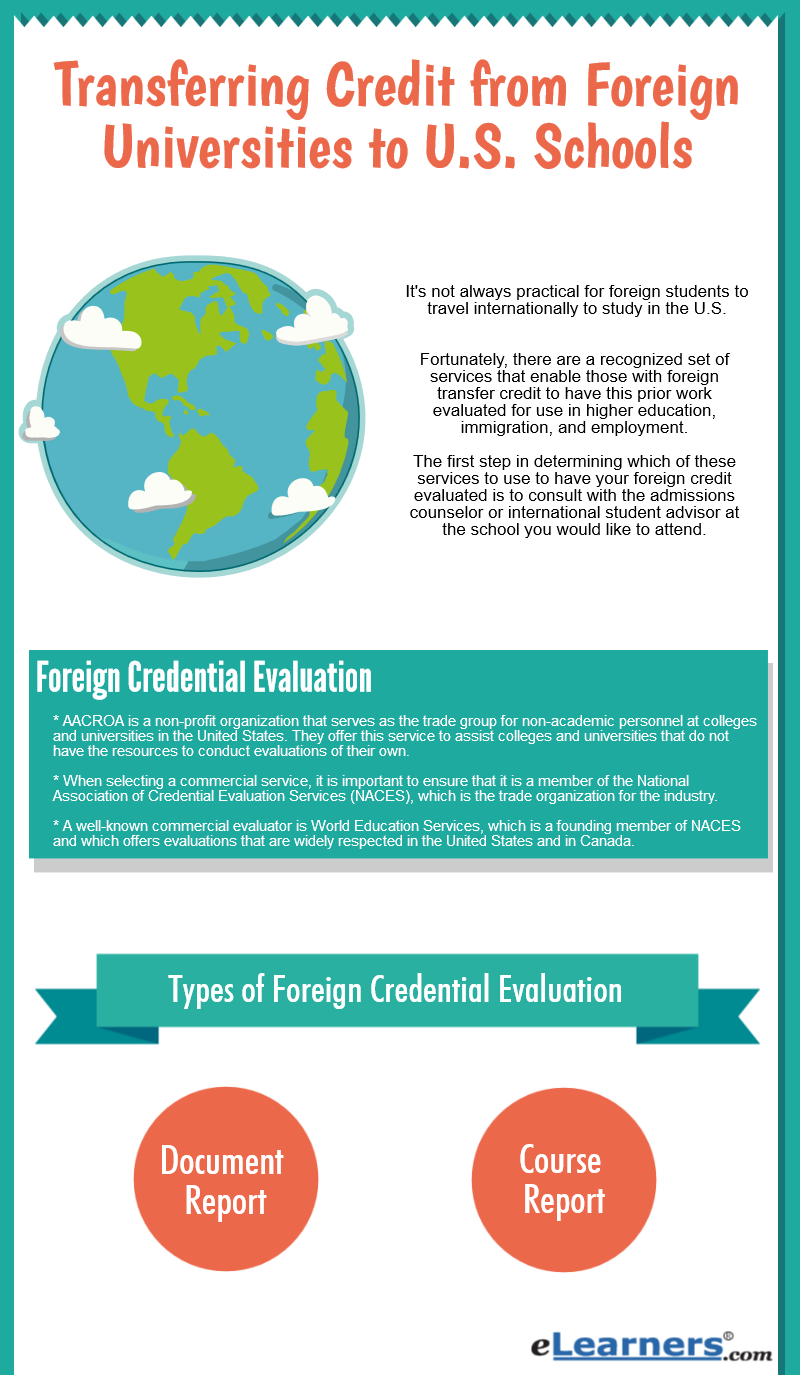 Fortunately, there are a recognized set of services that enable those with foreign transfer credit or foreign credentials to have this prior work evaluated for use in higher education, immigration, and employment. The first step in determining which of these services to use to have your foreign credit evaluated is to consult with the admissions counselor or international student advisor at the school you would like to attend. This person will be able to recommend a specific service whose evaluation the school will respect. Larger universities may be able to evaluate your credentials themselves. Others will recommend a third party service to whom you will send your credentials for evaluation.
Foreign Credential Evaluation
One of the best known of these third party services is the foreign credential evaluation service of the American Association of Collegiate Registrars and Admissions Officers.
AACROA is a non-profit organization that serves as the trade group for non-academic personnel at colleges and universities in the United States. They offer this service to assist colleges and universities that do not have the resources to conduct evaluations of their own.
There are also a number of commercial services offering foreign credential evaluation. Many are excellent, but you should be aware that some of these services are better recognized than others. When selecting a commercial service, it is important to ensure that it is a member of the National Association of Credential Evaluation Services (NACES), which is the trade organization for the industry.
The best known commercial evaluator is World Education Services, which is a founding member of NACES and which offers evaluations that are widely respected in the United States and in Canada.
Types of Foreign Credential Evaluation
Typically, these services offer two types of reports. The first, sometimes called a document report, is more useful for foreign applicants to master's degree and other graduate programs. This report simply confirms that a degree you've earned elsewhere is equivalent to one earned at a regionally accredited university in the United States. This report is also useful for employment and immigration purposes.
The second type of report is sometimes called a course report, and is more useful for those who are seeking transfer credit. In a course report, your transcript is carefully evaluated and each course is evaluated as the equivalent of a generic course such as would likely be found at an American college or university.
Please note that the services of foreign credential evaluators are in high demand, and it often takes some time for your report to be complete, sometimes as long as several months. If you plan to apply to a number of different American universities, you may wish to consider having evaluations done by both AACRAO and WES, so that when you need a report sent to a new school, all you have to do is ask them to send a copy of your existing evaluation, which they can do much more quickly.
In Conclusion
As a final note, don't underestimate the amount of transfer credit you may earn in the U.S. for the work you've done abroad. For example, many foreign students are surprised to find that A-levels can be worth a significant amount of university credit.
Also, many students assume that credit from a university in the developing world will not be recognized in the United States, but nothing could be further from the truth. Universities are accustomed to working with foreign students and scholars, and many professors who teach at American universities were originally from other countries and have degrees from schools in every corner of the world, sometimes from online colleges or from self-paced online college courses programs as well.