Whether you want to make a difference in your community, to flex your leadership chops and build your resume, odds are strong that careers in nonprofit administration could have what you're looking for.
Nonprofit careers could offer experience in a variety of sectors, even outside the immediate job description. That means you could put diverse experience on your resume, while working to improve the lives of the people in your community.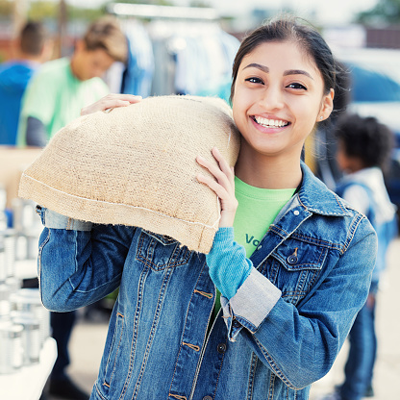 What Is Nonprofit Administration?
The term "nonprofit administration" refers to organizational and leadership roles in nonprofit and social services organizations. Basically, it means using your business, leadership, and creative skills to help a nonprofit function as efficiently as possible and to help as many people as they can.
People working as nonprofit administrators may hold a variety of different job titles. The Bureau of Labor Statistics (BLS) refers to these types of roles as "social and community services managers."
However, the job title you end up with is likely to be something different. This would probably be informed by the type of organization you're working for, your level of seniority, and your area of responsibility.
Types of Nonprofit Organizations & Careers
Careers in nonprofit organizations are likely to vary, from areas of expertise to the type of community you're working to serve. That said, you might be able to predict a little bit about what you might experience based on the types of social services organization you're working with.
The IRS defines 27 different types of nonprofit organizations. Each one is classified based on the type of service they provide.
However, the majority of the organizations you're familiar with are probably classified under 501(c)(3). These are often public charities or private foundations designed to meet the need of a specific population within the local or national community. This includes:
Religious Organizations
Education Related Nonprofits
Charitable Organizations
Scientific Nonprofits
Literary Nonprofits
National and International Amateur Sports Competitions
Organizations related to cruelty to animals or children
However, that's not an exhaustive list. Other common of nonprofit organizations not included in that category are:
Civic Leagues
Social Welfare Nonprofits
Chambers of Commerce
Business Leagues
The organizations in your area are likely to vary depending on the needs of your community and the people who live there. However, each one may rely on the skills of a nonprofit administrator. Whatever type you end up working with, organizational and leadership roles are likely to call on a diverse array of skills, interests, and experience.
Nonprofit & Public Administration Degree Programs
It may be possible to pursue a career in nonprofit administration with all different professional and educational backgrounds. However, if you already know you want to work with nonprofits, a degree in public administration may be helpful.
Public administration degree programs combine the organizational and analytical aspects of business management programs with policy and social welfare, helping to create a foundation of skills that may be useful in all different social services organizations.
At the masters level, several common degree types include:
Master of Public Administration
Master of Science in Nonprofit Management
Masters in Nonprofit Leadership
Additionally, other types of programs like education, MBA, and organizational leadership masters programs may offer concentrations in public or nonprofit management.
Below, we've listed a few examples for you to consider.
American University: Online Master of Public Administration and Policy
The Online Master of Public Administration and Policy at American University is designed to prepare students to be leaders on both sides of public service: managing nonprofit organizations that help individuals and families, and influencing policy to help communities on a government level.
American University's School of Public Affairs is highly ranked, earning the 19th spot on US News & World Report's list of best Grad Schools for Public Affairs. Their specialties offered by the school are also highly ranked. Studying online, you could become part of this widely recognized program on your own schedule—without giving up the career you love.
American's online MPAP program is designed to be completed in approximately two years, though individual students may choose to work at different paces. The faculty overseeing your coursework are also published researchers, involved with influential government-funded policy research, and work with think tanks and organizations that help shape legislation.
To apply to programs in the School of Public Affairs, you'll need to demonstrate practical experience in addition to your academics. They say they look closely at your personal statement and reasons for applying. You'll also need GRE scores, though in certain situations, these might be substituted for another test or waived altogether.
University of Delaware: Online Master of Public Administration
The University of Delaware offers an Online Master of Public Administration (MPA) program through their School of Public Policy and Administration. This interdisciplinary program is designed to foster a broad skill set, preparing students for potential leadership roles in a variety of nonprofit and public service settings.
Students may have the opportunity to study legal and policy issues as they impact social welfare, public programs, and nonprofit organizations, while also honing the business, management and leadership skills necessary to guide a public or nonprofit organization, as well as in government.
The University of Delaware Online MPA program can be completed in around 30 months, though you may choose to work at a different pace. While the University of Delaware does not have specific professional requirements to apply, they do consider the nature and quality of any and all professional or volunteer experience as an important part of your application packet.
University of the Southwest: MBA in Public Administration
The University of the Southwest offers Public Administration education through its MBA program. The MBA program at USW could be completed in as little as a year, with potential credit being awarded for professional experience, military training, and other factors. Best of all, it's designed to be convenient, accommodating your schedule while supporting your needs.
The Public Administration specialization combines the management and leadership skills of an MBA program with the government, policy and legal knowledge you might need in the public sector or in a nonprofit organization. This includes the unique aspects of personnel management in government and public organizations, the ins and outs of fundraising, and more.
The University of the Southwest uses a fully online rolling admissions policy. While a bachelor's degree is a prerequisite, it does not necessarily need to be in a related field, such as business. To learn more, reach out to the program or request more info here.
Northcentral University: MS Organizational Leadership in Public Administration
Northcentral University offers a Public Administration specialization within their MS Organizational Leadership program. This program is offered fully online, and could be completed in as little as 16 months. NCU also offers weekly start-dates, meaning you could begin at a time that work for you, without waiting for a new semester. Courses are also asynchronous, to better accommodate your lifestyle.
In addition to the general leadership and strategic skills honed studying organizational leadership, students could learn how those skills may be applied in public, social services, and nonprofit settings. This potentially includes working with local, state, and federal government, in areas like budgeting, personnel management, urban planning, policy, and interfacing between public and private sector.
To apply to NCU, students must complete an online application and furnish all supplementary materials, including official undergraduate transcripts. Potential students must also undergo an evaluation to determine eligibility, transfer credits, and other factors.
Liberty University: MA in Public Administration
Offered fully online, the MA in Public Administration at Liberty University is designed to support current and aspiring leaders in government, public and nonprofit organizations. It's offered through the Helms School of Government.
Topics covered in Liberty's MPA program include policy analysis, public organization management, economic development, and more. Liberty also offers several unique tracks within their public administration program, designed to address specific needs or career paths within that category. Options include:
Business and Government Policy
Disaster Management
Healthcare
Law & Public Policy
Public and Non-Profit Management
To apply to the Liberty University Online MPA Program, potential students typically must provide official transcripts reflecting an accredited bachelor's degree with sufficient academic achievement. Professional experience and admissions test scores are not currently listed as requirements. However, this is subject to change. For more information on required and recommended application elements, request more information here or contact the school.
Things to Remember About a Career in Nonprofit Leadership
Public and nonprofit leadership is a broad field—as diverse as the communities you serve! If you're still preparing to take your first steps into this exciting field, keep in mind these tips.
Keep Your Goals In Mind. You're most likely entering this field for a reason. You want specific professional experience (e.g. management), or are driven to help a specific population in need (for example, children with special needs). Whatever it is, make sure you consider this goal and the tools you'll need to achieve it, and focus your efforts to cultivate that tool kit.
Seek Opportunities for Experience. Whether in a professional or volunteer context, experience counts. Many masters programs even consider experience as part of your graduate school application. And even if they don't, getting your hands dirty could help you to contextualize the concepts you study in your online classroom.
Cultivate Diverse Skills. Remember, being a leader in nonprofit organization often means wearing a lot of hats. While you might have some idea of your ideal career path, odds are you'll find yourself responsible for a lot of different things. A broad set of management and analytical skills could help prepare you for all different possibilities.
Focus on What's Important. Whatever your motives, skills and experience, your organization—not to mention you—is there for a reason. To help others, help your community, and to champion an important cause.
Find Online Nonprofit Administrator Degree Programs
If you're looking for an online degree program to support your goals in nonprofit administration, look no further. If the examples above aren't quite what you're looking for, fill out the form to get matched with programs, or use the menu to select your preferred degree level and subject and review your options!