Legendary football coach and business executive Vince Lombardi once said, "Leaders aren't born, they are made."  As President of SkillPoint Consulting, a firm specializing in talent development and employee performance, Marsha King has built an entire business around the same premise: that leadership isn't an exclusively inherent trait, but instead one that can be developed through coaching, support and the right set of tools.

As a human resources expert, King has worked with several Fortune 500 corporations and organizations, including Nortel, Steelcase, Whirlpool and the U.S. Postal Service.  When she isn't working with companies to maximize their employees' potential, King can be found speaking at human resource conferences, writing articles, and co-authoring human resources education books, including The Complete Guide to Training Delivery: A Competency- Based Approach and Mastering the Instructional Design Process.
King's extensive human resources education is also a testament to her expertise.  After receiving her Bachelor's degree in Business Administration with a concentration in Human Resources from Ohio State University, King continued her education at Pennsylvania State University, earning a Master's degree in Education with a concentration in Instructional Design and a doctorate in Education with a concentration in Organizational Development. 
Additionally, she has received several certifications in her field, including the Executive Coaching Certification from Georgetown University; a Change Management Certification from University of Virginia, Darden College of Business; and a Negotiation and Influence Skills Certification from Harvard University.
Human Resources Education - Unique Insights
In our interview find out how King's education, certifications and real-world working experience have helped shape her career as a human resources and leadership consultant today.
What led you to the Human Resources Development field? Did you possess any characteristics that you found came in handy at the start of your career?
I got into HR because I wanted to combine my drive for helping people with my occupation.  I knew I couldn't support myself by chasing my passion (helping people in need) so I went into a career that seemed most closely aligned with this.
Did you hold any past positions that have played a significant role in where you are today?
While all of my positions have led me to where I am today, I have to say that my position at Capital One as the head of Leadership Acceleration was probably the most instrumental in getting me to where I am today.  It was at Capital One that I got exposure to very talented people and also to very senior clients within the organization.  This also helped me understand how to use a more analytical approach to accomplish my work.
How are the Human Resource Development (HRD) programs at Northwestern and George Washington University structured and what makes them unique compared to other programs?
The Northwestern and George Washington HRD programs a different from other programs in that they provide a strong theoretical foundation for the field but also a very practical curriculum that equips learners with best practices and skills that they get to practice.  Students have the opportunity to work with "real world" clients coaching, consulting and solving real problems.  They come out of these programs ready to go into a practitioner role. 
What alternative tracks or concentrations within the major do you think students should seriously consider as they plan their careers?
There are several avenues for someone in HRD.  Becoming a specialist in Talent/Performance equips people for many roles.  They can lead Performance Management, Training/Development, Organization Development, Instructional Design, Talent Management, Succession Planning and many more.  It really is endless.  Organizations are looking for people that can help them elevate the talent in their organizations.
How has your Human Resource experience helped you at jobs in differing industries, such as when  you were at Capital One and the U.S. Postal Service? 
I find that many HR skills are transferable across industries.  Most organizations, including Capital One and the U.S. Postal service are constantly trying to recruit, retain, motivate and develop talent.  They do this to varying degrees but the interventions are often the same.  This shouldn't discount the need for industry knowledge –this is still critical to success.  But, the core needs are generally the same across industries and if you can develop people in one industry, you should be able do this in most industries. 
As compared to your undergraduate degree, how did earning your masters degree or doctorate degree prepare you for your professional journey?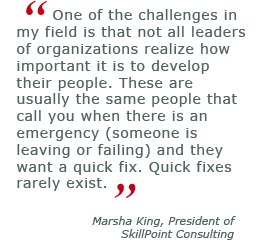 Undergraduate degrees are usually a "broad brush" of knowledge that enables you to work in a specific field.  A master's degree is a "deep dive" in a specific area.  A doctorate is for someone that wants a strong theoretical foundation in their field or industry. 
My bachelor's degree gave me broad business knowledge.  My master's degree gave me a deep dive in how to create development interventions for people and organizations.  My Ph.D. gave me a theoretical understanding of the field and an ability to add analytical rigor to my work through research.
What are some challenges that someone in your field may face?
One of the challenges in my field is that not all leaders of organizations realize how important it is to develop their people.  These are usually the same people that call you when there is an emergency (someone is leaving or failing) and they want a quick fix.  Quick fixes rarely exist.  Development should be thought of as a long-term strategy in which to recruit, retain, motivate and develop people.
Is there anything else you would like to share that you feel would be valuable to someone who is considering studying Human Resources Development?
Developing people is very rewarding.  You have the opportunity to not only make their work lives better but also to enhance their personal lives and their entire future.
The expert interviewed for this article may be compensated to provide opinions on products, services, websites and various other topics. Even though the expert may receive compensation for this interview, the views, opinions, and positions expressed by the expert are his or hers alone, are not endorsed by, and do not necessarily reflect the views, opinions, and positions of [eLearners.com] or EducationDynamics, LLC. [eLearners.com] and EducationDynamics, LLC make no representations as to the accuracy, completeness, timeliness, suitability, or validity of any information in this article and will not be liable for any errors, omissions, or delays in or resulting from this information or any losses or damages arising from its display or use.