Overall, HR specialists ensure that workers are happy, productive, and safe during at-work hours. Depending on the size of the employer, an HR specialist may oversee all employee matters (payroll, benefits, new hires, terminations, misconduct complaints, etc) or she may specialize in one particular area—for example, recruiting new team members to fill open jobs.
HR specialists may coordinate company-wide training programs to educate workers about harassment, office safety, or discrimination. HR specialists may also coordinate new hire orientations, plan morale-boosting events, or compile monthly newsletters.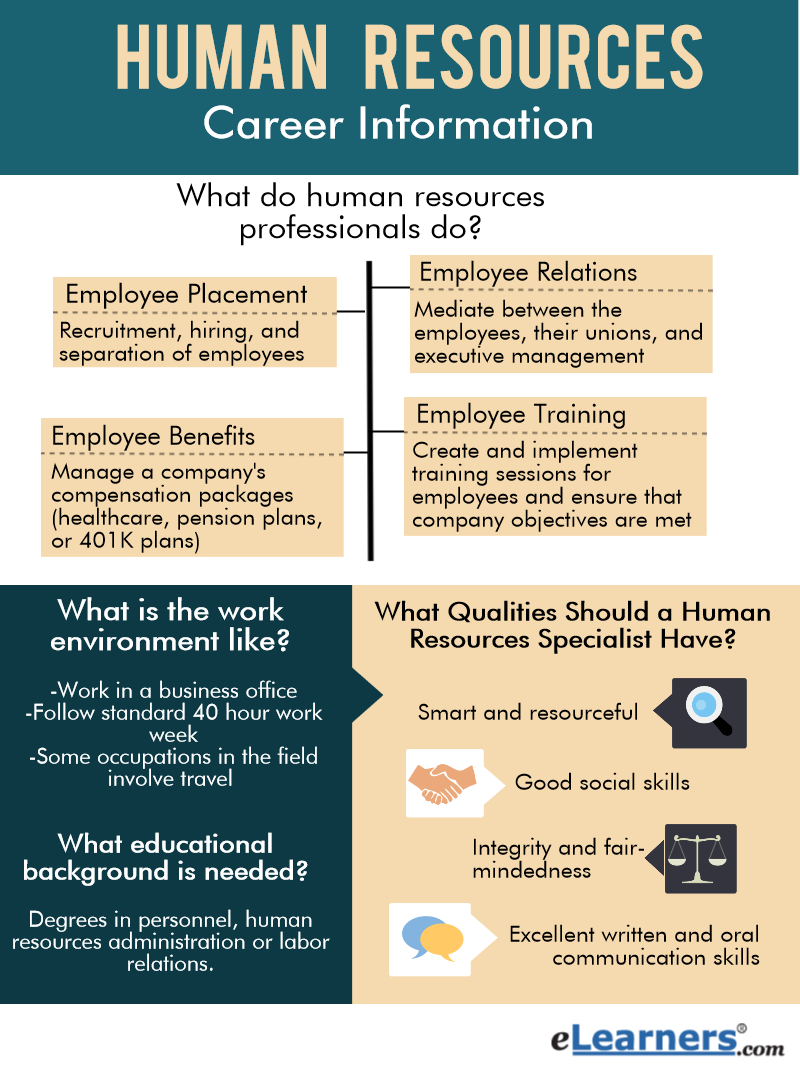 What Are They Known For?
Being outgoing, friendly, even-tempered, and great at listening
Good interview skills; being a good judge of character
A willingness to wrangle and motivate sometimes uncooperative groups (like a camp counselor)
Attention to detail (especially when handling insurance or payroll paperwork)
What Is the Job Outlook for HR Specialists?
According to the Bureau of Labor Statistics, HR jobs are expected to grow 7% between 2012 and 2022. Jobs for employment services specialists—in particular—will more than double in the coming years. [i] Employment services specialists are the HR pros who work in staffing agencies and temp agencies to help third party employers find qualified hires.
How Might I Prepare for a Career in Human Resources?
Many employers prefer to hire human resources professionals who hold bachelor degrees—either in HR studies, business administration, or a related field (like sociology).[i] Some workers can advance into HR specialist roles with an associate degree and relevant experience as an HR assistant.  The Society for Human Resource Management (SHRM) also administers a certification exam that qualifying HR pros may apply to complete.
Read more about Online Human Resources Degrees
---
[i] bls.gov/ooh/Business-and-Financial/Human-resources-specialists.htm#tab-6