26 Sponsored Online Programs Available
Earning an Online Human Resources Degree
Earning your online human resources degree means preparing to enter one of the most influential departments in the modern business world. You may think of them as the people responsible for hiring and firing employees, but over the past couple years, human resources has taken on more business-related responsibilities. That means those choosing to pursue a human resources certificate or degree may have a wide variety of skills.
Human resources is one of the most important departments in any business, and that responsibility is only growing. In fact, the U.S. BLS says that those with certifications and a master's degree in human resources management may have the best job prospects moving forward!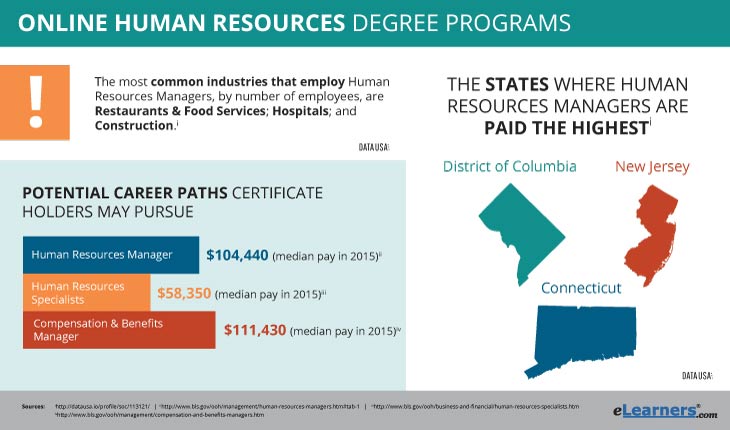 ONLINE HR DEGREE INSIGHT
We asked former HR students: What were the most challenging aspects of earning your HR degree?
"The toughest yet most rewarding part of earning my degree was to set aside my personal thoughts and ideas toward a situation I was studying and try to remain impartial. As an HR professional, you have to be able to remove yourself from situations and see things with an eagle-eye point of view. You have to be willing to step aside and look at a situation from all angles. In the world of HR, nothing is black and white. You tow a fine line by being an advocate for your employees while keeping the best interest of the company in mind."

Click To Tweet!


- Brad Stultz, Human Resources Director at Totally Promotional
Things to Consider When Choosing an Online Human Resources Degree Program
Accreditation
Accreditation can be an important aspect to consider. An accredited college or university has demonstrated that it meets the standards set by a third party. For example, an online HR degree accredited by the Institute for Credentialing Excellence (ICE) must submit to a stringent evaluation process, with re-accreditation reviews every five years.[i] Similarly, the Association to Advance Collegiate Schools of Business (AACSB) provides accreditation for schools in the United States and abroad.[ii]
Preparation for an HR Certification Exam[iii]
Many online human resources degree programs prepare students for certificates. The main ones are from SHRM (Society for Human Resources Management) and HRCI (Human Resources Certification Institute).
SHRM Certificates:
SHRM – CP (Certified Professional)
SHRM – SCP (Senior Certified Professional)
HRCI Certificates:
aPHR (Associate Professional in Human Resources)
PHR (Professional in Human Resources)
SPHR (Senior Professional in Human Resources)
Many more…
Why would you need a certificate if you've earned a degree?
While the certificates are not required, they do help present you in a more favorable light, show the knowledge you've acquired, and may make you more marketable when looking to find a job.
Thus, many HR graduates pursue certification from a professional HR organization as a way of jumpstarting their careers. Certification may demonstrate credibility, competence and dedication to potential employers. The Human Resources Certification Institute (HRCI) provides certification exams to help with pursuing different HR career paths. You may want to sit for the Professional in Human Resources Exam (PHR®). Or if you're interested in an international career, you may want to pursue certification as a Global Professional in Human Resources (GPHR®). Consider choosing a school that could help you prepare for an HRCI certification exam or one from a similar governing body.
Typical Learning Covered in Online Human Resources Degree Programs
There are many facets to earning your human resources degree. One of the abilities typically focused on is interpersonal communication. Though this may be important with most professions, because human resources may be in constant contact with current and future employees, typically this is an important skill to acquire while pursuing your degree.
Human resources has changed over the years. No longer are they only responsible for recruiting, screening, and interviewing potential employees. Now, Forbes recommends that those earning their human resources degree take plenty of business classes. This is because more and more, human resources consults with management to plan, direct, and coordinate administrative functions of an organization.
Students who decide to pursue their online human resources degree may have good analytical skills, can offer a fresh perspective, and may have acquired at least some business knowledge. As the responsibilities of human resources continues to change, it's important for those deciding to earn their degree be able to work with and communicate with other employees.
Career Options with a Degree in Human Resources
Students who have earned their human resources degree have many different career options and many different career paths. This variety is why some people love working in human resources. These career options can range from recruitment (Human Resources Specialist, Placement Specialists, Recruitment Specialists, or Head Hunters) [i] to Human Resources Managers (Labor Relations Director, Payroll Managers, and Compensation and Benefits Managers).
According to SHRM, there were roughly 1.54 HR professionals for every 100 employees in 2012. The Bureau of Labor Statistics (BLS) sees a +5% increase in Human Resources Specialists and a +7% increase in Business Opportunities Specialists from the years 2014 to 2024. [ii] They also see a + 9% increase in the amount of Human Resource Managers positions for the same years.
Salary Potential in HR
Human resources manager: $99,720[i] (13 percent employment growth expected through 2022)[v]
Human resources specialist: $55,800[i] (7 percent employment growth expected through 2022)
Labor relations specialist: $54,660[i] (8 percent employment growth expected through 2022)
Training and development manager: $95,400[i] (11 percent employment growth expected through 2022)
Training and development specialist: $55,930[i] (15 percent employment growth expected through 2022)
Compensation and benefits manager: $95,250[i] (3 percent employment growth expected through 2022)
Advantages to pursuing Human Resources
We asked Jana Tulloch, Human Resources Professional at DevelopIntelligence: What are some advantages to pursuing a career in HR?
"One of the advantages of a career in HR is that there are huge opportunities for professional development and career pathing. Entry level coordinators can move into management roles, and later into leadership roles where they would design and implement HR strategy for an organization.
Jana Tulloch, Human Resources Professional at DevelopIntelligence
Get Ready to Earn Your Online Human Resources Degree!
Click on any of our sponsored links on this page to learn more about individual schools and their offerings. When you find specific programs that interest you, reach out and contact the schools directly. That way you can find out which program may be perfect for you.
---
[i] credentialingexcellence.org/ [ii] aacsb.edu/ [iii] hrci.org/ [iv] studentaid.ed.gov/sa/prepare-for-college/choosing-schools/consider#statistics [v] bls.gov/ooh/management/human-resources-managers.htm#tab-6