5 Sponsored Online Programs Available
EducationDynamics maintains business relationships with the schools it features
Online Property Management Degree & Real Estate Degree Programs
Online Property Management Degree Programs will lay out the essentials of real estate management. This means how to assess and market a property, whether residential or commercial, screening potential tenants and collecting rent from current occupants, making any necessary inspections, and doing any maintenance that may be required.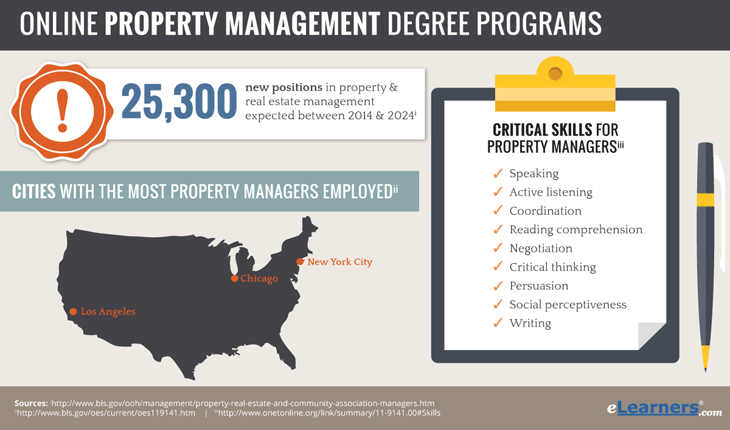 A lot goes into managing real estate – it's a big field with a lot of moving parts. And judging by the wealth of television shows focused on home buying, selling, or renovating, it seems like everyone in America is an amateur real estate agent. But only a handful can truly become experts in property management. Those who have what it takes to succeed in this field are highly organized and skilled in customer service, communications and problem solvingi They love to plan things and have no issues with taking charge of difficult situations.ii Careers in property management may be well suited for professionals who know management principles, have knowledge in accounting or finance, and who have a customer service mindset.iii
Fun Fact

We've all heard the phrase, Location, location, location. Well, it was first coined in a classified ad in the Chicago Tribune in 1926.
What's It Like to Study Online Property Management Degree Programs?
Some examples of what names you might see when looking at real estate or online property management degree courses are:
Organizational management explores the theory and practice of management in the everyday workplace.
Real estate principles review the basics like real-estate lingo, ethics, property value and contracts.
Economics gives an overview of capitalism, the real estate market and taxes.
Accounting discusses general financial bookkeeping and fiscal recording, plus how to generate reports.
Ethics looks at the challenges presented by moral aspects of economy and business.
Business law focuses on the legal aspects of the business world and international trade.
Commercial real estate gets into managing and handling money and figuring out the value of business properties.
Portfolio management is about how to create a financial portfolio and manage investor relations, market volatility and the global investing market.
Sustainable development talks about incorporating "green" practices into modern building design and planning. It also may look at reusing existing buildings for new uses, like churches that are now apartments.
Real estate taxation is about the specifics of taxes in real estate, including incentives, credits and the idea of depreciation in properties.
Keep in mind that not every online property management degree program will offer these exact courses. As a result if there is exact coursework you are looking for contact each school to see what classes they have.
Essentials of Online Property Management Degrees
Based on your previous education and your career goals, you can choose to earn either an associates, bachelors, or masters degree in property management.
Associates Degree in Property Managementiv
Classes in property management associate's degree programs might be broadly focused on business and general education if the aim of the program is to transfer to a bachelor's degree. Otherwise, coursework may be more closely related to the responsibilities of property managers.
Associate's degrees could prepare you either to pursue a career in property management or continue on to additional education in the span of about 2 years, or roughly 20 courses. In most cases you need a high school diploma or GED to enroll in an online property management certification or degree program.
Bachelors Real Estate Degree Programsv
Requiring about 4 years to complete, coursework for a bachelors degree in property management might be both broad and deep, focusing on property management specifics, as well as broader business principles, and general education subjects. Examples of specific degree programs you might find are a BS in Business Administration – Real Estate or a Bachelor of Arts (BA) – Real Estate Studies.
Masters Degree in Real Estatevi
To pursue careers at the upper level of real estate, you should consider earning a master's degree in property management. A master's in property management or real estate might fall under the broader category of a Master of Business Administration (MBA). The MBA is the most common type of master's degree in the United States and may help you pursue more advanced roles in the field.
Fun Fact

In 2013, property managers with an MBA earned $20,000 more in median annual wages than those with just a bachelor's degree.vii
Additional Licensing and Certification
CMCA certification (Certified Manager of Community Associations). The National Board of Certification for Community Association Managers (NBC-CAM) issues this certification according to guidelines from the National Commission for Certifying Agencies (NCCA).
CPM designation (Certified Property Manager). This property management certification is granted by the Institute of Real Estate Management, or IREM. You usually need to have a real estate license unless you can show that you don't need one according to local laws.
You can earn other certifications from IREM such as accredited residential manager (ARM), Accredited Commercial Manager (ACoM), and Accredited Management Organization (AMO).
RMP or residential management professional. This designation is granted by the National Association of Residential Property Managers (NARPM). To qualify you need to have a real estate license, at least 2 years of experience and a history of managing a minimum of 25 rental units.
NARPM also awards certifications for master property manager (MPM), certified Support Specialist (CSS) and Certified Residential Management Company (CRMC).
CAM certification (as a Certified Apartment Manager). This property management certification coursework includes 12 months of hands-on experience in real estate management.
You may also need a real estate sales license. Most states require you to pass a written test. If you pass the exam, you qualify to apply for the license. The state board reviews your application, and – hopefully – you will be approved.
Offline Degree Requirements
Even though you're earning your degree online, some property management degree programs have parts that need to be done in person. This might include a residency requirement. A residency requirement means students need to meet up to complete some in-person interactions at a specific place in order to earn their property management degree or certification.
Be sure to ask the schools you're considering if they have any requirements like this.
Accreditationviii
You should make sure the online property mangement degree programs you're looking at are accredited. Accreditation is how the standards of a school or program are checked. If you enroll in a non-accredited degree program, it may hurt your chances for federal financial aid or pursuing the career you'd like. Business degree programs may often be vetted by the Association to Advance Collegiate Schools of Business (AACSB). Programs accredited by this group must be evaluated every five years to make sure they are up to standards.
How to Become a Property Manager
A career you could pursue with an online property management degree is as a Property Manager. These professionals typically supervise the operation of a real estate property such as a residential or commercial building.ix Duties might include dealing with finances, collecting rent and mortgage payments or paying taxes. Onsite property managers might care for a building and handle complaints from the renters there. Workers in this role might need to be good listeners and problem solvers, with skills in organization and customer service. In 2015, property managers earned a median annual income of $55,380.x While the required entry-level education may often only be a high school diploma, many employers prefer to hire college graduates.
Getting Started With an Online Property Management Degree
Take a look at our sponsored listings for an online property management degree. If any program catches your eye, be sure to use the Request Info tool to hear more about the program.
[i] bls.gov/ooh/management/property-real-estate-and-community-association-managers.htm#tab-4 [ii] onetonline.org/link/summary/11-9141.00#Tasks [iii] onetonline.org/link/summary/11-9141.00#Knowledge [iv] bls.gov/careeroutlook/2002/winter/art01.pdf [v] 2.ed.gov/about/offices/list/ous/international/usnei/us/bachelor.doc [vi] 2.ed.gov/about/offices/list/ous/international/usnei/us/master.doc [vii] bls.gov/careeroutlook/2015/article/should-i-get-a-masters-degree.htm#Business [viii] chea.org/pdf/Overview%20of%20US%20Accreditation%202015.pdf [ix] bls.gov/ooh/management/property-real-estate-and-community-association-managers.htm#tab-2 [x] bls.gov/ooh/management/property-real-estate-and-community-association-managers.htm#tab-1