0 Sponsored Online Programs Available
Online Associates Degree in Real Estate & Property Management
If you are wondering how to initiate a potential career as a real estate broker, sales agent or property manager, why not consider an Online Associates Degree in Real Estate Program? Property, real estate and community association managers may be responsible for various aspects of residential (e.g. apartments), commercial or industrial properties.Learn business and management fundamentals such as communicating with tenants, contractual agreements and basic accounting through web-based courses!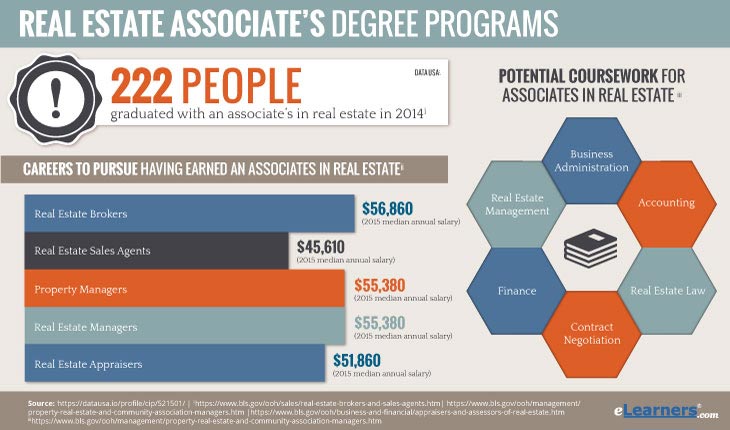 What Are Associates Degree in Real Estate?
Online Associates degree in real estate and property management programs are college degrees that are awarded after completion of about 20 classesiand two years of education. Online Associates Degree in Real Estate Programs may be available from public community colleges, private 2-year colleges, for-profit technical institutes, and many 4-year colleges and universities.ii Prospective applicants typically need a high school diploma or GED.
FACT: 222 Associates Degrees in Real Estate were awarded in 2014.iii
Why Consider an Online Associate Degree in Real Estate?
Associates degree in property management programs may prepare graduates not only for continued education down the road, but also for real estate industry certifications and licensure. As the real estate market becomes more competitive and complex, the growing trend amongst employers is to hire candidates with college courses or a college degree.ivPer the Bureau of Labor Statistics, "people with associate degrees are also more likely to find jobs."v So while earning a degree is no guarantee, why not attempt to give yourself a potential edge? Use your goals to help you figure out which type of online real estate associates degree program to select.
What Types of Online Real Estate Associates Degree Programs are There?
Per the IREM (Institute of Real Estate Management), Associates degree in real estate programs might be offered as Associate of Arts (AA), Associate of Science (AS) or Associate of Applied Science (AAS) tracks.vi These are the same academically, but could lead to different outcomes.
Online AA or AS Real Estate Programs
Both the online Associate of Arts or Associate of Science in Real Estate degree programs are considered 'transfer' degrees. What this means is that if you anticipate returning to school to complete a Bachelors degree in Property Management, either of these degrees is typically equal to the first two years of your Bachelor of Arts (BA) or Bachelor of Science (BS). If this is the case, it is important to make sure that the college you choose is accredited so that the credits you earn may be easily transferred to a four-year college should you decide to continue your education. If you are interested in commercial management positions, property finances or contract management, the Bachelors degree may be an asset.vii
Online AAS Real Estate Programs
In contrast to the AA and AS tracks, an online Associate of Applied Science is considered a 'vocational' degree. This type of degree might offer pre-licensing courses or professional development. Some students who decide to pursue designations and certifications from professional associations such as BOMI (Building Owners and Managers Institute International) may be able to receive credit for specific college courses from accredited universities and colleges.viii
"Experience in real estate sales is a good background for on site managers because real estate salespeople also show commercial properties to prospective tenants or buyers."ix
What Might It Mean to Take an Associatesin Real Estate?
Online Associate's degree in real estate and property management educates students in the fundamentals of developing, buying, selling, appraising, and operating a property.x That said, a real estate major might choose a general program or one that emphasized a specific aspect of the business (e.g. property management or finance). Naturally, course topics reflect the program you choose, so expect some variance in real estate curriculum.
Online Associates Degree in Real Estate: Potential Courses
If your goal is to learn the skills and knowledge needed by apartment managers, leasing managers and commercial property managers, chances are you might study topics such as:xi
Communications
Tenant relations
Accounting
Operations
Maintenance
Project management (e.g. construction, repairs)
Leasing
Administration
If your goal is to learn the skills and knowledge needed to oversee real estate transactions, sell, rent or arrange loans for properties, some of the courses you might study might include topics such as:
Management
Sales negotiation
Financing options
Title searches
Contract negotiations
Real estate law
Housing laws
Types of mortgages
Find Accredited Online Real Estate Schools for Property Management Associates
Search for accredited online real estate schools and colleges. Whether you plan to transfer your credits to a Bachelors in Property Management degree program or seek voluntary professional credentials or licensure, accreditation is a type of quality control. Regionally accredited schools must continually undergo approval by an outside agency that verifies the standards of education in their institution. Some of the regionally accredited schools may also have accredited specialized business programs.
Potential Benefits to an Online Associates in Real Estate
By virtually attending an online Associates degree in real estate program, you will have access to all course materials just like you would normally in a traditional classroom setting. While the format and structure of an online real estate program depends on the provider, often pursuing your degree online means you are able to log into the classroom portal from anywhere and anytime to complete required coursework and exams. Students may also be able to easily communicate with classmates and their professors via chat platforms and email.
After Graduation: Potential Next Steps
After graduation, students might choose to continue their education with a Bachelors in Property Management degree; a decision that might then serve as a stepping stone to a graduate degree such as a Master of Real Estate Development or MBA. Graduates might also decide to pursue a variety of potential career paths such as:
Real Estate Associate
Real estate Broker
Condominium Manager
Apartment Manger
Leasing Manager
Take the Next Step
Review sponsored programs to choose an AA, AS or AAS in Real Estate and Property Management degree program. Then contact prospective online real estate schools with our on-page navigation. The next step is an easy to take. Request more information today!
---
[bls.gov/opub/ted/2003/mar/wk1/art04.htm] |[i] |[iii] datausa.io/profile/cip/521501/|[iv] bls.gov/ooh/sales/real-estate-brokers-and-sales-agents.htm |[v] bls.gov/opub/ted/2003/mar/wk1/art04.htm |[vi]irem.org/File%20Library/Careers/REPMDegrees.pdf |[vii] bls.gov/ooh/management/property-real-estate-and-community-association-managers.htm |[viii] bomi.org/Students/Competency-Credits-and-Transfer-Credits.aspx |[ix] |[x] nces.ed.gov/ipeds/cipcode/cipdetail.aspx?y=55&cipid=88935 |[xi] onetonline.org/link/summary/11-9141.00 |