6 Sponsored Online Programs Available
Sports Management Online Degree
If you love both sports and business, perhaps earning an online sports management degree is the perfect path for you! You could potentially study anything from sports media and marketing to player representation. And, you may be able to pursue online sports management degrees at the bachelors, masters, or doctorate level, depending on your goals. Sound exciting? Then let's learn more about your potential options!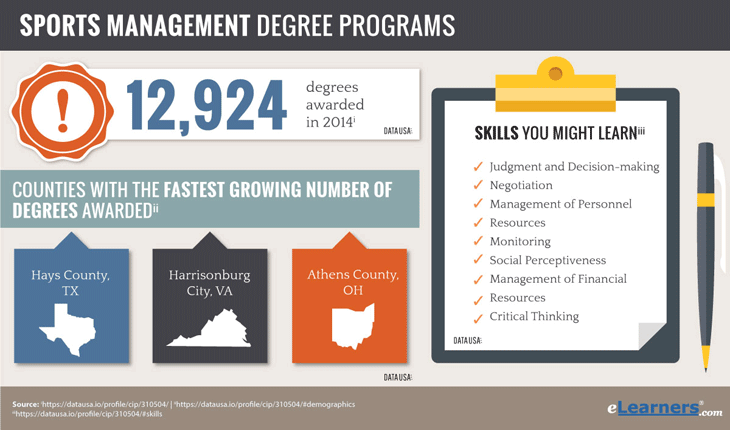 What Is a Sports Management Degree?
A sports management degree program may introduce students to the theory and practice of sports business. (If you're a big sports fan hoping to turn your passion into a potential career path, this field may be worth exploring!) Sports management online programs may feature courses in how sports organizations are run – from ticket sales to event management. You might study marketing strategies that fill seats and get fans excited. Students might even learn how to use sports to reach out to underserved populations or connect with your community.
Of course, a lot may depend on the level of the online sports management program you pursue. Here's a bit more info on potential degree paths:
Bachelors degree in sports management – Earning a bachelors degree may be an entry-level requirement for many sports career paths, like coaching and scouting.i In sports management online programs at the bachelors level, you may pursue foundations in the theory and practice of sports business – like marketing, finance, facilities management, and more. You may also take courses in general college-level subjects, like math, communications, and the social sciences. While the credit hours required to earn a bachelors in sports management may vary by program, the number may typically be around 120. And some programs (even online ones!) may also require you to complete a sports management internship.
Types of Programs
You may encounter two types of sports management programs, which may vary slightly in focus and curriculum:
Bachelor of Science or B.S. in Sports Management
Bachelor of Arts or B.A. in Sports Management
Want to learn more about what a particular program has to offer? Request information, and check it out for yourself!
Masters degree in sports management – Pursuing an online masters in sports management may help you build on previous knowledge…or, pursue new sports-related career goals! You might study areas like trends, developments, and technologies used in sports business. You may learn to apply business principles to industries like college athletics, professional sports, and more. And, you might even conduct research that may help you make in impact in your field!
Pursuing an online sports management degree at the masters level may have a few prerequisites, like earning a bachelor's degree and having a couple years of prior work experience. And some programs may recommend or require you to take a graduate level placement exam, like the GRE or GMAT.
You may find sports management masters programs like:
Master of Science or M.S. in Sports Management
Master of Arts or M.A. in Sports Management
Master of Education in Coaching (or a related field)
Master of Business Administration (MBA) in Sports Business
And others!
While these program types may share similarities in common, they may each have a slightly different focus. Check out a few programs to get a feel for what each may offer in terms of curriculum and goals!
Doctorate or PhD in sports management – Earning an online PhD in sports management may help you explore potential paths like sports leadership or teaching sports business at the college level. In fact, 66% of business professors said they needed to earn a doctoral degree for their current roles.ii Sports management PhD candidates may research issues and trends in sports, and apply their findings to industry challenges. You may also take courses in areas like sports consumer research, research statistics and methodology, and more.
What You Might Learn in an Online Sports Management Degree Program
Naturally, you may study areas of sports business like management, marketing, and finance. But there may be a lot more to the study of sports management than you think! Your online sports management degree program may also introduce you to topics like sports law, or how sports affect society. You could even explore how sports facilities – like your favorite home stadium – are designed and run to create an amazing experience for players and fans.
Here are a few potential courses you might find in a sports management bachelors program:
Sport finance
Sport communication
History of sport
Sports facilities and events
Ethical issues in sport
Sport marketing
Sport psychology
You may also pursue core courses in areas like:
Statistics
Public speaking
Psychology
Communications
Social science
College math
And more!
What Can You Do with a Sports Management Degree?
You might be able to pursue a variety of sports career paths, from scoutiii to business manager.iv Scouts, who find and recruit new talent, often earn a bachelor's degree in sports management or a related field. Managers of individual athletes may do things like negotiating contracts and scheduling appearances. Here are some more potential jobs and career paths you might aspire to:
Coach
Director of Athletics v
Athlete Marketing Agent
Talent Manager
Public Relations Manager vi
Fundraising Manager
And others!
Fun Fact

About 20% of coaches and scouts are employed by colleges, universities, and professional schools.vii
Why Earn a Sports Management Degree Online?
Earning an online sports management degree could be the perfect path for busy students, or those who don't live near a campus that offers sports management programs. Here are a few potential benefits.
Flexibility. If you work full-time (or want to save your daylight hours for your favorite sport!), online learning may help you fit your studies into your busy schedule. That may be perfect for potential graduate students who are already employed in the field of sports management.
Self-motivation. Online learning, like many sports careers [iii], may require dedication and resourcefulness. If you excel at independence and initiative as you work toward your goals, perhaps an online program may suit your learning style.
Do a residency…or not! Just because you opt to earn a sports management degree online doesn't necessarily mean your education has to take place entirely online. For example, some online programs may require you to participate in an internship! However, you may also find programs that do not require in-person experiences like internships and residencies.
How to Evaluate Potential Sports Management Degrees
Here are some program features and characteristics you may want to check out in a prospective online sports management degree program:
Accreditation viii – Accreditation may help to ensure that your prospective college or university meets high quality standards. For example, some schools may hold accreditation from COSMA, or the Commission on Sport Management Accreditation (COSMA).
Curriculum – Does your prospective program offer coursework that suits your interests and goals? For example, some programs may have a particular focus, like sports education. Others may offer potential minors in areas like business or psychology.
Delivery methods – If you plan to learn online, you may be interested in the educational tools, methods, and platforms your prospective school uses. Find out if you can view sample course materials or chat with current students about their experiences.
Potential opportunities and resources – Does your online sports management program offer an on-campus residency? Or, are you required to pursue an internship that may prove to be an awesome learning experience? And finally, find out what services and resources your prospective program may offer, like tech support, career counseling, and tutoring.
Get Started!
Online sports management degree programs may help you combine two passions: sports and business! If you're ready to get started, check out our sponsored listings for sports management online programs that may interest you. See a sports degree online program that sounds perfect? Just click the Request Info button to learn more.
---
[i]https://www.bls.gov/ooh/entertainment-and-sports/coaches-and-scouts.htm#tab-1 [ii]https://www.onetonline.org/link/summary/25-1011.00 [iii]https://www.bls.gov/ooh/entertainment-and-sports/coaches-and-scouts.htm#tab-4 [iv] https://www.onetonline.org/link/summary/13-1011.00 [v] https://www.onetonline.org/link/summary/27-2022.00 [vi] https://www.bls.gov/ooh/management/public-relations-managers.htm#tab-4 [vii] https://www.bls.gov/ooh/entertainment-and-sports/coaches-and-scouts.htm#tab-3 [viii] https://www2.ed.gov/admins/finaid/accred/accreditation.html