113 Sponsored Online Programs Available
EducationDynamics maintains business relationships with the schools it features
Find an Online Educational Leadership Degree
You understand the importance of a great education, and earning an online education administration degree or education leadership degree could be the perfect way to make a difference in schools—and help both students and educators reach their potential! Online school administration programs cover the ins and outs of principalship, and how to manage teachers and other personnel. Students are presented with the basics of leadership methodology, and lessons on how to inspire change. Programs may also cover public speaking, conflict resolution, and other key areas.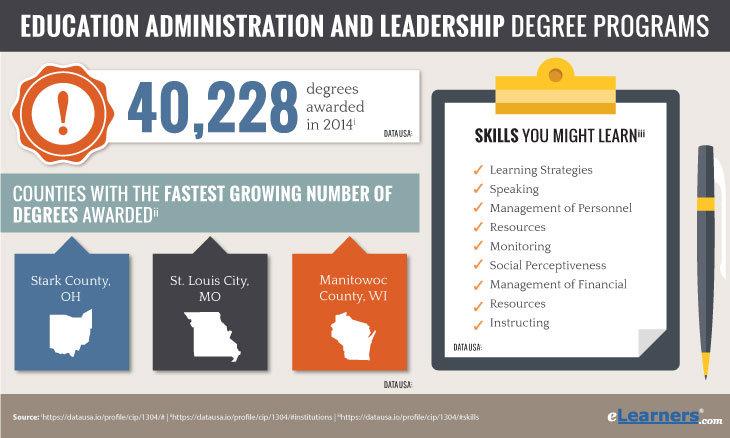 What's the Difference Between a Degree in Education Administration and a Degree in Educational Leadership?
That may depend on the program. In fact, online school administration programs may share many courses in common with educational leadership programs, and vice versa! These courses may include any or all of the following subjects.
School law and policy
School finance
School technology management
Educational decision-making
And many others
Education administration programs may have tracts that help students prepare to become certified administrators. They may also offer non-certification tracts, for students with other kinds of career goals that might not require certification.
The same may go for educational leadership programs, as well. However, you may also find educational leadership programs that are potentially aimed at prospective teacher leaders, department chairpersons, or others that may not be interested in seeking administrator certification.
Again, each college or university may have a slightly definition of leadership vs. administration. As you learn more about these potentially overlapping roles, you just might develop your own views on what makes a leader or administrator!
Levels of Online School Administration Degree or Educational Leadership Degree
Did You Know?

63% of K-12 principals said they needed to earn a masters degree. iii

Click To Tweet!
Here are a few kinds of online education administration degree programs you may want to explore.
Masters Degree in School Administration or Leadershipi – Earning a masters in education administration or leadership may be required for roles like school principal. Programs at this level may cover areas like staff management, budgeting, working with parents, and more. First, you'll have to earn a bachelor's degree, typically in a field like education or school counseling. You may also have to fulfill other requirements, like having a minimum GPA or submitting test scores, like the Graduate Record Examination (GRE).
You may pursue courses like:
Instructional and curriculum leadership
Assessment and evaluation
Mentoring and collaboration
Change leadership
School Law
You may also work on original research, pursue an internship, and more.
Keep in mind that various masters programs may have completely different names, even if they may share overlapping learning goals! Here are a few kinds of education leadership and administration programs you may encounter:
Master of Education (M.Ed.) in Educational Leadership
Master of Science (M.S.) in Educational Administration
M.Ed. in K-12 Educational Leadership
Master of School Administration (MSA)
And others
And finally, if you plan to pursue certification in your state, make sure your prospective program meets state requirements. For instance, those seeking principal certification in the state of New Jersey may need to attend an NCATE or TEAC-approved masters program in educational leadership, if they plan to attend an out-of-state school. Check with your state's Department of Education to learn more!
Did you know?

The National Council for Accreditation of Teacher Education (NCATE) evaluates schools, colleges, and departments of education.
PhD in Educational Leadership or Administration – Pursuing a doctorate in educational leadership may also be a path worth considering. Doctoral degree programs may help candidates prepare to address challenges faced by schools, communities, and education organizations. Some may focus on research, which may lead to writing a dissertation. Other programs may require students to pursue a professional residency. And you may study exciting areas like education reform, the intersection of race and education leadership, and more! Here are some types of doctoral program you may encounter:
Ed.D. in Educational Leadership and Management
PhD in Educational Leadership
Doctor of Education Leadership (Ed.L.D.)
And others!
Fun Fact

22% of postsecondary education administrators said they needed to earn a doctorate degree for their role. iv
Education Administration and Leadership Certificate Programs – If you're hoping to brush up the theory and practice of educational administration without pursuing a degree, you might be interested in online certificate programs. These may offer courses in areas like education law, policy, finance, faculty management, and more. Keep in mind that graduate certificate programs require you to have earned a bachelor's degree, first. And a post-master's certificate obviously requires you to first earn your master's degree! Hint: be careful not to mix up certificate programs with education administrator certification, which is not the same thing!
Undergraduate Degree in Education Administration – You may be hard-pressed to find an online education administration degree at the bachelor's level. Maybe that's because administrative roles like school principal often require candidates to earn at least a master's degree. i However, you may be able to pursue an undergraduate degree in a related area, like education studies.
Why Pursue an Online Education Administration Degree?i
It may be a step to pursuing your prospective career path. Most schools require elementary, middle, or high school principals to hold at least a masters degree in education administration or leadership. Plus, most states require principals to earn licensure. This may also require them to hold a masters degree, among other criteria. Other career paths that might be enhanced by earning an online education administration degree may include the following.
Postsecondary Education Administrator ii
Assistant Principal iii
School Administrator
Superintendent
Special Education Director
Admissions Director iv
And more!
Potential Benefits of Earning an Online Education Administration Degree
Earning an online education administration degree might be an awesome path for busy education professionals! For starters, you could potentially pursue your studies during nontraditional hours. And, you might also save the commute to campus! But besides flexibility, there are a few potential benefits to online learning that may be great for students of educational administration:
Brush up on tech know-how – Computer skills may be particularly important for prospective postsecondary education administrators, according to the Bureau of Labor Statistics. ii As an online learner, you may use Learning Management Systems (LMS), social media tools, mobile tools, and more. *
You may be in good company * – K-12 education administration was ranked as one of the top online graduate majors in 2016. And, about 67% of online graduate students said they were employed full-time while pursuing their degree.
Work on communication * – As you probably know, communication skills are important for principals. i Online programs may require students to share their views through message boards, blogging, and social media groups. And programs may even require internships or other experiences.
Find A Prospective Online Education Administration Degree Program That's Perfect for You
Earning an online degree in education administration, or an online degree in educational leadership, may be a big step in pursuit of your professional goals. So, it's time to explore online education administration degree programs that may be the perfect fit! Browse through our sponsored listings for potential programs at various degree levels. If a program catches your eye, be sure to click the "Request Info" button to learn more.
---
[i] bls.gov/ooh/management/elementary-middle-and-high-school-principals.htm#tab-4 [ii] bls.gov/ooh/management/postsecondary-education-administrators.htm#tab-4 [iii] onetonline.org/link/summary/11-9032.00 [iv] onetonline.org/link/summary/11-9033.00 * Clinefelter, D. L. & Aslanian, C. B., (2016). Online college students 2016: Comprehensive data on demands and preferences. Louisville, KY: The Learning House, Inc.