34 Sponsored Online Programs Available
Find an Online Educational Leadership Degree
Online educational leadership degree programs are generally offered at the graduate level. They build on classroom teaching experience, to support positions in leadership, administration, and policy. Courses combine educational best practices with organizational leadership, educational research, and policy.
Because professional educational leadership roles generally require a certain amount of classroom experience, these programs also typically require a degree and professional background in education as a prerequisite. Students might pursue a masters, doctorate, or graduate certificate in educational leadership.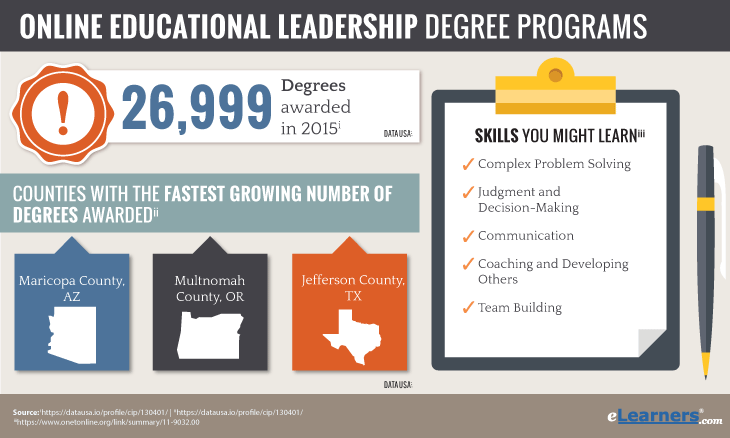 What Is Educational Leadership?
Educational leadership refers to an array of professional roles. That could include the organizational, administrative, or policy aspects of the education system.
Examples of jobs include:
Department heads in individual schools and universities
School principals
Superintendents
Educational leadership could also apply to roles in government at the state or federal level. As such, the potential responsibilities, topics, and challenges may vary widely. And that's not even touching on what makes working in different school communities unique.
Online educational leadership degree programs may be just as diverse. Courses could look at things like the following:
Urban education policy
ELL issues
Special education law
Teacher training
Curriculum development
Educational technology
Higher education
And more!
Specific learning opportunities may differ on an individual basis. That could depend on your selected topic of research or the nature of the program in question.
Some programs may be designed to support specific roles or types of communities. While occasionally these may be offered as concentrations, more often, they describe the approach taken to the curriculum in that program, or what is emphasized by it. Consider the examples that follow.
School Leadershipi
Some online educational leadership degree programs focus on school leadership roles. Courses in these programs might look at: elementary school, middle school, and high school principals and administration. In some cases, they might also expand to higher education leadership.
Here are some examples of the topics that might be covered in a program like this.
Finance in School Leadership
School Leadership in Diverse Communities
School Management and Teacher Development
Methods for School Evaluation and Improvement
Education Research Design
Curriculum Design and Supervision
Employment as a school principal often requires a state-issued certification or license, which, among other requirements, involves passing an exam. As such, many programs are designed around the prerequisites for and content of that exam.
Particularly of note for school leadership programs: field experience. Some programs require clinical hours or internship experience as a prerequisite to graduation. These program experiences generally need to be completed in person during set hours. As such, additional arrangements might need to be made. However, this may vary, so make sure you follow up with your selected program for more information.
Did You Know?

63% of K-12 principals said they needed to earn a masters degree. iii

Click To Tweet!
Superintendent, School District, and State-Level Administration
While many educational leaders work within individual schools, that's only part of the picture. School leaders also work at the district or even state level, using their teaching, problem solving, and organizational skills to help provide effective schooling in multiple communities. One of the primary responsibilities of a superintendent might be to act as a go-between to help the department of education and the local school community work together. Positions like this might also carry responsibilities as wide-ranging as educational standards and curriculum requirements, human resources and government, educational facility management, district-wide funding issues, as well as keeping abreast of how federal and state law may impact schools at the district level.
Other Requirements
If an online educational leadership degree program is designed to support this type of role, there may be additional prerequisites to attend. This may particularly include administrative experience, such as working as a school principal. However, this may vary, and could be influenced by a variety of factors including the professional prerequisites in that state. For more information about curriculum content, prerequisites, licensure, and other details, reach out to your intended program.
Education Policy
While leading a school community in an organizational capacity is important, it's by no means the only option. There are a variety of other ways one might put their educational leadership expertise into action. One unique path could be to pursue a degree and career in educational policy.
Building expertise in education policy could support work in a variety of capacities, such as the following examples.
Helping a school district understand and implement policy changes
Performing research and analysis to understand the impact or potential impact of education policy on different communities
Working in a government context to help design policy
Lobbying to impact education legislation at the local, state, and federal level
And more! That's only the tip of the iceberg when it comes to your potential.
In addition to courses surrounding the education system itself and administrative skills, programs focused on education policy might cover a variety of unique topics. Here are a few examples.
Special Education Law
Diversity and Social Justice in Education
Urban Education Policy
School Labor Relations
School Governance
Of course, these and other courses may vary between programs. Not all of them may be available across the board, and the way they're covered may also vary. For more details, reach out to your school.
Related Programs
The above online educational leadership degree options not quite right? No worries! A variety of related options might be available. These might help you to put your leadership skills into action in unique or specialized ways!
Other Choices
See below for a few examples.
Curriculum Development programs are sometimes offered within educational leadership programs. Others may be offered independently within the school of education. Curriculum development leaders would take point on applying the latest education research and innovative strategies to guide the school or district's teaching. In addition to administrative and leadership skills, this would entail developing high level expertise on instructional design.
Education Research degree programs aim to help students prepare to shape thought leadership in the education industry—not just in your own community, but across the country. Courses might look at existing thought leadership, education research methodologies, survey design, and ethical issues in education and research. And they might also discuss how to put all that data into practice!
Studying Educational Leadership Online
Thinking about enrolling in an online educational leadership degree program? Online educational leadership programs may offer the unique blend of intellectual rigor and flexibility you need. This might help you to get the education you're looking for, while still being there for your school community every day on the job. That way, while honing your expertise to be an even better leader, you could remain active and committed to your ideals of helping every learner access quality schooling.
Here are a few things to keep in mind during your search for a program.
How flexible is it?
As an educator, your schedule can be pretty demanding. So having an online educational leadership degree program that allows for both your schedule and your teaching needs could be a key part of your potential success. Some programs emphasize prime flexibility, by allowing students to make their own schedules and complete course requirements when it's most convenient for them. Others offer a little more stability by live-streaming class lectures and hosting real-time class discussions.
Are there offline requirements?
While it's not always the case, some online programs might include a clinical or internship component as a requirement to graduate. In other words, you might have to work in a school alongside experienced school leaders. You might also need to complete a project based on this experience. If your online program does include this component, you might need to make yourself available at that time to finish it in person.
Does the curriculum cover what you want to learn?
Especially if you're pursuing an online educational leadership degree to support your current role, it's important to make sure the program you choose teaches what you need to know. After all, your school community is unique, and has unique needs and responsibilities. Whether you need to learn more about leadership in a low-income urban district, beef up your command of special education issues, or develop your management skills, make sure the curriculum is a good fit.
Is this program designed for students with your type or level of experience?
Some online educational leadership degree programs are designed for teachers with little or no administration experience. Others aim to help current school and district leaders beef up their skill set. Whichever one your program is designed for might have an impact on both the prerequisites to attend and what your courses cover.
Online Educational Leadership Masters Programs
In most cases, online educational leadership masters programs are designed for educators interested in moving into leadership roles, such as school principals, department chairs, or in curriculum development. As such, in most cases, masters programs will build on your existing command of classroom instruction and pedagogy, emphasizing instead the organizational responsibilities and policy knowledge needed in leadership. Additionally, many programs are designed to accommodate the requirements for employment as a school principal in the state in which the school is based. If you're studying online, it might be a good idea to familiarize yourself with the requirements in your area.
Here are a few example courses you may find in online masters programs in educational leadership.
Multicultural Education
Finance
Program Evaluation
Urban, Rural, and Suburban School Leadership
Educational Technology
Education Ethics
Of course, the specific curriculum may vary considerably on an individual basis, especially if there's a unique concentration area or specialty.
Generally speaking, if you're working toward your masters in educational leadership online, you might earn one of a few different degree types.
Educational Leadership Masters Degree Types
MA or MS in Educational Leadership
Master of Arts and Master of Science may be two of the more common degree types you could come across, even outside Educational Leadership. While some generalizations could be made (such as MS programs emphasizing scientific and technical knowledge or research), often these types of degrees are similar or vary on a case by case basis. Often, people who earn MA or MS degrees might choose to go on and earn a PhD.
Master of Education in Educational Leadership (MEd)
Master of Education is a professional degree generally issued by schools of education. Often, they're designed for experienced educators looking to expand their skill set or move into a new area—such as educational leadership! Students who earn an MEd, if they choose to go on to earn a doctorate, might tend to prefer an EdD.
EdS in Educational Leadership
One unique option might be the Educational Specialist, or EdS degree. Sometimes considered a post-masters degree, an EdS tends to require additional coursework beyond a masters program, but before the level of a doctorate.
Online Educational Leadership Doctoral Programs
Online doctoral programs in educational leadership are often designed with experienced professionals in mind, and build on existing school leadership experience. How exactly they build on that experience, however, may vary, based on the program in question, the type of online doctorate in educational leadership being earned, and the goals of the student.
EdD in Educational Leadership
This could be termed a "practitioner" degree. Why is that? Because, in most cases, Doctor of Education in Educational Leadership programs are designed to support leadership roles in schools, at the district level, and in the government. As such, programs like this may emphasize topics and skills along the lines of team management, teacher professional development, facility management, special education issues, finance, educational technology, and curriculum development. Of course, specific curriculum components may vary. But when they all come together, they aim to help you, as a student, hone your expertise to act as the best leader you can be.
PhD in Educational Leadership
On the other end of the spectrum are Educational Leadership PhD programs. Rather than facilitate school district leadership roles, these programs tend to emphasize educational research practices. As such, Educational Leadership PhD programs may cover topics like survey design, education research methodology, education policy, statistical analysis, and more. Programs like this may support roles in academia as a university lecturer or researcher, as an education consultant, in policy, and more.
Online Education Leadership Certificate Programs
Not looking for a full degree program? Online educational leadership certificate programs could be your alternative. With shorter course loads, certificates could still offer the advanced education you're interested in, in a concise and focused program format. As with degrees, education leadership certificate programs are generally offered at the graduate level.
Some programs may be focused on single topics within education leadership, such as leadership in certain communities (rural, urban), the needs of certain populations (such as English Language Learners or Special Education), or certain management skills like finance or workforce development. Other programs might instead aim to help students prepare for licensure exams or similar requirements.
Online Education Leadership Degree Prerequisites
Depending on the type of program you're applying to, remember that there might be specific prerequisites to be accepted. Here's a list of some you might encounter.
An Education Degree (particularly a bachelors, though doctoral programs might require a masters in education as well)
An active teaching license or certification in your state
Professional experience as the primary classroom teacher
In some cases, professional experience in administrative or leadership roles
Additional Requirements
If you're new to educational leadership, make sure you're aware of the minimum requirements to work in that capacity in your state. In many cases, to be employed as a school principal, administrator, or superintendent, one must first complete licensure requirements. The specifics on how to do this may vary. However, potential components may include:
Relevant masters education or higher
Teaching experience
A passing score on a standardized test
Guided field experience (e.g. an internship or clinical work)
For more information on the requirements in your state, reach out to your school or the state licensing body.
Find Your Online Educational Leadership Degree Program
Take the next step toward earning your educational leadership degree online! eLearners is here to help you find the programs you're looking for. Narrow down your options by choosing your preferred degree level. Then review the associated sponsored program listings. Once you find the ones that meet your needs, click on Request Info to contact them and apply!
---
[i] bls.gov/ooh/management/elementary-middle-and-high-school-principals.htm