School administrators have demanding jobs. As such, the path you take to become one is neither short nor necessarily easy. While there is plenty of education you must obtain before you qualify for such a position, the learning never really ends, as you must be consistently willing to work to stay at the top of your game. All of this is done to better serve your teachers and students - which, for many, is both the challenge and the reward. 
If you're interested in how to become a principal or education administrator, you may have a lot of questions about what's required of you and the best way to go about doing it all. Fortunately, while there may be some obstacles on the road, the path is relatively straightforward.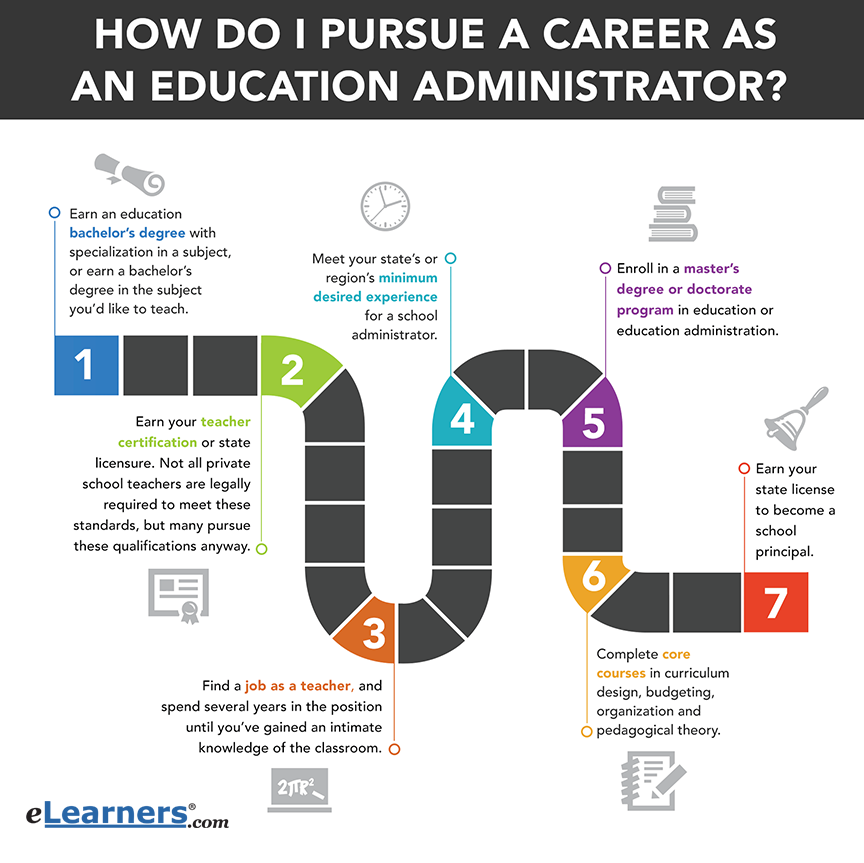 First, become a teacher
School administrators may spend little time in classrooms, but they know what's going on inside of them. In fact, if they want to do their jobs well, they must possess an intimate understanding of how best to teach children and how to run a class. After all, they are responsible for setting school policy, orchestrating curricula and coordinating all of the teachers in order to provide good instruction for students. That means they need to spend some time as a licensed teacher.
To become an educator, you are generally required to earn a bachelor's degree in the subject you'd like to teach, with many teachers opting to get a degree in education that also incorporates that subject, according to the U.S. Bureau of Labor Statistics.[i] Then you must earn teacher certification or state licensure. Private school teachers aren't legally required to meet these demands, but nonetheless often do. 
Now you're ready to teach. Once hired, you'll want to work hard at your job as a teacher. It may take years before you meet your state or region's minimum desired experience for a school administrator. However, once you do, it's time to go back to school.
Move on to administration
You'll need a graduate degree to become a school principal at most schools, according to the BLS.[ii] You can either apply to a master's or doctorate degree program in education or educational administration or a related field. Your choice depends on how much time and research you wish to conduct in the field. While doctorate degrees may better qualify you for a position, especially at larger, more prestigious school districts, a master's degree may serve you well in many instances. You'll learn more about curriculum design, budgeting, organization and pedagogical theory in either instance. Once done, you can earn your state license to become a school principal. 
Common hurdles 
The challenges that come with working as a school administrator generally focus on your ability to organize, coordinate and manage, whether it's your teachers, classes or a budget. Finances are a particularly large concern for administrators, as a school cannot run without the proper funds, and many districts find themselves without enough money to do all the things they want to do.
---
[i] bls.gov/ooh/education-training-and-library/high-school-teachers.htm#tab-4  [ii] bls.gov/ooh/management/elementary-middle-and-high-school-principals.htm#tab-4