49 Sponsored Online Programs Available
Online Masters in Education Degrees
An online Masters in Education (MEd) is an advanced degree for teachers, future educators and career changers. Current teachers often use the degree to further or enhance a career. As an example, some states require teachers to earn their Masters after initial teacher certification. i Or, they may need to add to their current credentials. Future educators often seek a Masters with a licensure track. Hence, they might use the degree to initiate a career. Most notably, if their Bachelors degree is not in education in the first place. Finally, for career changers, a Masters in Education may prepare graduates to pursue a non-educator path. Either in policy, course content design or leadership. In theory, a versatile graduate degree.
Online Masters in Education: Professional Insight
"Bachelor degree's in education are only slightly less common than birth certificates, if you want a career in teaching, a masters in education will set you apart from the pack. Furthermore, many schools require that you either have a teaching certificate or a master's in education, why not choose the latter and get a salary raise."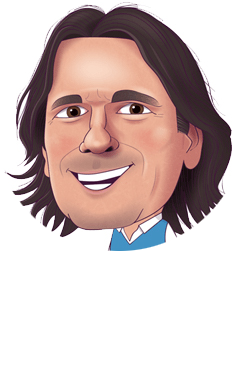 -Guy Arthur Canino, Business English Trainer, Linguist and Founder of Guy Arthur School
Click To Tweet!

What Are the Requirements of Online Masters in Education Programs?
Online Masters in Education degree coursework often stresses a mix of theory and practice. Yet, it is the program's area of emphasis that guides the overall course of study. Aside from these courses, several programs entail fieldwork. Most of all, this is a way to gain hands-on practice in the area that mirrors a student's major. Finally, some programs end with a capstone project. Almost always, this involves research in an area closely tied to their program focus.
DID YOU KNOW?

Most states require public school principals to be licensed as school administrators. Licensure requirements vary by state, but most require a Masters degree.v
"I want to earn my Masters Degree in Education in…"
There are many areas of emphasis within Masters in education online programs. In which area do you want to develop skills and know-how?
Adult Education cover topics such as adult literacy.
Curriculum & Instruction span lesson design and how to improve student test outcomes.
Early Childhood Education addresses the methods and attitudes needed to teach young students.
Education Leadership & Administration focus on how to manage and direct at the college level, or work towards a principal endorsement in your state.
Education, Technology & Online Learning highlight topics like digital design for web-based programs.
ESL/TESOL programs are directed at the teacher who wants to learn how to teach English as a second language.
General Education programs tend to be flexible and explore theory as well as multiple subjects such as math, English and history.
Higher Education programs narrow in on how to manage college departments such as financial aid or student affairs.
K-12 Education offer a path for educators to learn best practices and refine skills.
Counselor Education programs provide a path of study to future guidance counselors.
Special & Gifted Education programs explore how to identify disabilities and work with them through adaptive lessons.
Teacher Education programs cover advanced methods of instruction.
How Long Does It Take to Earn a Masters in Education Online?
The time it takes to earn a Masters degree in Education online may vary between one and three years. One year Masters programs may not be offered at all schools. However, they may be offered in states where the degree is used as an alternative path to teacher certification.
These programs may attract students who have a Bachelors degree but lack the education courses required for a state license.ii Plus, some schools offer full-time and part-time programs. These can speed up or slow down graduation.
What Are Common Entry Requirements for Online Masters in Education Programs?
A common requisite among online Masters in Education degree programs is that students have earned a Bachelors degree. While in some cases they may be required to have earned a Bachelors degree in Education this is not always the case. Because some schools accept students whose undergraduate degree is in any academic subject, it may not be an issue. Also, for Masters degrees in a content area (e.g. science, math, English), a school may require the prior degree to be in that subject. Other sample requisites are listed below.
Proof of teacher license
Minimum GPA
GRE Scores
Personal Essay
Classroom work history
Resume
Letters of recommendation
What Types of Online Masters in Education Degrees Are There?
Online Masters in Education programs may be offered in several 'tracks'. These are the Master of Education (M.Ed.), Master of Arts (M.A.), Master of Science (M.S.Ed.) and Master of Arts in Teaching (MAT).One way to find a program that aligns with your needs is to reflect on two key points.
Do you need an initial teacher license?
What are your career goals and interests?
What Is an Online Master of Education Degree?
The online master of education degree, or M.Ed., is a professional practice degree. It is often the choice of certified teachers. Especially those who need an extra endorsement to teach math or another content area. As a result, courses often highlight skills needed by K-12 educators. Also, they may address issues of interest for those who are on track to pursue an Education Specialist degree or Doctor of Education.
Aside from core courses, students often look for an area of emphasis to build expertise. Three of the common majors are listed as follows.
Curriculum and Instruction
School Counselor Education
Administration and Faculty Leadership
What Is an Online Master of Arts in Teaching?
An online MAT degree is the short form for Master of Arts in Teaching. It is often the choice of students who have a Bachelors degree that is outside of education. Also, for those who wish to change the subject they are licensed to teach in. As a result, programs often use the lens of 'best practices'. Also, they tend to zero in on a subject (history, English, math, biology, etc.) rather than on theory. Some sample majors may include the ones listed as follows.
ESOL
Gifted Education
Social Sciences
What Is an Online Master of Arts in Education Degree?
The online Master of Arts in Education is often pursued by teachers who have their Bachelor of Arts in Education. First, they may use the MA to enhance their ability to instruct a certain subject. Also, to learn more complex ways to manage their learners. Also, the MA may help teachers to instruct to a specific group, such as elementary students. While often theory-based, some regard it as a flexible degree. Some of the areas of focus in a MA in Education online program may include the ones below.
Childhood Education
Technology in the Classroom
Secondary Education Readers
What Is an Online Master of Science in Education Degree?
The online Master of Science in Education (MSEd), is a course of study for experienced teachers. As a result, it may be the next step for a licensed teacher who had earned a Bachelor of Science in Education. Furthermore, it is often the degree linked a more scientific approach to the study of education. Hence, some programs address research, statistics, and measure student learning. Sample areas of focus might span the topics below.
Principal/Supervisor
Autism
Instructional Technology
Why Consider an Online Masters in Education Degree?
Students in online Masters in education programs explore current trends, research, tools and theories. Also, those who already have a career may be able to meet their own goals with minimal disruption.
"Can You Teach at University with a Masters Degree?"
Most university teachers who work for 4-year colleges and universities typically need a doctoral degree in their field.iii Yet some schools may hire those with a Masters degree or those who are doctoral candidates for part-time positions. As a result, graduates may move onto earn their Doctor of Philosophy (PhD) in Education, Doctor in Education (Ed.D) or Education Specialist (EdS) degree.
The Possibility of Higher Earnings
Per the Bureau of Labor Statistics, the payoff for earning a Masters degree in education over a Bachelors degree is usually high.iv A few careers where higher wages for Masters degree holders were found are listed out below.
Education Administrators
Preschool & Kindergarten Teachers
Elementary & Middle School Teachers
Secondary School Teachers
Special Education Teachers
Find Accredited Online Masters in Education Programs
Many universities and online colleges with online Masters in Education programs are regionally accredited. As a result, students can tell the school has been reviewed by peers. And, passed with a stamp of approval. Aside from that, students may look for individual programs that have been approved, albeit by other agencies.
DID YOU KNOW?

In July 2013, the NCATE and TEAC (Teacher Education Accreditation Council) were fused into CAEP (Council for the Accreditation of Educator Preparation). CAEP is now the agency that approves educator preparation programs.
Take the Next Step
To find an online MEd, MAT, MS, or MA in Education degree program, the next step is yours to take! Browse paid programs. Use the subject menu to choose the area you wish to earn your degree 'in'. Then, contact the schools on your list with our on-page form.
---
[i] bls.gov/ooh/education-training-and-library/kindergarten-and-elementary-school-teachers.htm | [ii]bls.gov/ooh/education-training-and-library/kindergarten-and-elementary-school-teachers.htm | [iii] bls.gov/ooh/education-training-and-library/postsecondary-teachers.htm | [iv] bls.gov/careeroutlook/2015/article/should-i-get-a-masters-degree.htm#Education | [v] bls.gov/ooh/management/elementary-middle-and-high-school-principals.htm