2 Sponsored Online Programs Available
Why Pursue a Bachelors in Forensic Science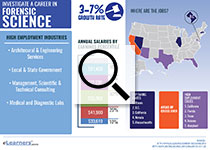 If you are interested in being part of the team that helps to solve crimes, then consider going for a Bachelor of Forensic Science Online. With an emphasis on crime scene investigation, you could learn how to collect and preserve physical evidence from crime scenes, as well as gaining the knowledge to evaluate data using a variety of scientific, chemical, and technological techniques. Understanding how a crime laboratory operates could aid in crime scene reconstruction, and provide vital information to law enforcement for solving a crime.
A bachelors in forensic science earned online could help students to meet employer expectations of good critical thinking abilities, and professional communication techniques. Earning a bachelor degree through online courses has never been more convenient, with so many options available from regionally accredited colleges and universities across the country. The flexible schedule that distance education has to offer can be a great benefit for working professionals, and the busy adult learner.
What do you do with the degree of a Bachelor of Forensic Science Online?
Students who graduate with a bachelors in forensic science could gain the techniques necessary to process a crime scene, and utilize appropriate procedures for safeguarding evidence that may be used in legal proceedings. Upon graduation, students could apply for entry-level jobs in workplaces like corrections, private investigation, or homeland security. Most graduates from forensic science programs go on to work in law enforcement agencies at the local and state level.
An bachelors in forensic science could prepare individuals for a career bringing resolution to criminal matters. Some of the positions that degree-holders may qualify for could be Crime Scene Analyst, Non-Sworn Forensic Personnel, and Forensic Lab Technician. With experience on the job, it could be possible to eventually go on to work in more advanced and supervisory positions like Field Investigator or Forensics Manager.
What will you study in a Bachelors in Forensic Science Online Program?
Coursework for a Bachelor of Forensic Science Online could give you a strong base of knowledge to work from while interacting with criminal investigators and other forensics professionals. Your online classes will typically reflect subjects similar to Forensic Science Applications and Limitations, Forensic Psychology, Computer Forensics, and Crime Scene Preservation.
You could gain the techniques needed to provide professional forensic services in typically high-stress and crisis scenarios, where focused education could be critical to performing your job well. Some students prefer to focus their studies in areas such as the Forensic Psychology, where Criminal Behavior, Abnormal Psychology, and Mental Competency Evaluation are usually emphasized.