Forensic Engineering & Criminal Cases
Dr. Geoff Desmoulin proves that being a scientist does not mean that your work is confined to the laboratory. Dr. Desmoulin's expertise in the field of Forensic Engineering has brought him to the boardroom, the courtroom, and even to your living room through the television show "Deadliest Warrior," where he uses his engineering knowledge to pit historical warriors against one another in battle.
Desmoulin began his education by earning an Emergency Medical Technician – Ambulance certification from Southern Alberta Institute of Technology in Canada. He went on to earn a Bachelor of Science with Honours and Master of Science from Simon Fraser University, completed another Master of Science at Wayne State University, and eventually earned his PhD at the University of Calgary. His work has also earned him fellowship and research awards from Wayne State University and the Canadian Cadet Organizations.
In addition to his education and accolades, Desmoulin founded the consulting firm, GTD Engineering, and is a leading forensic engineering expert in the science and research behind violence, incident reconstruction, and biomechanics.  He regularly publishes articles, some of which have been featured in forensic industry publications such as the Journal of Forensic Biomechanics, while also participating as a guest speaker and lecturer on such topics as Elementary Physics for Lawyers: Application to Complex Injury Litigation.
Learn about the path that Dr. Desmoulin took from being a research assistant to a leading expert in forensic engineering who has been called on to test forensic theories for criminal cases.
eLearners: How would you describe the field of forensic engineering to someone who is not familiar?
Forensic Engineering is simply engineering applied in the court of law. Meaning that well-established scientific method and engineering principles are applied to scenarios that assist the court in coming to a decision regarding a technical aspect of submitted evidence.
eLearners: Did you hold any past positions that have played a significant role in where you are today?
The research assistant position in the Biomechanics Laboratory at Simon Fraser University was a pivotal role for me. Under a brilliant professor by the name of Dr. Theodore Milner I was able to integrate new knowledge learned from classes and apply these concepts directly to the research I was performing in the lab. This was invaluable experience and allowed me to develop unique perspective that I still tap into today.
Further, being the scientific host and engineering advisor on the hit show "Deadliest Warrior" for three seasons allowed my name and skill set to be advertised broadly. This assisted significantly in developing a large client base quickly after the company formed.
eLearners: What, including your educational background and career experience, lead you to start GTD Engineering?
After 12 years of acquiring knowledge across two disciplines, Engineering and Kinesiology, I received a phone call from Tim Prokop (VP of Development for New Dominion Pictures) looking for someone with my skillset. After searching through 1500 reel tapes of actors trying to be scientists and scientists trying to be actors Tim found the scientist that for lack of a better word, 'ignored' the camera. Enter HOLLYWOOD. After Deadliest Warrior aired there was no looking back… agents, fans, professors, teachers, attorneys, government agencies and corporations alike all engaged. It was due to this demand that GTD Engineering was born.
eLearners: Throughout your career, what type of forensic technology growth have you seen and how has it changed the field? Where do you see the future of these technologies going?
There is nothing that can beat solid scientific methodology. However, in this digital and cellular age, some investigations once thought to be impossible are now possible by applying the standard scientific method to admissible and reliable novel technology. The fingerprint, DNA analysis, human motion analysis, eye-tracking technology, high-rate data acquisition instrumentation and many others are driving the sophistication of how the scientific method can be applied. In my opinion this trend will not only continue but exponentially increase over time, as new techniques arise new investigative problems will be discovered, driving the development of additional technology.  As long as we stick to the scientific method to evaluate and assess this new technology we will be solving a great deal of complex problems faster and more accurately than ever before.
eLearners: How does your work affect public safety policy?
Our work product is purely scientific and objective. Hence the net result, by default, changes public safety policy. There is a trickle-down effect of the safety systems and design faults that are proven in court. When a city loses employees and suffers poor press or owners of a company are forced to pay out of pocket fees for the next ten years, it has a major effect on how they conduct themselves in the future. Insurance payouts in the amount of tens of millions of dollars can affect how insurance companies cover risks, which then affects purchasers. Sometimes GTD Engineering is recruited after a case is resolved to perform additional assessments that allow the entity found at fault to correct any other safety concerns so that business can continue with less financial risk and increased end user experience.
eLearners: Can you take us through what your different responsibilities and duties are as both a senior engineer and a qualified expert witness in the U.S. Federal Court?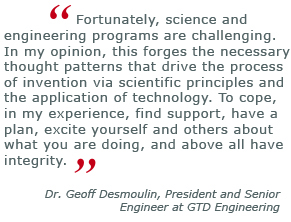 My position at GTD Engineering requires broad competency and the ability to rely on others more competent than you in specific areas. First and foremost I am an objective scientist and engineer. However, to run a successful company I have had to learn an incredible amount of leadership, teamwork, administration, and business acumen. Much of this knowledge has come from listening and relying on our Operations Lead and my personal business mentor.
Being a qualified expert requires me to pull from my experience as a scientist and engineer. While you must be as accurate as possible when performing science for the court, you are not responsible for whether the outcome supports or negates your client's position. More importantly, communicating a clear and concise explanation of the results to the court is what really matters.
eLearners: What are some of the more memorable cases that you've worked on? What was your role and how did you affect the outcome of these cases?
All cases are memorable. The interesting ones are complex injury litigation cases. Those are the types of cases that require high-end injury biomechanical engineering expertise and the ability to combine injury literature, testing results, measurements, statements, medical records, and site visit information into a quantitative answer to key questions of the case.
eLearners: What do you find most gratifying – and most difficult – about working in injury mechanics, incident reconstruction and physical testing? 
I-Love-My-Job.  From hands-on testing, lunches with clients, conferences, presentations, the thrill of running data through statistics software for the first time, answering questions during trial… it is an incredible process to be a part of. The business portion is less "exciting" but it is a constant challenge to my current skill-set, which I am grateful for.
eLearners: What do you think are some of the potential challenges for students pursuing forensic engineering degrees? Do you have any suggestions about how to cope?
Fortunately, science and engineering programs are challenging. In my opinion, this forges the necessary thought patterns that drive the process of invention via scientific principles and the application of technology. To cope,  in my experience, find support, have a plan, excite yourself and others about what you are doing, and above all have integrity.
eLearners: Do you have any other advice for students who are interested in earning their degrees in forensic engineering or a related field?
The most important concept I can give to students interested in forensic work or criminal justice is to become one of the best in your field, whatever that may be. Strive for excellence. Aim higher than you currently think is possible for yourself. Then, together with solid support, a good plan, excitement for your discipline, and scientific integrity, you will realize that even though you set your sights on the moon, you have landed among the stars.
---
The expert interviewed for this article may be compensated to provide opinions on products, services, websites and various other topics. Even though the expert may receive compensation for this interview, the views, opinions, and positions expressed by the expert are his or hers alone, are not endorsed by, and do not necessarily reflect the views, opinions, and positions of [eLearners.com] or EducationDynamics, LLC. [eLearners.com] and EducationDynamics, LLC make no representations as to the accuracy, completeness, timeliness, suitability, or validity of any information in this article and will not be liable for any errors, omissions, or delays in or resulting from this information or any losses or damages arising from its display or use.