What is an Information Security Analyst?
Chances are you have heard about the kind of work that an information security analyst does—or tries to do—in recent news reports about hacking scandals and information security breaches. But what is an information security analyst exactly? An information security analyst is considered an IT (information technology) professional and part of the responsibilities of the career include researching, preparing, and implementing security plans that serve to protect a company's computer network and systems from hackers trying to steal important information. The job of an information security analyst continues to develop as threats to information security become more sophisticated and difficult to detect. Because criminals who hack into companies and steal information are prosecuted if caught, some information security analysts have a role in the criminal justice system.[i]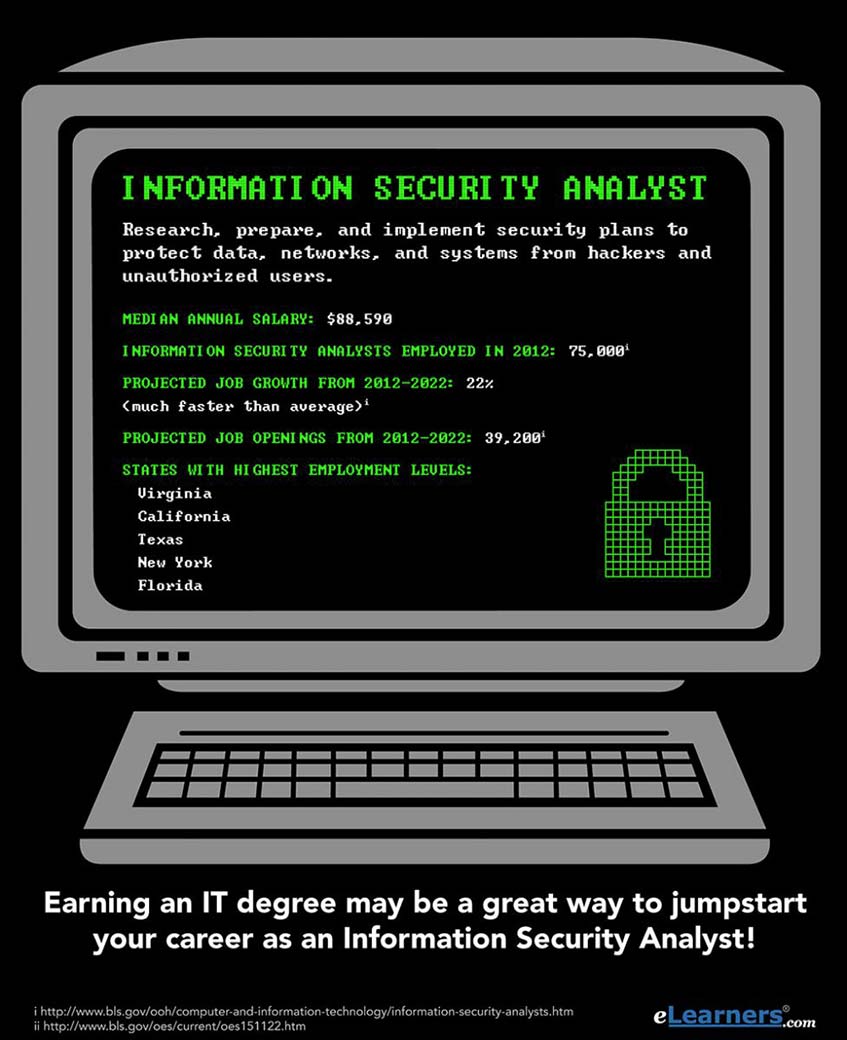 An information security analyst may look at the security breaches that other companies have fallen victims to in order to help inform them about what type of threats s/he needs to guard against. This IT professional may also be responsible for training employees of the organization on how to use the company's systems while avoiding creating an opportunity for an external or internal security breach.[ii] (Continue reading below)
How to Become an Information Security Analyst
If you're interested in one day pursuing this career path, you should know that according to the Bureau of Labor Statistics, information security analysts usually enter the field with a bachelor's degree in computer science, programming, or some related field. While the entry-level education for this career path is a bachelor's degree, employees may prefer candidates who have a master's of business administration (MBA) in information systems, which typically takes around two years (beyond the undergraduate degree level) to complete. [iii]
Some information security analysts choose to work towards earning information security certifications, such as the popular Certified Information Systems Security Professional (CISSP). There are other more specific certifications (that focus on skills such as penetration testing or systems auditing for example) to consider researching more thoroughly as you begin your education in information security.[iii]
Part of an information security analyst career includes utilizing logic and reasoning to approach and solve complex problems, the ability to analyze data in order to identify the underlying principles, and knowledge of computer hardware, software, engineering, and technology.[ii] Some work activities of this career include:
Interacting with computers
Evaluating information
Monitoring processes, materials, and surroundings
Updating and using relevant/current knowledge
Information Security Analyst Salary and Job Growth
We've gone over how someone begins the information security analyst career path, so now let's discuss the information security analyst salary and job growth potential. Salary and benefits at each job will be unique, but here is some general salary information from recent years:
Median annual salary for 2013: $88,590[ii]
Information Security Analysts employed in American in 2012: 75,000[ii]
Projected job growth from 2012-2022: 22% (much faster than average)[ii]
Projected job openings from 2012-2022: 39,200[ii]
Wondering what types of companies employ information security analysts? Here are the industries that have the highest levels of employment for this profession in 2013[iv]:
Computer Systems Design and Related Services: 21,320 employed
Depository Credit Intermediation: 6,460 employed
Management of Companies and Enterprises: 5,810 employed
Management, Scientific, and Technical Consulting Services: 4,090 employed
As of 2013, the states with the highest employment levels in this occupation were[iv]:
Virginia: 10,330 employed
California: 8,260 employed
Texas: 6,550 employed
New York: 5,040 employed
Florida: 3,390 employed
If you're the kind of person who's always been interested in data security and protecting companies from outside threats and cyberattack attempts, perhaps you should consider earning a degree that puts you on the career path to become an information security analyst. 
---
[i] bls.gov/ooh/computer-and-information-technology/information-security-analysts.htm | [ii] onetonline.org/link/summary/15-1122.00 | [iii] bls.gov/ooh/computer-and-information-technology/information-security-analysts.htm#tab-4 | [iv] bls.gov/oes/current/oes151122.htm