Sponsored Online Programs Available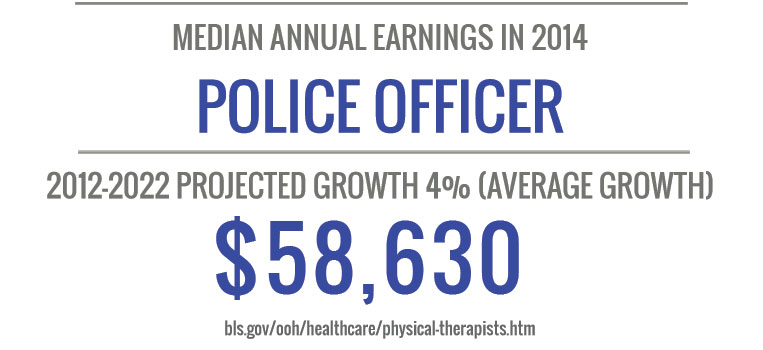 Bachelor Degree in Law Enforcement Online
If you enjoy working with the public and have a knack for maintaining order, or if you have a skill for gathering facts and evidence, then you may want to consider enrolling in an Online Bachelor Degree in Law Enforcement.[i]
Potential Qualifications for an Online Bachelor Degree in Law Enforcement
Law enforcement covers broad ground, and there may be a similarly wide variety of education requirements needed to pursue various careers within the fieldii. These educational demands might simply be a high school diploma, though some law enforcement occupations might require a bachelor's degree.ii Even for those occupations that may not require a law enforcement degree, earning one could potentially be encouraged for applicants.[ii]
That being said, for those occupations that demand or encourage applicants to have earned a degree, it might not be the only qualification needed to enter law enforcement. Agencies may also require candidates to graduate from a training academy to become a law enforcement officer.[ii] Some other qualifications that may help you pursue a career in law enforcement could include:
Foreign language skills
A clean criminal record
Foreign language skills
Ability to pass physical exams, including hearing or vision exams
Military experience [ii]
Essentials of Online Law Enforcement Bachelor's Degree Programs
When researching how to earn an online bachelor's degree in law enforcement, you may come across a number of different programs. Some schools may offer law enforcement as a focus within a bachelor's in criminal justice degree program. Others may feature programs focusing on a specific aspect of the field, such as law enforcement administration. Remember that Online Bachelor Degree in Law Enforcement programs may vary in what they require or what they specialize in, so when researching how to earn a bachelor's degree in law enforcement online, be sure to request as much information from schools as possible.
Depending on the specifics of the Online Bachelor Degree in Law Enforcement program, you may take classes in a number of different subjects. These could include the following:
Policing
Substance abuse
Terrorism
Investigation
Law enforcement ethics
Personnel management
Remember that not every program may have similar courses, so check with each specific school to see what their law enforcement curriculum looks like.
Earning a Bachelors in Law Enforcement Degree Online
Even though a degree program may be called an online program, this does not necessarily mean that the coursework is completed only over the Internet. Some programs might have residency requirements, meaning you'd potentially have to travel to campus to complete certain courses. For classes that are completed online, it might mean that you have the flexibility to complete work on your schedule, from where you prefer to study. Some schools may even provide certain forms of support to online students, from technical support to online discussion boards to help pursuing internships or preparing for job interviews. Don't forget to check with each school about the format of their program, and whether or not you might need to complete some work on campus.
What Skills and Qualities May Be Required? [ii]
So now that you know what it might take to be qualified to pursue a career in law enforcement, you'll need to determine if it may be a good path for you. Law enforcement might not only require education or training, but potentially an array of skills and qualifications. Here are some that could be helpful if you want to earn a law enforcement degree:
Active Listening: Paying complete attention to what others are saying, understanding the points being made, asking appropriate questions, and avoiding interrupting
Critical Thinking: Using reason and logic to find the strengths and weaknesses of alternative approaches and solutions to problems
Monitoring: Checking and assessing the actions of yourself and others in order to make improvements or take reparative action
Social Perceptiveness: Being informed and receptive of others' actions and understanding their reactions
Speaking: Conveying information effectively to others
What Careers Might I Pursue With a Law Enforcement Degree?
As mentioned above, a bachelor's degree in law enforcement may help bolster your resume to pursue a career in the criminal justice field. Though a high school diploma may be the entry-level education required, one occupation you could pursue with a bachelor's degree in criminal justice is as a police officer.ii The median salary for police in 2015 was $60,270.
One occupation for which a college education may be required is fish and game warden.[ii] If you have experience in biology or related fields, you might be interested in pursuing this career.ii According to a poll by O*Net, 79% of workers in this role had a bachelor's degree. In 2015 the median salary for this profession was $52,780.
If you're interested in law enforcement for a federal agency, a bachelor's degree may be the entry-level education.[ii] According to O*Net, the median salary for criminal investigators and special agents was $77,210.
Getting Started
If you've read enough and you're still interested in enrolling in a law enforcement bachelor's degree program, you can get started by checking out some sponsored listings here on eLearners.com. Remember that every Online Bachelor Degree in Law Enforcement program is different, so be sure to reach out to schools to get as much information as possible.
---
[i] bls.gov/ooh/protective-service/police-and-detectives.htm#tab-5 [ii]bls.gov/ooh/protective-service/police-and-detectives.htm#tab-4 [iii]bls.gov/ooh/protective-service/police-and-detectives.htm#tab-5 [iv]onetonline.org/link/summary/33-3031.00#Education [v]onetonline.org/link/summary/33-3031.00#WagesEmployment [vi]onetonline.org/link/summary/33-3021.03#WagesEmployment