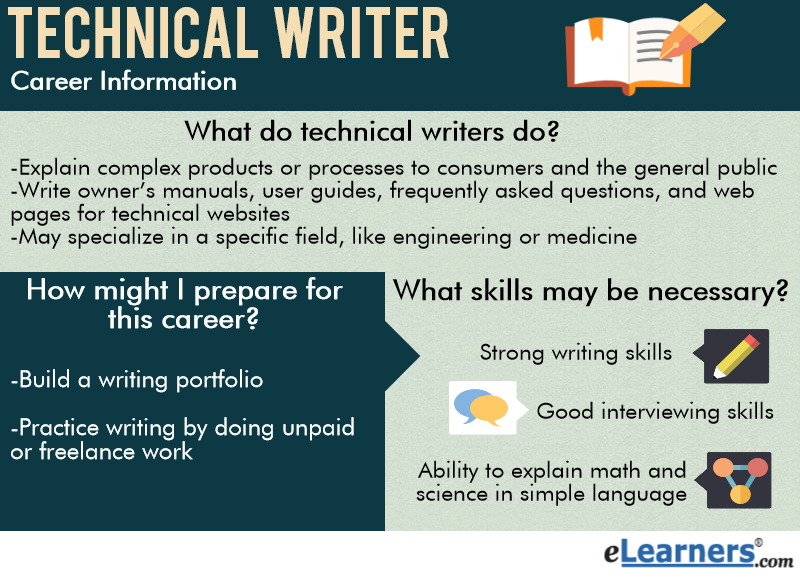 Technical writers explain complex products or processes to consumers and the general public. They may specialize in a specific field— like information technology, medicine, or engineering. They write owner's manuals, user guides, frequently asked questions, and web pages for technical websites.
Technical writers often collaborate with subject matter experts (SMEs). Depending on the industry, SMEs might include doctors, programmers, scientists, engineers, pharmacists, or other technical experts. Tech writers should be comfortable asking questions and doing research.
What Are They Known For?
An interest in "figuring out" gadgets, riddles, or computer programs
The ability to explain science or math in simple language 
Strong writing skills
Good interviewing skills
What Is the Job Outlook for Technical Writers?
Employment of technical writers is projected to grow 15 percent from 2012 to 2022, faster than the average for all occupations. The annual median pay for technical writers is $65,500 [i]
How Might I Prepare for a Career in Technical Writing?
One of the best ways to improve writing skills is to complete practice writing assignments—a lot of them. College classes provide ample opportunity to research and write about diverse topics. And in fact, according to the Bureau of Labor Statistics, many employers prefer to hire technical writers who hold bachelor's degrees in English or journalism. [i]
But it's also useful to study a technical subject and build background knowledge in an area like computer science or healthcare. While majoring in English or journalism, you may be able to take elective courses or even choose a minor in IT, health studies, or engineering. It's also a good idea to start building a writing portfolio sample workas soon as possible, which might mean looking for freelance work and unpaid writing assignments while you are still in school.
Which Online Degrees Might Support this Career Goal?
---
[i] bls.gov/ooh/media-and-communication/technical-writers.htm#tab-6