What do Software Developers Do?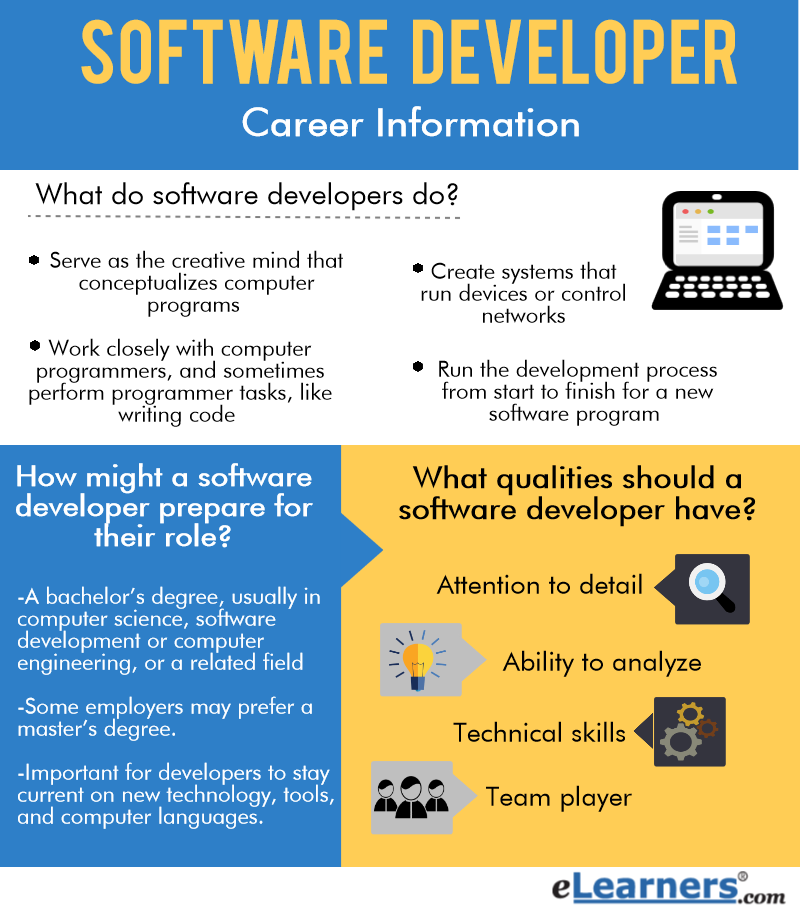 Software developers serve as the creative mind that conceptualizes computer programs. A systems software developer creates systems that run the devices or control networks, and they could run the development process from start to finish for a new software program. It's important for the software developer to completely understand the needs of the user so he or she can design the program to satisfy the wishes of the user. Software developers work closely with computer programmers, and sometimes perform programmer tasks, like writing the code for the software program.
A systems software developer creates the systems that ensure computers correctly operate. This type of developer creates operating systems that you would find in most consumer electronics, including computers, phones, and even cars. As technology advances, the need for software developers has increased. The median annual salary for a systems software developer is  $93,350  and between 2012 and 2022, projections show an increase in 22 percent software developer careers.[i]
How Might Software Developers Prepare for Their Roles?
Employers typically look for software developers with a bachelor's degree, usually in computer science, software development or computer engineering, or a related field. With a computer science degree, you could learn the broadest range of topics, which could help developers understand all facets of technical work and language. Also, although knowing how to write code isn't the main job function, having computer programming knowledge could help a software developer. Depending on the level of the position and the type of company, some employers may prefer a master's degree. As technology changes so often, it's also important that developers stay current on new technology, tools, and computer languages.
What Qualities Should a Software Developer Have?
An important skill for an effective software developers to have includes technical skills. Developers should understand computer languages and capabilities to design the best software possible. Other skills that developers could have include:
Attention to detail: Software developers could be working on many different parts to the software at once, so the ability to concentrate and pay attention to detail is important
Team player: Software developers often work on a team with members who help with design, development, and programming.
Ability to analyze: Software developers need to analyze the needs of the user to effectively design what will fit those needs.
Which Online Programs Might Support This Career Goal?
Earning a bachelor's degree online could point you in the right direction for you to become a systems software developer. Degrees that could help you secure a career as a software developer include: