What Do Community Service Managers Do?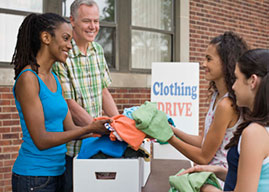 Community service managers serve the interests of the area or organization they are a part of. A community service manager runs community organizations and social service programs, and is looked upon to lead staff to provide a service to the public. Community service managers could have tasks including determining what types of programs and services the community has a need for, managing the staff who provide services to clients, and analyzing the effectiveness of the services or programs provided. Community service managers at smaller organizations typically wear many hats—from hiring staff, to managing the budget, to meeting with donors and community members. At a larger organization, community service managers usually supervise and execute programs and initiatives set forth from stakeholders, such as administration or elected officials. The 2013 median yearly wage for a community service manager was $61,160. [i]
How Might Community Service Managers Prepare for Their Roles?
Employers typically require a bachelor's degree for community service manager careers. Completing a degree program in social work, sociology, or public administration could help you pursue becoming a community service manager. Some roles may require work experience, which could be completed in a role as a social worker, or something similar.
If you already have your bachelor's degree and are contemplating furthering your education to pursue becoming  a community service manager, earning a master's degree in public or business administration, social work, public policy, non-profit management or a related field could set you apart from your competition. Finally, since analyzing the effectiveness of programs could play an important role in your career as a community service manager, focusing on coursework like statistics, program management, and policy analysis could help you as a community service manager.
What Qualities Should a Community Service Manager Have?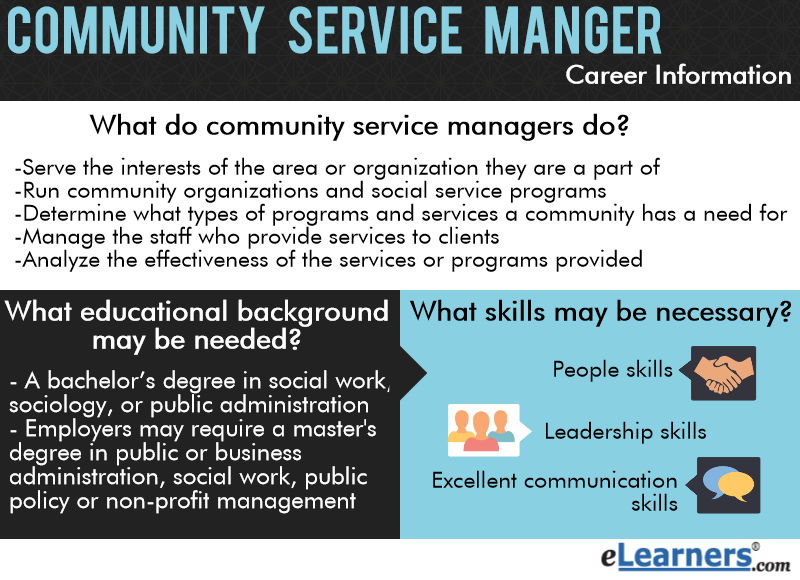 Since a community service manager has relations with the community on a regular basis, qualities like communication skills and people skills may be imperative in a community service manager career. Managers must write and speak clearly so others understand them, and they must cultivate good relationships with community members and their employees. Other skills that may help you become an effective community service manager include:
Analytical skills: Understand and evaluate data to make recommendations and improvements
Leadership skills: Motivate and lead employees and community members to fulfill the direction of the programs
Managerial skills: Comprehend personnel issues and possess budgeting skills
Which Online Programs Might Support This Career Goal?
Earning a bachelor's degree online could be a step in the right direction for pursuing a career as a community service manager. If you already have your bachelor's degree, furthering your education with a master's degree could help you on your journey to serve your community or an organization as a community service manager. Browse online degrees in social work if you're interested in this career.