Healthcare social workers are responsible for providing psychosocial support to those with chronic, acute or terminal illnesses. Healthcare social workers often serve as an advocate to help patients resolve crises, provide education and counseling and refer patients or families to other resources or services that may provide assistance.
Some examples of potential places of employment for Healthcare Social Workers include general medical and surgical hospitals, individual family services, nursing homes, home health care services and local government.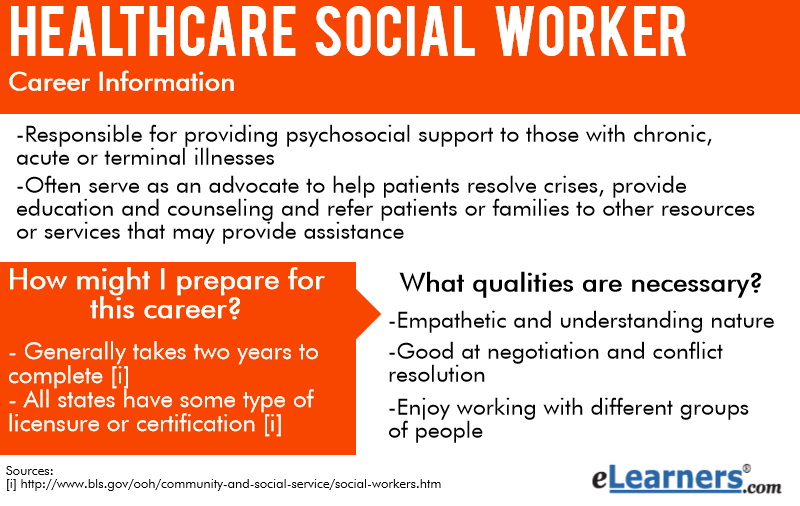 What Are They Known For?
An empathetic and understanding nature
Good and negotiation and conflict resolution
Enjoy working with different groups of people
What Is the Job Outlook for Healthcare Social Worker?
Employment of Healthcare Social Workers is expected to grow by 27 percent between 2012 and 2022 (which is much faster than the average for all occupations).[i] According to the Bureau of Labor Statistics, this is likely due to the fact that:
"As baby boomers age, they and their families will require help from social workers to find care, which will increase the demand for healthcare social workers." [i]
Candidates for these positions should see another 114,100 jobs added to the U.S. economy during this time period.[i]
How Might I Prepare for this Career?
According to ONET, 85% of healthcare social worker respondents have a master's degree in social work (MSW).[ii] MSWs usually take 2 years to complete, however some programs may allow students with a Bachelor's degree in social work to earn their MSW in one year.
Which Online Degrees Might Support this Career Goal?
---
[i] http://www.bls.gov/ooh/Community-and-Social-Service/Social-workers.htm