What is a social worker and how do you become a social worker? Social work is a profession that helps people overcome obstacles to living a healthy, happy, independent lifestyle, such as inadequate housing, substance abuse problems, domestic violence, physical or mental disabilities, or unfit parenting. Social workers address these obstacles in a variety of settings – including schools, homes, hospitals or residential facilities. They represent a variety of clients – from newborn babies to senior citizens. Social workers can be employed by government departments or private agencies.
What is human services?
When answering the question 'what is a social worker' we should also discuss the function of human servieces. Human services are the collection of services offered by public and private agencies to help improve clients' living situations. Human services often encompass the same tasks that constitute social work. The two terms can often be used interchangeably. The difference between human services professionals and social workers is that official "social workers" must be licensed or certified by the state in which they practice. Human services professionals, by contrast, can include many of the people employed through public agencies, hospitals, government-sponsored housing or clinics, and some criminal justice offices.
What will I learn in a human services or social work degree program?
Every college offers a distinct set of course requirements, but human services students usually study general education courses in liberal arts, sciences, and the humanities. To give students hands-on experience, many human services/social work programs include field work in their curricula. Students may be given a supervised placement in a human services job setting, and awarded credits for their interning duties. Some degree programs offer specialized course work in gerontology, child protection, substance abuse or other areas.
Program length and depth of study also depend on the degree level you are seeking.
What types of programs and degree levels are offered in the human services major?
Human Services Associate's Degrees
If you're completely new to the field, you may wish to start your education with an associate's degree in human services. Associate's level programs may be offered as A.A. degrees (associate of arts), A.S. degrees (associate of science) or as A.A.S. degrees (associate of applied sciences.)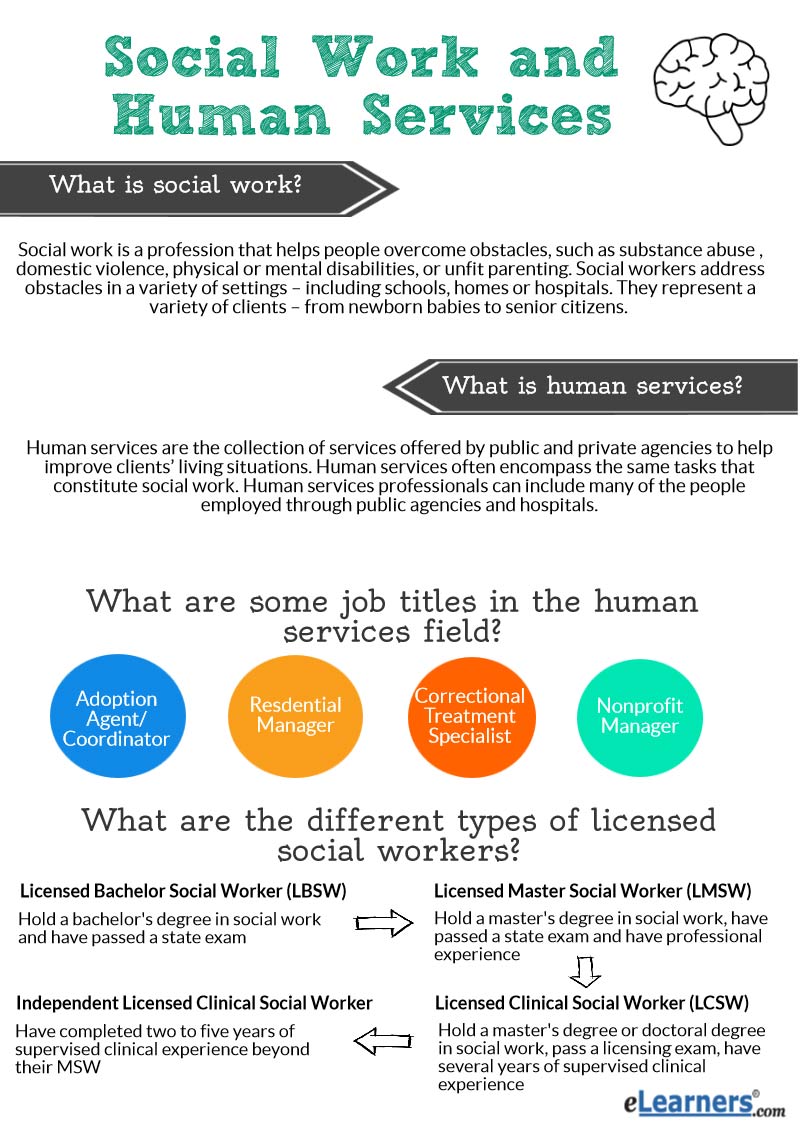 Applied science degrees are generally designed for students who will "apply" their education through direct work with clients. Applied science grads may go on to become paraprofessionals, employed by social service agencies. Having studied case management practice and counseling/rehabilitation techniques, these grads will be prepared to assist in halfway houses, shelters or group homes.
A.A. and A.S. human services degrees, by contrast, may include more general education or administration course work. These programs may be geared towards students who plan to work in office environments, as opposed to group homes or hospitals. A.A. programs may emphasize the business aspect of human services – including technology applications, government regulations and public policy. But sometimes colleges just choose to call their programs one thing or the other, and the specific initials aren't intended to signify a specific type of career preparation.
By itself, an associate's degree will allow you to pursue entry-level roles in social work. Associate's grads usually work as aides under the supervision of licensed social workers, psychologists or nurses. Whether you're leaning towards direct client care or a more administrative career, you should speak with several different enrollment advisors to ensure that these distinctions apply to the programs you're considering. Advisors can tell you what kind of jobs other graduates have earned, and how many of them continued their education in the field.
Human Services Bachelor's Degrees
If you already have an associate's degree and/or you already have some experience in human services, you may want to pursue a bachelor's degree.  Even if you have neither, you can still jump into a bachelor's program, but you'll want to make doubly sure that you're invested in the field, and you understand your desired career track.
At the bachelor's level, degrees classified under the "human services" heading start to take on different slants and concentrations. Some are essentially psychology degrees, some are essentially business degrees, and still others are essentially sociology or criminal justice degrees. Because there are so many career sectors within the human services sphere, bachelor's level students should be ready to focus their studies, based on career goals and the types of clients they want to assist.
If your plan is to become a licensed social worker, refer to the advice below. If you're interested in other roles within the human services sector, a bachelor's degree could help you pursue a career in adoption services, family planning, eldercare, corrections, victim advocacy or nonprofit work for any number of charitable organizations. 
Human Services Master's Degrees
As with bachelor's level human services degrees, you'll soon discover that master's level degrees emphasize specific professional areas. Students can choose to focus on topics like marriage and family services, nonprofit management, health and wellness, or executive leadership. These degrees are doubly useful because a.) most management roles in human services require a master's degree, and b.) specialized training helps job applicants stand apart from the competition. Human services employers look favorably on advanced degrees that highlight industry-specific competencies, as opposed to general business skills.
Human Services Doctoral Degrees
A Ph.D. in human services (or the DSW in social work) is the highest level of study in the field. Ph.D. graduates can go on to land executive management roles, or even teach human services at the college level.
How do I become a licensed social worker (LSW)?
States have different requirements when it comes to licensing social workers.  Within a given state, there are different types of licensure you can acquire. For example, the state of Massachusetts issues four different social work licenses – including the Licensed Independent Clinical Social Worker (LICSW), the Licensed Clinical Social Worker (LCSW), the Licensed Social Worker (LSW) and the Licensed Social Work Associate (LSWA).
The various acronyms – LCSW, LSW, LGSW, etc. –can mean different things, and be accompanied by different requirements. After researching your state's social worker categories, you'll probably discover major differences among local social workers – in terms of education required, job options, job responsibilities and average salaries.
You can find your state's social work licensing requirements by visiting the ASWB's regulatory board page.
Usually, it's possible to become a social worker, a licensed one, if you have a bachelor's degree and some supervised clinical experience.  Some states may additionally require a master's degree or a bachelor's degree from a CSWE-accredited college.  In other words, you may need a specific BSW or MSW degree, from a state-approved program, as opposed to a more generalized human services degree.  Most states will also require that you pass a standardized exam.  Once you've earned your license, your state will probably require that you complete continuing education requirements (individual courses or seminars) every two or three years.
What are the different types of licensed social workers? 
Generally speaking, there are four levels of licensed social work. Not all states recognize all four levels, but it's still useful to understand what they are. Bear in mind, your state may use slightly different initials to denote these categories. For specific data, check your state's social work licensing requirements on the ASWB's regulatory board page.
LSW/LBSW – At the first level, students can qualify for licensed social work roles with just a bachelor's degree and a passing score on a state exam. In some states, an associate's degree, combined with several years of approved experience, can compensate for the lack of a BSW degree. Still, in other states (like California or Connecticut), this first level isn't even available.
LSW/LMSW – At the second level, students are required to earn an MSW (master's degree). They may also be required to accrue professional experience and pass a state exam. Usually, social work professionals must hold at least an MSW before they are permitted to offer therapy. And the MSW is usually the entry-level requirement for social work employment in schools or hospitals. 
LCSW – Clinical social workers comprise the third level of social work licensure. Clinical social workers need to hold at least a master's degree (MSW) in social work, and many hold a doctoral degree (DSW). They usually have to pass a licensing exam and complete several years of supervised clinical experience.  In most states, the MSW and/or DSW degrees must come from a CSWE-accredited college. 
Independent LCSW – Independent clinical social workers are considered "autonomous" in that they can provide assessment and treatment without any supervision, and apart from any agency structure.  Depending on the state in which they practice, independent LCSWs have completed two to five years of supervised clinical experience beyond their MSW or DSW, and they may be qualified to train and supervise less tenured LCSWs. 
How does "clinical" social work differ from regular social work?
According to the Center for Clinical Social Work (CCSW), "clinical social work is a mental-health profession whose practitioners, educated in social-work graduate schools and trained under supervision, master a distinctive body of knowledge and skill in order to assess, diagnose, and ameliorate problems, disorders, and conditions that interfere with healthy bio-psychosocial functioning of people—individuals, couples, families, groups—of all ages and backgrounds."
In other words, clinical social workers are similar to counselors or therapists. But instead of pursuing psychology degrees, they earn MSW and DSW degrees through colleges' social work departments. Although they do study human behavior, psychotherapy, and social development, clinical social workers are more prepared to help clients access government resources or establish "therapeutic life management", in tandem with regular counseling intervention. 
Can I become a social worker with a human services degree?
Yes and no. As noted above, states maintain different requirements for their licensed social workers. Within a given state, there are different types of social workers. In some cases, an associate's degree or a bachelor's degree in human services may serve as a viable stepping stone towards a social work credential.  In other cases, students must restrict their degree search to BSW and MSW degree programs that are accredited by the Council on Social Work Education (CSWE).  If you're certain you want to become a licensed social worker, contact your state's board, and ask about acceptable education routes to become a social worker.
What are some other job titles in the human services field?
Correctional Treatment Specialist
Correctional treatment specialists are similar to probation officers, except they also take an active role in helping offenders establish stable, productive lives. Correctional treatment specialists work with inmates, released convicts and criminal offenders who are on probation. They design and enforce rehabilitation plans, based on offenders' histories and diagnoses. Rehabilitation may occur inside or outside correctional institutions and may include psychological counseling, job training, treatment for addictions or anger management. Correctional specialists may be employed by public or private agencies, and their work day might include contact with the court system, parole boards, psychologists, corrections administrators, criminals' family members and others.
Adoption Agent or Coordinator
If you've focused your human services studies on child and family welfare, you might enjoy work as an adoption coordinator. Adoption agents can work for government agencies or private organizations, some of which facilitate international adoptions. If you speak another language, you may be an especially valuable resource for parents and governments that are trying to coordinate ideal placements.
Most agencies will require a bachelor's degree in social work or a related major, like human services. If you want to manage a team of adoption agents, you'll likely need a master's degree. Experience in child services is often recommended. Prospective students might be well advised to volunteer or intern at a facility that deals with child advocacy, family planning or family law.
Related roles are also available through child welfare agencies, like the Department of Social Services, or through nonprofit groups that advocate on behalf of single parents, teen parents, and abused or neglected children.
Residential Manager
Many individuals with physical or mental disabilities live in group homes, sponsored by the state or by private agencies. People suffering from homelessness, domestic violence and major illnesses may also take residence in hospices or shelters. Although such facilities are usually required to staff medical doctors and/or licensed psychologists, they often employ nonclinical managers or supervisors, who attend to the daily operations of the facilities. 
Residential managers need business skills in order to delegate tasks, plan budgets, oversee supplies and write grant proposals. But they also need human services training to understand basic principles of case management and the specific concerns for the populations they serve. Graduates with a bachelor's and/or a master's degree in human services are uniquely equipped to fill these crucial roles.
Nonprofit Manager
Charities and nonprofit organizations may not worry about stockholders, but they still have to earn money in order to serve their clients and keep the lights on in their buildings. Just like in other businesses, a network of professionals – including accountants, marketers, human resource representatives, social media experts and web developers – comes together to get the job done. Managing these professionals, or their individual departments, is a task assigned to administrators with advanced degrees in human services. 
What materials do I need to apply for a human services or social work degree?
When it comes to human services and social work degrees, associate's and bachelor's degree applicants usually need a high school diploma or a GED. Some colleges may ask for letters of reference, SAT scores, or a personal statement that outlines your career goals.
Master's degree programs in human services/social work are somewhat more competitive. Applicants will likely be asked to supply undergraduate transcripts, to prove that they graduated from an accredited college with a reasonable grade point average. Other possible prerequisites include letters of reference, a personal statement, and a resume that includes relevant work experience.  Some programs will ask for GRE or GMAT scores. 
If you are applying to an MSW (master's of social work) program, you don't necessarily need an undergraduate degree in social work. However, you'll find it advantageous to have studied subjects like psychology, sociology and statistics. Many master's level programs also look favorably on applicants who can speak a second language.
Students applying for a Ph.D. in human services will need to supply master's degree transcripts that display an acceptable grade point average. Other possible prerequisites include letters of reference, a personal statement, and a resume that includes relevant work experience. Further, online Ph.D. programs may expect students to commit to in-person colloquia or residencies that occur throughout the degree program.
What do I need to know about accreditation and human services/social work degrees to become a social worker?
As with any type of college degree, it's very important that your human services or social work degree comes from an accredited school or college. Colleges receive institutional accreditation in one of two forms: regional or national. You may have heard that regional accreditation is more prestigious than national accreditation; this isn't always true. 
It is true however that credits from regionally accredited colleges are easier to transfer than credits from nationally accredited colleges. Some advanced degree programs will only accept students who have completed undergraduate studies at regionally accredited colleges. So if you think you might want to build on your college education at some point – advancing from an associate's degree to a bachelor's degree, or from a bachelor's degree to a master's degree – you may want to limit your search to regionally accredited schools.
Also, specific degree programs within a given college can earn something called "specialized accreditation."  The Council on Social Work Education (CSWE) offers specialized accreditation to bachelor's and master's level social work programs.  (It does not accredit human services programs.)  Very few of the social work degrees in its directory offer online options.