Most Americans are familiar with the video game industry as a user playing the finished product. But a video game goes through several stages and is worked on by several video game industry professionals before consumers are able to enjoy it. Read on to gain an understanding of facts about video games, the history of video games, and how users are incorporating gaming into their lives.  And if you're ready, check out online video game design degrees.
The History of Video Games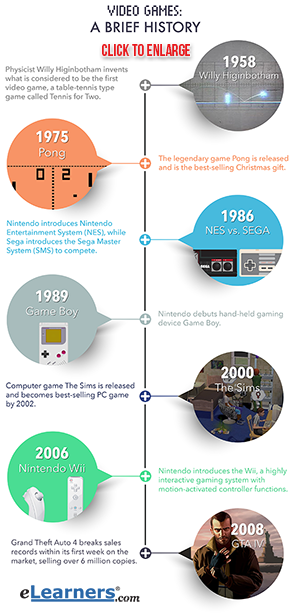 In 1958, the first video game was invented by a physicist named William Higinbotham. He created a table-tennis type game called Tennis for Two that was played on an oscilloscope, an instrument that uses waveforms to illustrate electrical and non-electrical signals—a far cry from what video game consoles would one day be. Nine years later, the "Brown Box," the first video-game console designed for a TV set, was developed by German-born television engineer Ralph Baer and his colleagues. Since then, the evolution of video game design has progressed to such an advanced stage that some characters look like real people, video games are played as a way to teach and practice skills, and the industry generates billions of dollars each year.
Throughout the 1970s and early 80s, video arcade games and home gaming consoles started to appear on the American market. The legendary game Pong earned its notoriety by becoming the hottest selling Christmas gift in 1975, and Pac-Man changed video arcades forever in 1980. By the early 90s—with Sega's gaming console in many homes and Nintendo's Game Boy in many hands—video games became such a presence in American culture that the Senate even launched an investigation into the impact of the violence portrayed in some games.
Today, video games are utilized in a multiplicity of mediums and for countless purposes. Logic games, for example, are played to support brain elasticity and people of many age groups use Nintendo's Wii, launched in 2008, to maintain an active lifestyle. The exciting new ways in which video games will be incorporated into your everyday life is impossible to predict, but what's certain is that there will be a continued need for the people who develop and design them.
Facts About Video Games- The Industry and Its Users[i]
58% of Americans play video games.

In 2012, people in the U.S. spent $20.77 billion dollars on the video game industry, including content, accessories, and hardware.

Each U.S. household has an average of 2 game players.

Age of players: 32% are under 18; 32% are 18-35 years; 36% are 36 years and above.

Gender ratio of players: 55% male, 45% female.

Some reasons gamers gave for purchasing video or computer games: interesting storyline, sequel to a favorite game, quality of game graphics, word of mouth.

Gamers who have increased their time spent gaming in the last three years are watching 49% less television and 58% less time playing board games.

32% of gamers play with family members, 42% with friends, and 16% with a significant other or spouse.

52% of parents say video games are a positive part of their children's lives.

Best-selling computer game genres in 2012: 26.7% casual; 28% role-playing; 24.9% strategy; 7.1% adventure; 6.2% shooter.
The Lifecycle of a Video Game
Whether an idea for a video game comes from someone's mind or is licensed from a movie or television show, this idea kickstarts the video game's lifecycle of production. Games played on social media are usually quicker to go through the production process than games specifically made for consoles, which often feature complex programming and can take an average of 18-30 months.[i] See how a game goes from an idea to user-ready in the steps below.
Preproduction: In this foundational stage, lead designers will make an outline for the game's concept, which may include the storyline, distinguishing features (such as a new kind of gameplay or innovative graphic), and character illustrations. Lead artists and programmers can then use this outline to create a game prototype.

Production: The outline compiled in the pre-production stage dictates to designers how the game needs to be constructed; to engineers how to technically create what the designers ask for; and to the artists what features they should add to the characters, backgrounds, textures, objects, and animations. Once the look is approved, programmers then build the game's tools and graphics system. Different elements of the game may change and evolve during the production phase, but the original design outline is used as a road map.

Postproduction: This phase involves testing the game to find and fix errors, eliminate unnecessary elements, and test quality assurance. The game is then released to the public. Errors and changes sometimes need to be made even after the game is made available to users.
---
[i] bls.gov/opub/ooq/2011/fall/art01.pdf  [ii] theesa.com/facts/pdfs/esa_ef_2013.pdf