Communications majors study the way information and ideas are exchanged in society. They write, edit, translate, and disseminate messaging using language skills, specialized writing techniques, print, and media outlets.
Communications professionals can be found working in almost any industry — in advertising agencies, for public relations firms, within larger organizations, for television and radio stations, publishing firms, newspapers, and beyond. If you're considering an online communications degree, you are in the right place.
ONLINE COMMUNICATIONS DEGREE INSIGHT
We asked Dr. Gayle S.O.B. how she uses her education in communications:
"Communication covers many areas including media, speaking, writing, coaching and consulting. Because of my communications degree, I can provide all of those services to my clients and the public. It is very gratifying and rewarding for everyone and continues to make my daily life a blast!"
Click To Tweet!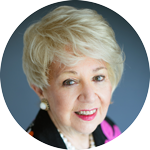 -- Dr. Gayle S.O.B. Spunky Old Broad
1. What is communications all about?
The communications field encompasses such subjects as advertising, journalism, public relations, media relations, and visual communications — all disciplines concerned with crafting and disseminating strategic, persuasive messaging via the Internet, print publications, radio, television, ambient media, outdoor advertising, and word-of-mouth to promote products, services, organizations, or concepts.
2. Is an online communications degree right for me?
Think about an online communications degree if you:
Enjoy dealing creatively with challenges
Work well as part of a team
Find yourself having strong opinions about advertising campaigns you come across
Can communicate clearly and simply
Enjoy how businesses communicate with the public
Have strong verbal and written communication skills
Can condense complicated information into an easy-to-understand message
Consider yourself to be persuasive. Do you influence others?
Work well under pressure
Enjoy assuming a promoting and influencing role
Watch the Super Bowl (at least in part) for the commercials
Can think on your feet
Are a problem-solver
Are naturally curious
Are particularly skilled at using the latest online social media
Like meeting and speaking with new people each day
Feel comfortable in the public eye
3. What other degrees besides communications should I consider?
If an online communications degree isn't quite right for you, consider these fields instead:
Marketing

Delve into a discipline that analyzes and anticipates the needs of consumers, how new business opportunities are discovered and product development.
Business Communications

Learn to communicate effectively with your chosen audience using presentations, speeches, well crafted letters, e-mails, memos, and other interoffice communication techniques.

Graphics and Multimedia

Interested in the digital arts, Web design, or online multimedia? Sharpen skills in digital image manipulation; multimedia system design; sound, video, and animation; and more.

Online Graphics & Multimedia Degrees

Web Design

Learn how to create and use Web sites to promote, showcase, or disseminate your clients' messaging.

E-Commerce

Learn how technology and business concepts can connect by using the Internet; have a better grasp of hardware and software and how they can be applied to expand a business.
4. How can I specialize my communications degree?
Many schools allow you to choose a specialization to more finely focus your degree. These are the most common concentrations within the communications field.
Advertising

Advertising professionals create and distribute paid messaging in the form of printed materials, television and radio commercials, or Internet advertisements to persuade people to buy products or accept ideas.

Public Relations

Public relations professionals manage the image and messaging of corporations, politicians, entertainers, and other public figures using media tactics, printed and visual materials, and more.

Journalism

Journalism involves gathering information and communicating using articles, editorials, speech, graphics, video, and still photography.

Media Relations

Media relations professionals identify newsworthy concepts and disseminate client messages using contacts within various media outlets, such as television, radio, newspaper, and magazines.

Visual Communications

Visual communications is a technically oriented discipline that uses graphic arts and, often, Web design to convey messaging.
5. What are some of the courses in an online communications degree?
While the exact curriculum will vary from school to school, here are some of the courses you might take in your online communications program:
Principles of Advertising
Introduction to Public Relations
Interpersonal Communication
Writing for Mass Media
Communications Theory
Communications Research
Business Communication
Mass Media Law and Ethics
Fundamentals of Journalism
Consumer Behavior
Media Buying
Public Speaking
Persuasive Writing
Mass Media and Society
Foundations of Interactive Multimedia
Data Analysis
Desktop Publishing
Event Planning
6. What skills might I learn in an online communications degree?
When you have completed your degree in communications, you'll be prepared to:
Manage an organization's internal and external communications
Understand print, broadcast, and social media
Communicate using speech, writing, and graphics
Prepare and deliver messages effectively
Facilitate or even manage advertising and political campaigns
Write press releases or corporate newsletters
Interact meaningfully and productively with the media
Listen carefully to what others have to say
Use persuasive writing and speech to influence others
Deal with public relations crises
Plan business events like trade shows
Prepare reports for internal and external stakeholders
7. What kind of employers hire people with online degrees in communications?
Communications degrees are extremely versatile, namely because most businesses have messages to convey and a public with which they want to communicate clearly and positively. Depending on your concentration, where you work will vary greatly. For instance, a communications major with a concentration in advertising will likely start as a coordinator or junior account executive in an agency setting.
Listed below are the most common, traditional fields and employers that want communications graduates:
Companies with internal communications departments
Advertising agencies
Public relations firms
Television/radio stations
Newspapers
Event marketing agencies
Educational institutions and school districts
Consumer research organizations
Political/lobbying organizations
Charitable foundations
Municipal, state, and national government agencies
Social service agencies
Law offices
8. What are some possible careers in communications?
The communications field encompasses a wide range of professions. These may range from marketing and public relations to news reporting and speech writing. Here is a sampling of jobs for which you may be qualified with a degree in communications. Use this list for inspiration, remembering that it represents some, but certainly not all, of the careers you can consider.
Possible Job Titles for Associate's or Bachelor's Communications Degree Holders
Advertising Account Coordinator
Advertising Account Executive
Brand Manager
Copywriter
Event Coordinator
Marketing Data Analyst
Marketing Representative
Media Specialist
Media Analyst
Media Buyer
Promotions Manager
Public Relations Specialist
Sales Executive
Speech Writer
Technical Writer
Possible Job Titles for Advanced Degree Holders
Additional experience is typically required for the positions in this list.
Creative Director
Director of Public Relations
VP of Advertising
Director of Corporate Communication
Director of Advertising
VP of Marketing