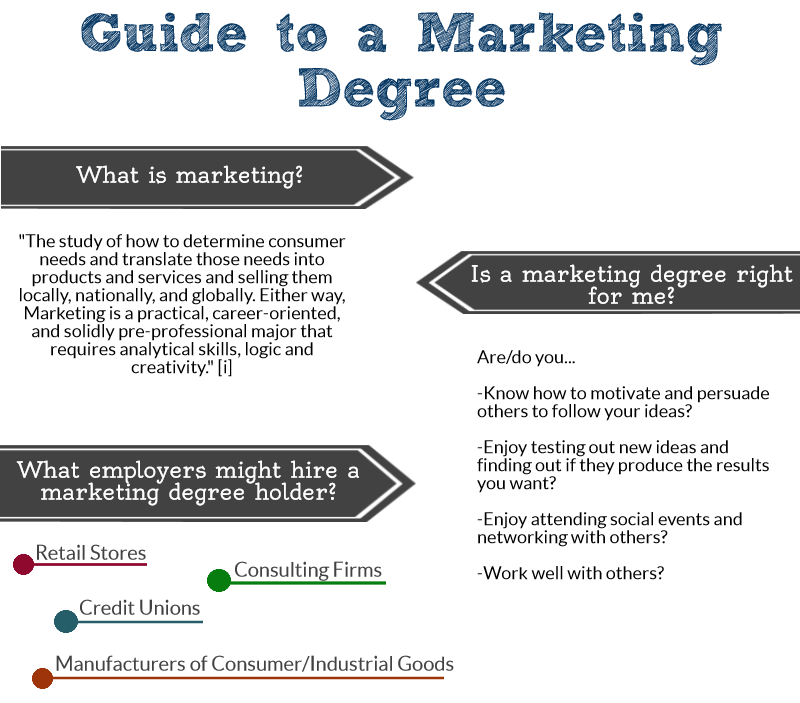 Marketing drives sales by analyzing a customer base to learn how to speak to consumers more effectively, and to understand and forecast fluctuations in sales.
A marketing department might conduct research and find, for example, that a print campaign is the best way to reach its intended public, at which point advertising is pulled into the mix. Marketing is planning, research, strategy, and forecasting.
A marketing degree is particularly useful for those considering careers at advertising agencies, public relations firms, and marketing companies, but the skills gained from a marketing degree can be used across a number of professional fields.
If you are considering going back to school to earn an online marketing degree to achieve your academic and professional goals, you're in the right place. We wrote this quick, easy-to-read guide to give you the facts you need to make an informed decision.
1. What is marketing all about?
"Marketing is concerned with the process of developing customer relationships, uncovering business opportunities, and delivering products and services to buyers. Marketing majors learn to analyze customers and their needs, and to make decisions about product design and quality, pricing, advertising, selling, and distribution." [1]
"[Marketing] is the study of how to determine consumer needs and translate those needs into products and services and selling them locally, nationally, and globally. Either way, Marketing is a practical, career-oriented, and solidly pre-professional major that requires analytical skills, logic and creativity." [2]
2. Is an online marketing degree right for me?
Think about an online marketing degree program if:
You enjoy games like poker, Monopoly®, and Balderdash®.
You like being part of a team and working with others, especially to think of new ideas or solutions.
You know how to motivate and persuade others to follow your ideas or leadership.
You enjoy attending social events and networking with others in your industry.
You like watching television commercials or looking at magazine advertisements.
You have ideas about how to connect people with the right products and services they want or need.
You enjoy spending time on projects that require you to match messaging with the right imagery to produce a specific response from your audience.
You like testing out new ideas and finding out if they will produce the results you want.
You thrive in an environment that constantly changes, where no two days are the same.
You prefer to work on projects that require creative, unique, and original thinking.
You have searched for your favorite TV commercials online and e-mailed it to a friend.
You mentally revise advertisements you see on TV or in magazines thinking, "It would be more effective like this…"
You would love the chance to write a paper about Maslow's Heirarchy of Needs.
3. What other degrees besides marketing should I consider?
If an online marketing degree isn't quite right for you, consider these fields instead:
4. How can I specialize my marketing degree?
Most schools allow you to choose a specialization—a focused area of study within the marketing degree program.
5. What are some of the courses in an online marketing degree?
While the exact curriculum will vary from school to school, here are some of the courses you might take as a marketing major:
6. What skills might I learn in an online marketing degree?
When you have completed your online marketing degree program, you will likely have gained many of the following skills and competencies:
7. What kind of employers hire people with online degrees in marketing?
As a multidisciplinary major focusing on statistics and analytics, business development and entrepreneurial spirit, marketing degree holders are needed in a variety of industries, such as:
8. What are some possible careers in marketing?
Possible Job Titles for Associate's or Bachelor's Marketing Degree Holders/Entry Level Job Titles
Here is a sampling of jobs you for which you may be qualified with a marketing degree. Remember that requirements differ from organization to organization, and certain credentials may be required. Use this for inspiration, remembering that this many represents some, but certainly not all, of the careers can consider.
Possible Job Titles for Advanced Marketing Degree Holders
Business Administration:
Strategically organize and lead effectively; learn how attitude, capital and resources connect and contribute to success and failure in the business environment.


Business Admin. Degrees

Communications:
Learn how to utilize the latest technology to convey information with the greatest effectiveness while catering messages to target specific audiences.


Communications Degrees

E-commerce/E-business:
Learn how technology and business concepts can connect by using the Internet; have a better grasp of hardware and software and how it can be applied to expand a business.


Online E-Commerce Degrees

Entrepreneurship:
Know how to identify and seize new business opportunities and effectively establish and operate a new business, company or franchise.


Online Entrepreneurship Degrees

Project Management:
Focus on the process of project management and how to optimize time, budget and resources while minimizing risk and other potential variables.


Project Management Degree

s
Visual Communication:
Learn to meet the needs of a business or organization by applying design principles, technical and marketing skills; develop abilities of problem solving and research to be effective in a business environment.
 

Marketing Management
Marketing management focuses on being able to oversee various projects including customer and market research; planning and strategizing campaigns; gaining knowledge about different media channels; and successfully leading a team.
Business-to-Consumer Marketing
This concentration will center around the differences between business-to-business (B2B) and business-to-consumer (B2C) marketing. Studies center around demographic research (focus groups, surveys, etc.); testing strategies across various media; and methods to engage targeted groups.
Internet Marketing
Internet and interactive marketing students learn about the different channels of marketing on the Web and how to optimize their marketing campaigns. Curriculum can explore the history of Web marketing as well as contemporary trends and issues in online marketing.
Advertising Management
Advertising management covers topics exploring the impact of advertising on business growth; creating and managing a brand or style; effective campaign management planning and execution.
Sales Management
Sales management centers around understanding what marketing strategies and messages resonate best with your target audience and utilizing specific messaging throughout the sales process. Studies also cover effective approaches to leadership and management in the business environment.

Accounting
Advertising Management
Business Finance
Business Law
Business-to-Business (B2B) Marketing
Business-to-Consumer (B2C) Marketing
Calculus
Communication
Consumer Behavior
Entertainment Law
Financial Management
Introduction to Microeconomics
Introduction to Macroeconomics
International Marketing
Marketing Research
New Product Planning
Principles of Marketing
Project Management
Retail Management
Sales and Marketing Strategy
Statistics

Analyze effective campaigns and identify the elements that resonate best with a specific target group
Appreciate the societal/cultural influence of marketing domestically and internationally
Be able to plan and manage a project from start to finish
Have excellent oral and written communication skills
Identify your organizations strengths and weaknesses as compared to competitors
Know the role of marketing within a business organization
Observe changes in a broad or niche market, analyzing accompanying data to follow trends
Practiced negotiating skills coupled with strong interpersonal skills
Understand the needs of a specific target demographic and tailor efforts and messaging to meet those needs

Big Box Stores/Super Retailers
Commercial and Investment Banks, Financial Firms
Consulting Firms
Credit Unions
Department Stores
Discount Stores
Dot-coms and Internet-based Companies
Government/Nonprofit/Watchdog Organizations
Insurance Companies
Large Businesses and Corporations
Management Consulting Firms
Manufacturers of Consumer/Industrial Goods
Marketing Research Firms
Print and Electronic Media Companies
Specialty Stores

Account Manager
Assistant Manager of Direct Marketing
Marketing Data Analyst
Marketing Coordinator
Marketing Team Assistant
Marketing and Communications Associate
Regional Marketing Specialist
Search Engine Marketing (SEM) Associate
Search Marketing Analyst
Telemarketer

Business Development Manager
Chief Marketing Officer
Consultant of Marketing Practices
Digital Promotions Marketing Manager
Director of Brand Management
Director of Internet Marketing
Senior Project Manager of Marketing Initiatives
Senior Marketing Manager
Vice President of International Marketing
Vice President of Product Marketing
[1] books.google.com/books?id=VqCFc5R7A7cC | [2] princetonreview.com/Majors.aspx?cip=521401&page=1