37 Sponsored Online Programs Available
EducationDynamics maintains business relationships with the schools it features
Online Entrepreneurship Degree Programs
Online entrepreneurship degree programs offer working professionals and budding business owners the convenience of developing a unique set of business skills through virtual classrooms and web-based tools. If you are contemplating starting your own business, or considering how to be an entrepreneur online, an online entrepreneur degree may give you the scheduling flexibility to access innovative courses without so much disruption.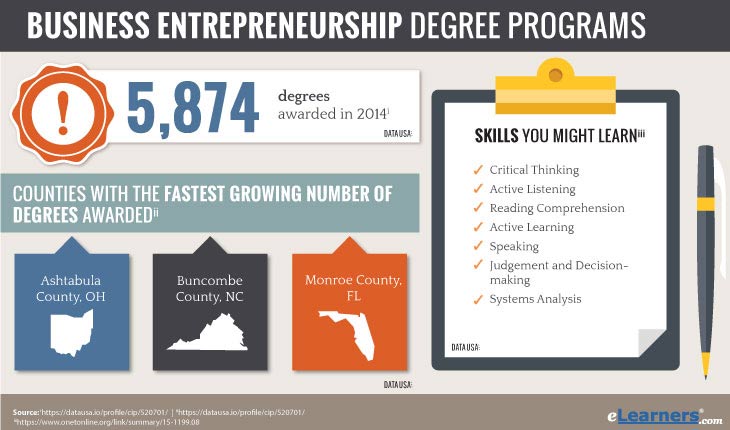 About Online Entrepreneurship Degree Programs
Online entrepreneurship degree programs are specially designed business programs designed to enable individuals to develop the foundational skills and a deeper understanding of what it might take to build and run a successful business. This means cultivating an entrepreneurial mindset as much as learning specific accounting, marketing, management and strategic thinking skills. Are you interested in learning how to see the big picture?
DID YOU KNOW? 5,874 Entrepreneurial studies degrees were awarded in 2014[i]
What is a Business Entrepreneur?
An entrepreneur is usually a sole proprietor, a partner or majority shareholder who organizes or operates a business (or businesses). Business entrepreneurs may have an idea they want to launch into a small business. Rather than working as an employee, they want to take the risks and rewards of initiating a business venture. Typically seen as leaders and innovators, a successful entrepreneur takes a new project and makes decisions that lead to economic profit.
Basics of Online Entrepreneurship Degree Studies
If you are thinking about majoring in entrepreneurship studies, and want to pursue an entrepreneur degree online, you are interested in learning the underlying business skills necessary for this type of endeavor. Online entrepreneurship degree programs might teach aspiring entrepreneurs how to:
Acquire financing for new ventures
Hire and manage human resources
Team building
Write a business plan
Understand government and non-governmental programs that foster new ventures
Make decisions as to how goods or services are provided
Risk assessment
Provide leadership
Business Entrepreneurship vs. Business Administration
At whatever level of education, the specifics of marketing, accounting, management and strategic planning might distinguish an online degree in entrepreneurship from a general business administration degree.
Marketing: Whether in the form of personal promotion, branding, web-site development or social media, understanding how to market a business venture or an idea is an important part of business entrepreneurship.
Accounting and Finance: Entrepreneurs need to understand concepts from general financial record keeping to forecasting profitability and budgeting, basic knowledge of accounting and finance for small businesses.
Management: As a business leader, learn how to manage a team of employees, and understand basic business management concepts as they apply to developing a business
Strategic Planning: If you have an idea for a small business venture, you need to explore not only where you hope your business will go, but also how to make decisions that support this growth, understand risk and create a strong internal framework.
What Might I Do with an Online Entrepreneurship Degree?
Aside from potentially bringing your own product to market, graduates of online entrepreneurship degree programs might pursue a variety of career paths. Of course, if you have an idea of your ideal occupation, you should spend some time researching the education recommended for achieving your goals. Here are a few possible careers that might stem from an entrepreneurship major:
Marketing Manager
Business Development Managers
Business Continuity Analyst
Leadership Development Managers
Management Analysts
Top Executives
Types of Online Degree in Entrepreneurship Programs
Offered as associates, bachelors, masters, MBA and doctorate levels, an online degree in entrepreneurship prepares individuals to develop, market, and manage the business operations associated with owning and operating small businesses.
Online Entrepreneurship Associates Degree Programs,
Business entrepreneurship associates degree online degree programs are often designed to help current small business owners and future entrepreneurs develop the skills, knowledge and abilities needed to potentially turn their business dreams into reality. Typically, 2-year (full-time) degrees, these programs might cover foundational business skills such as accounting, managing and marketing with the focus on application to build and grow a small business.
Online Bachelors in Entrepreneurship Degree Programs
Online Bachelors in entrepreneurship degrees are often 4-year (full-time) programs designed to help students gain more insight into business development, business communications and management theories. The bachelor's degree is the entry-level education for most management occupations (listed above) and a prerequisite for graduate school, so pursuing an online bachelor of business entrepreneurship might provide a solid background for future endeavors.
Online Masters in Entrepreneurship Degree Programs
Online Masters and MBA entrepreneurship degree programs might prepare graduates to enhance or initiate business opportunities. Graduate level courses might focus on increasing company efficiency, productivity and profitability. While some online entrepreneurship Masters degrees may take about 2-years to complete, there may be options for more accelerated or self-paced programs.
Online Entrepreneurship PhD Programs
Online Doctor of Business Administration or PhD in entrepreneurship might offer those with a pioneering spirit the opportunity to learn and research advanced concepts. From identifying market opportunities to managing risk and change within organizations, both the PhD and DBA are terminal business degrees.
Potential Features of Business Entrepreneur Degree Online Programs
Online entrepreneurship degree programs usually allow students to earn their degree from wherever they have reliable Internet. Through things like video conferencing, online course management systems, MP3 recordings and interactive educational technology, many – but not all – programs may not even require visits to campus. That said, it is up to you, as prospective student, to make sure you understand the specific structure and format of the online entrepreneur degree program you choose.
Find Accredited Entrepreneur Degree Online Programs
As a business savvy student, you might also take note of where a prospective school and its entrepreneurship degree online programs stand vis a vis accreditation. Accreditation means that your chosen institution and program have met specific requirements from a governing body. Look for colleges and universities that have been nationally and regionally accredited by the U.S. Department of Education and Council for Higher education Accreditation (CHEA). Look for specific business school accreditation for online entrepreneurship degree programs from agencies such as the International Assembly for Collegiate Business education (IACBE) or the Association to Advance Collegiate Schools of Business (AACSB International).
Take the Next Step
Entrepreneurship plays a vital role in the growth of the U.S. economy.[ii] Use our accessible on-page navigation to find online entrepreneurship degrees by education level (Associate, Bachelor, Masters or Doctorate). Browse sponsored listings in your chosen category, then use the 'request info' to initiate a correspondence with prospective online entrepreneur programs at business schools and universities. Take the next step today!