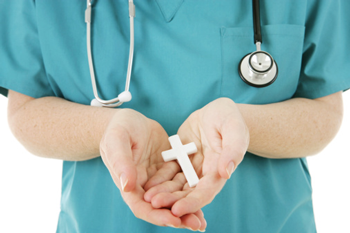 Christian colleges with nursing programs may be ideal for those who want to grow in both their future healthcare career path and their personal faith. We've put together a list of christian nursing programs, so you can jumpstart your research and find schools that may fit your criteria.
Christian Nursing Schools That May Help You Prepare for Your Professional Calling
This list of Christian nursing schools is a good starting point as you begin your research for a faith-based higher education partner. See a nursing school that interests you? Click to learn more, and don't forget to request info to get the ball rolling. Or, fill out the form at the top right of the page to be matched with Christian nursing colleges that may be the perfect fit.
Affiliation: Christian
Nursing programs that may be offered: RN to B.S. in Nursing Online
Based in Virginia Beach, VA, Regent University has been helping prepare students for faith-based lives and career paths since 1978. The school offers 128 graduate and undergraduate programs online and on campus. Academics are rigorous and explored in a biblical context. And, Regent's campus offers many ways to get involved in campus ministries, service, and worship.
Regent offers an online RN to B.S. in Nursing program taught from a Christian worldview. Students pursue courses in key nursing subjects, like Pathophysiology and Nursing Leadership, while also learning more about their faith through courses such as New Testament Studies.
Affiliation: Catholic
Nursing programs that may be offered: B.S.N. program, M.S.N. program (Online)
A leader in Catholic, liberal arts education, Benedictine University offers 59 undergraduate majors, as well as graduate and accelerated adult degree programs. With a main campus in Lisle, Illinois, several branch campuses and class locations, and online programs, they offer many different paths to earning your degree.
Benedictine offers two nursing programs designed for students at different levels. The B.S.N. program is offered as a nontraditional program aimed at adults desiring some flexibility. The M.S.N. program is aimed at current RNs and is offered in a completely online format.
Affiliation: Catholic
Nursing programs that may be offered: Bachelor of Science in Nursing, Master of Science in Nursing,
Dual Master of Science in Nursing, Master of Science in Business Administration, Post-Master's Options
Saint Xavier is Chicago's first Catholic university, founded based on the ministry of the Sisters of Mercy. While Saint Xavier emphasizes its Catholic values and heritage, the university welcomes those of other faith traditions, as well. The university serves over 3,800 students in 43 undergraduate degree programs and 25 graduate programs.
The Saint Xavier University School of Nursing (SON) offers degree programs for students at various stages of their nursing career. Potential benefits of the school include advisors who help students throughout the nursing program, plus guidance from a National Council Licensure Examination (NCLEX) coach.
Affiliation: Jesuit
Nursing programs that may be offered: RN to BSN, RN to MSN Bridge, BSN to Doctor of Nursing Practice, and others
Loyola University – New Orleans is a private, Catholic, Jesuit university serving over 3,800 students. 59 undergraduate programs and 11 graduate and professional programs are on offer. While "Loyno," as the university is affectionately known, is founded in the Jesuit tradition and offers faith-based opportunities, it is also open to students of all faiths.
The School of Nursing offers a variety of nursing programs at all degree levels, including online programs. And Loyola's bridge programs may be a perfect way for current RNs or BSNs to pursue further education as they aim for new goals in nursing.
Affiliation: Catholic
Nursing programs that may be offered: BSN program, M.S.N., Adult-Gerontology Primary/Acute Care Nurse Practitioner program, Ph.D. in Nursing program, and others
Seton Hall is a Catholic university serving students since 1856. They are located in South Orange, New Jersey, close to New York City. Over 90 academic programs are on offer. Students may find many opportunities to participate in Seton Hall's faith-based community, including daily masses in the historic chapel.
The College of Nursing at Seton Hall University has been educating nursing students since 1937. Offering undergraduate, graduate, and doctoral programs, their goal is to educate baccalaureate-level nursing generalists as well as advanced practitioners and scholars. They even offer a PhD in Nursing program.
Top Reasons to Consider Christian Colleges with Nursing Programs
Potentially pursuing a nursing degree at a Christian school may be a great path for many reasons, some of them personal. Here are just a few to consider:
A nursing education that considers the whole you. Some students may want to pursue both essential nursing skills and a faith-based nursing philosophy to bring to their vocation. Christian nursing programs may offer the combined scientific and scriptural approach you're looking for.
A Christian community. Choosing a Christian nursing college could be a way to meet others who are passionate about both nursing and their faith, like you. Though every school is different, you could potentially learn from Christian faculty and study with peers who have similar priorities.
Opportunities to engage with your faith. Christian colleges tend to offer a variety of ways to practice your faith and have fun. You'll find plenty of opportunities to get involved—from attending regular masses and worship services, to going on spiritual retreats and mission trips, or joining Christian nursing associations.
A chance to study Christianity. In addition to learning more about the nursing profession, perhaps you also hope to pursue religion courses and learn more about your faith. Christian nursing colleges tend to offer a curriculum that includes faith-based as well as career-focused subjects.
Christian Colleges with Nursing Programs
Peruse our sponsored listings for Christian colleges and universities that offer nursing programs – whether online, on campus, or in hybrid form. If you see a school that interests you, click to learn more and request the info you need to get started.