1 Sponsored Online Programs Available
Office Administration Degree Online Programs
Online office administration degree programs walk working professionals through skill sets such as organizational skills, leadership, and even technological expertise, so workers are primed to meet the needs of today's organizations.
Some programs, like medical office administration programs, might even be designed around the needs of specific workplaces. Students could earn a certificate, associate degree, or even bachelors in office administration or office management degree in a program that is (intentionally) flexible enough to accommodate a growing career.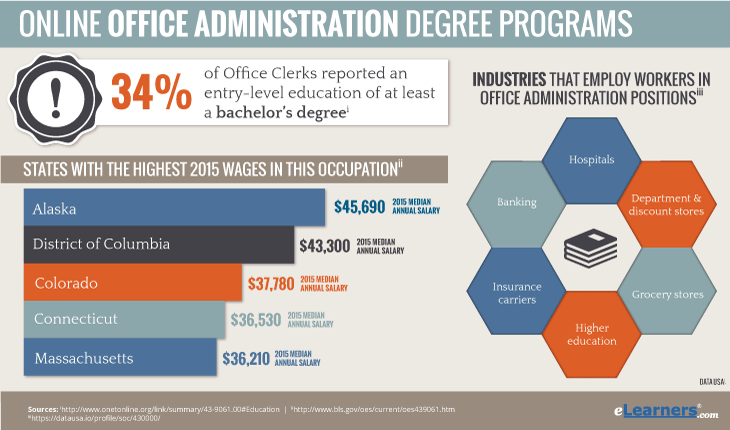 Office Administration vs. Office Management
The terms "office administration" and "office management" are often used interchangeably. But do they actually mean the same thing? Well, that depends. Sometimes they do. In that case, the terms refer primarily to the day to day facilitation of an office's activities.
That could mean:
Customer service
Data entry
Writing
Communication
And even leading a team
As such, some office administration and office management degree programs are designed broadly. They might touch on an array of general business, organizational, technological, leadership, and communication skills.
However, sometimes the words administration and management refer to two different things. When that's the case, it goes like this.
Administration sometimes refers to leadership and organizational roles, in which one might make strategic decisions.
Meanwhile, management would refer to the actual execution of those strategies every day, as well as potentially leading a team in doing so.
If you're unclear about how these terms apply to the programs you're considering, review their curriculum, or contact the school for all the details.
Did You Know?

Administrative Services Managers not only play a role in company productivity, but also employee morale!i
What to Expect in Online Office Management Degree Programs
Online office management degree programs tend to be designed for students with some experience. Often, those students work full time in administrative or clerical positions. As such, programs tend to focus on building skills relevant to the workplace. Some of those skills could include the following.
Technology: Programs might work on skills related to technology. That might particularly relate to using software. Examples include publishing software, word processing, spreadsheets and databases, office applications, and basic accounting applications.
Communication: Often, degree programs emphasize a variety of communication skills. These may include business writing, composing emails, interacting with clients and customers in person and by phone, and more.
Business: Programs may cover a variety of business skills. That may include leadership and personnel management, customer service, bookkeeping and other basic accounting skills, and business ethics, to name a few.
Some online programs may have in-person components, such as observations and internships. This may particularly be the case if the program is designed for students who don't have experience in office management. These types of field experiences often serve to grant students the opportunity to gain hands-on professional experience, and use what they learned in their digital classroom in a guided real-life setting.
Concentrations
Some online office administration degree programs look at what it's like to work in certain types of offices. On top of more general clerical skills, they may discuss industry-specific issues, skills, and challenges. While a variety of potential program types may be available, here are two examples you might come across.
Online Medical Office Administration Degree: This could either be subset of office administration, or its own unique degree type. Mostly, that depends on the school and how they're organized. In addition to administrative skills relevant to any office, medical or healthcare office management programs may discuss things like HIPAA, medical coding and billing, medical terminology, medical office accounting, ethics and legal issues in medicine, medical records management, and more.
Online Legal Administration Degree: Sometimes crossing over with paralegal studies, legal administration programs may look at the daily functioning of a law office from an administrative perspective. In addition to office management, they might discuss how the legal system works. That could include courses on civil litigation, jurisprudence, legal research and writing, criminal law, and more.
Online Office Management Degree Levels
Online office administration programs are offered at the associates and bachelors degree levels. Some students might also choose to pursue office administration certificates, if they're not currently ready to enroll in a full degree program. Below, you'll find a basic run-down of what you might expect to find in terms of the three degree/certificate levels.
OPTION 1. Online Associate Degree in Office Management
Online associate degree in office management programs often award an Associate of Applied Science or AAS. However, other degree types may be available from some programs. They generally center on organizational and clerical skills. For example, they might spend time on:
Basic computer skills
Records management
Office software
Writing and communication skills
Bookkeeping
And other essential skills one might need on a day-to-day basis in an office setting!
However, this could vary depending on the program, especially if the curriculum is designed around a certain industry.
OPTION 2. Online Bachelors Degree in Office Management
Online bachelors in office management programs often aim to help professionals build on existing skills. Some may even offer credit for prior learning. Prior learning could include earning a related associates degree or certificate, professional certification, or work experience. However, this may vary by school, program, and the nature of the student's experience, so make sure you talk to your school to learn more, if this applies to you.
Online office management bachelors programs go beyond clerical skills. They try and help students build up their organizational and leadership skills by covering topics like project management and workforce development. Programs may also look at the technology of the workplace, through subjects like:
Desktop publishing
Web design
Virtual office technology
Records management
And more!
OPTION 3. Online Office Administration Certificate Programs
Online office administration certificate programs may appeal to current or aspiring office managers who want to shore up their skills, but might not be ready to commit to a degree program. Many certificate programs require fewer courses than associates or bachelors degrees. In many cases, the program focuses on strengthening a specific skill set like:
Records management
Ddocument publishing
Office technology.
As such, at the certificate level, potential paths of study may vary. What's more, the credits you earn might be transferrable toward a degree at a later time, as long as the programs are compatible and the school allows it. For more information, contact the schools you're considering.
Example Curriculum
Each online office management degree program may put its curriculum together a little differently. That might have to do with the type of students they're hoping to serve (e.g. with tons of experience, with no experience, and so on), the type of office management they're looking at (generalized vs. a certain industry), and the type of skills they see as important. That said, different office administration degree programs may share some essential topics of study. Here are a few examples.
Office Technology: This may in fact be a series of courses rather than a single one. Some courses might focus on the essentials of using and maintaining computers, printers, scanners, phones, and other technology. Others might examine software, including operating systems, email, and virtual office applications.
Basic Accounting: This could include becoming familiar with accounting technology, mathematics, bookkeeping, and more.
Business Law & Ethics: Many programs dedicate time to discussing not only the legal framework under which businesses operate, but also the ethical considerations. All of this might inform business decisions and processes in the field.
Desktop Publishing: These courses may look at how to use some common desktop publishing applications, discuss the principles of document design, and recap the various digital and print publication types one might use.
Information Management & Recordkeeping: From physical and digital filing systems to data entry to database management, effective management of information could be crucial to an organization's success. These types of courses cover the basics of managing and organizing information in different formats. If they're interested, students might later choose to pursue a degree in information management.
Workforce Development & Management: Office management programs may not only discuss managing information, technology, and clerical responsibilities. They might also cover managing teams. That includes project management skills, organizing and delegating, providing training opportunities, coaching, and hiring.
The Next Steps
While online office management degree programs may not typically be offered beyond the bachelors level, some students choose to go on and earn related graduate degrees. Which ones might be a good fit for you could vary, depending on your areas of responsibility and personal interest.
For example, one person might look into a Master of Business Administration, with a concentration related to your area of interest. Others could choose to study topics like Business Information Systems, Healthcare Administration, or Technology Management. The prerequisites for each one may vary, so when looking into graduate education, take stock of your professional experience on top of your educational background.
In addition to higher education, some grads might be interested in professional certification. These are issued by professional organizations, usually unique to a certain professional role or area of responsibility. (For example, a legal secretary might pursue any of several certifications through NALS, whereas more general administrative professionals might be interested in a CAP certification.)
While the requirements vary, candidates generally need professional experience related to that certification, and they may have to pass an exam. For more information about potential certifications one might pursue, reach out to the school.
Office Manager Salary & Career Info
Many office administration students may have gotten their starts prior to starting a degree program. In fact, workers could pursue entry level employment in roles like General Office Clerk or Receptionist with only a high school diploma.ii So why get a degree? Well, earning an office management degree could be one factor in growing yourself as a professional.
For example, Office Administration- or Office Management-related roles are typically open to candidates who have earned at least a relevant bachelor's degree. However, employers may ask you to demonstrate additional qualifications, levels of education, or professional certification. Non-managerial entry level positions, meanwhile, might ask for varying levels of post-secondary training from certifications to an associates degree.
Some example careers an office management graduate might pursue are listed below.
Paralegal and Legal Assistants: $49,500iii
Secretaries and Administrative Assistants: $37,320iv
Administrative Services Managers: 2016 Median Pay $90,050i
Other career paths may also be available, depending on your background and qualifications. Get in touch with your school's career counseling services to learn more about what you might need to do academically in order to support your career goals.
Apply to Online Office Management Degree Programs
If you're ready to get started, eLearners can help you find your potential online office administration degree programs! Use the menu to select your preferred degree level, then review the sponsored program listings.
Just click on Request Info to learn more. Then get in touch and start your application!
---
[i] bls.gov/ooh/management/administrative-services-managers.htm [ii] bls.gov/ooh/office-and-administrative-support/general-office-clerks.htm | bls.gov/ooh/office-and-administrative-support/receptionists.htm [iii] bls.gov/ooh/legal/paralegals-and-legal-assistants [iv] bls.gov/ooh/office-and-administrative-support/secretaries-and-administrative-assistants.htm