2 Sponsored Online Programs Available
EducationDynamics maintains business relationships with the schools it features
Office Administration Degree Online Programs
Office Administration Degree online programs offer students with a passion for punctuality and rational thinking the chance to use these talents to solve a number of organizational issues. The study of office administration, or office management, deals with how to maintain files, process paperwork, relay information to co-workers, or set up computer systems.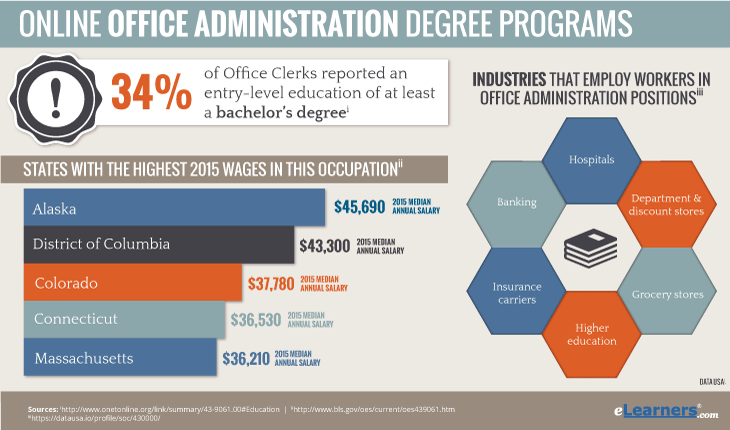 Office Administration Degree Online Programs: The Essentials
Some accredited online colleges and universities offer specialized business degrees such as the office administration degree. Office administration degrees might vary by degree level or academic focus, among other aspects.
The first thing you'll want to do is figure out what level of degree you might be pursuing in office administration. Luckily, you can use eLearners.com to help you sort through your options.
Associate's Degrees in Office Administration
The common prerequisite for an associate's degree in office administration is a high school diploma or a GED.i That means this is a good choice to try to jumpstart your career. Programs last about two years which is about twenty classes. But keep in mind that program lengths and rules vary by school.
An online associate's degree at an office administration college is typically a degree that prepares you to pursue an office management career right after graduation, instead of going on to further studies. This is called an "occupational degree."
The associate's degree is the most common level of education for students in office management. More than three out of four degrees earned in the field in 2014 were at the associates level according to reports from DataUSA. That adds up to more than 75 percent. But an associates degree in office administration is not your only choice.
Office administration bachelors degrees made up 23.2 percent of those earned in 2014. And they offer a longer, more comprehensive course of study if you want to learn more about office management. Some jobs in the field may even look for candidates who have earned a bachelors degree.
What Courses Could You Take for an Office Administration Major?
Since a degree in office management or a degree in office administration is focused on preparing you for a job as an office manager, a lot of the coursework is directly related to the roles of that job. You may even learn about specific programs such as Microsoft Office, or how to use spreadsheets to make your life and your co-workers' lives easier. Some courses might focus on other aspects of office manager positions, such as event planning. You may also be able to work on certain skills or knowledges that would be generally useful to an office administrator, such as communications or project management during an Office Administration Degree Online.
Here are some examples of coursework that might be listed in a potential curriculum for office administration degree online programs, in addition to the ones we already talked about.
Presentation development
Business operations
Project management
Communications
Typing and word processing
Computer skills
Keep in mind that not every program will offer the same courses. Some may not offer classes on any of the topics listed above. Be sure to reach out to each school directly to determine what the details of their curriculum might be.
What Other Courses Might You Take in an Office Administration Degree Online?
Some schools might not offer a separate office administration degree, instead including it as a concentration in a broader business degree program. These broader programs might include the Associate, Bachelor or Master of Business Administration degrees. In this case, you might take a number of broadly focused business courses. These would be in addition to the specific office administrator degree classes. These could include:
Finance
Marketing
Economics
Statistics
Again, the potential curriculum for office administration online degree programs might vary greatly from school to school. Request info from specific programs to see if they offer the types of courses that you might be interested in.
Specialization Options for a Degree in Office Management
To give your degree a special focus and help you better guide your post-graduation job search, you may want to consider choosing a concentration for your degree in office administration. Though not every school or program may offer this option, certain online office administrator degree programs might offer you the opportunity to pick a specific area of focus within the subject of office management. Considering offices are a common work environment in a wide range of industries and businesses, there may be many options for a concentration, should your program offer this option. For example, medical office administration may be one potential concentration. Be sure to look into what other options might be for each school you are looking at.
Did you know?

In 2014, 5,070 degrees were awarded in office management in the United States. The most popular county for office management degree earners was Orange County, Florida!ii
Accreditation
When you look at office administration degree programs, you want to make sure it is accredited. Accreditation is how a school or program is judged. Attending a school that is not accredited may hurt your chances of getting federal financial aid or pursuing the career you'd like. One of the major accrediting agencies for business is the Association to Advance Collegiate Schools of Business (AACSB).iii Programs accredited by this organization are reviewed every five years to make sure they are up to date.
After Earning an Office Administration Degree Online
After completing an online office administration associate's degree, you may be able to pursue a career as an office clerk. Job titles in this field include administrative assistant, office coordinator, receptionist or customer service representative.iv Your duties might range from answering telephones and directing messages to maintaining records and inventory, or even operating office machines such as photocopiers.v Office clerks in 2015 earned median annual wages of $29,580.vi
A bachelor's degree in office administration can qualify you to earn higher level careers than an associate's degree. This might include as an administrative services manager.vii These professionals may have a supervisory role of other administrative personnel, and could be involved in setting up procedures for office upkeep, as well as budgets and other processes.viii In 2015, they earned a median yearly income of $86,110.ix
Getting Started
Begin your search for the perfect school right here on eLearners.com. You can take a look at our sponsored listings and reach out to the school directly. Make sure to use the request info option to learn about the unique features and the classes that you can sign up for.
---
[i] bls.gov/careeroutlook/2002/winter/art01.pdf | [ii] datausa.io/profile/cip/520204/ | [iii] onetonline.org/link/summary/43-9061.00 | [iv] onetonline.org/link/summary/43-9061.00#Tasks | [v] onetonline.org/link/summary/43-9061.00#WagesEmployment | [vi] bls.gov/ooh/management/administrative-services-managers.htm#tab-4 | [vii] bls.gov/ooh/management/administrative-services-managers.htm#tab-2 | [viii] bls.gov/ooh/management/administrative-services-managers.htm#tab-1 | [ix] chea.org/pdf/Overview%20of%20US%20Accreditation%202015.pdf |