Health services is a field geared toward health care administration, improving quality of care, health care policy review and revision, and disease prevention initiatives.
This degree provides a solid foundation for administrative, rather than clinical, work in the health care arena and prepares you for careers such as admitting director, health aide supervisor, or health care office manager.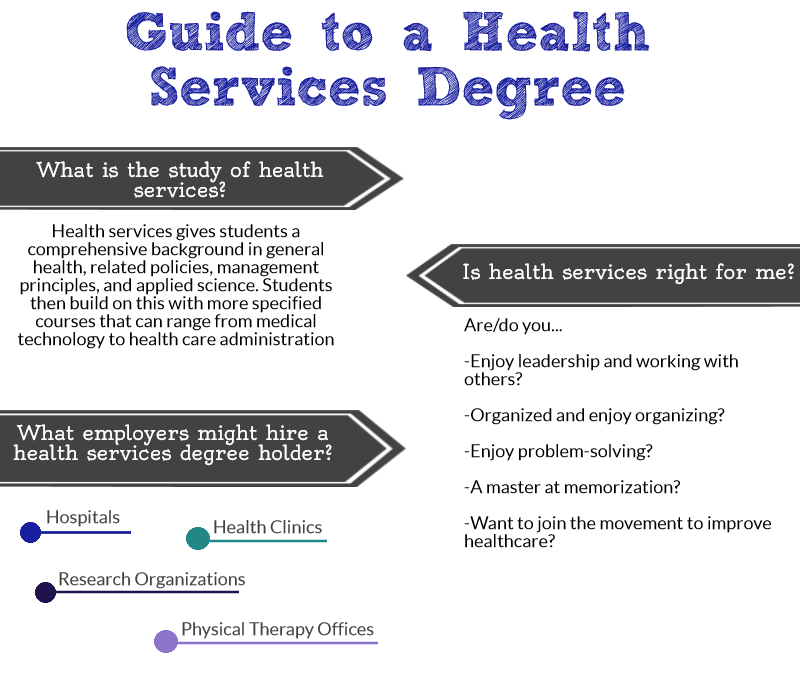 If you're considering an online health services degree, you came to the right place. Our "Mini-Guide to Online Health Services Degrees" will give you the facts you need to make an informed decision.
What is health services all about?
When it comes to the health care industry, there are a variety of multi-disciplinary educational options to prepare yourself for a thriving career in this field. Degrees in health services are quite popular because they provide the foundation for a myriad of opportunities.
The program gives students a comprehensive background in general health, related policies and management principles, as well as applied science. Students then build on this with more specified courses depending on the concentration they wish to specialize in, and that can range from medical technology to health care administration. Degrees in the health services specialization are available on all levels.
Health services degrees differ from health sciences degrees, which typically encompass more technical careers in the field of medicine. Still, if you want a solid basis for a career in the ever-growing health care industry, a health services degree could be for you.
Outlook
According to the United States Department of Labor's Bureau of Labor Statistics, "Healthcare will generate 3.2 million new wage and salary jobs between 2008 and 2018, more than any other industry, largely in response to rapid growth in the elderly population. Ten of the twenty fastest growing occupations are related to healthcare. Many job openings should arise in all healthcare employment settings as a result of employment growth and the need to replace workers who retire or leave their jobs for other reasons." [1]
Is an online health services degree right for me?
Many people that want to enter the health field do not necessarily have to do so as surgeons or doctors. With the health care industry flourishing, that opens up plenty of opportunities for support services in the health care arena.
If you want a career in a stable industry that provides growth and a wide range of job settings to practice in – and you do not want to be a doctor or other medical specialist – a degree in health services may set you up for your ideal career.
Most of the positions in the health services arena are administrative ones, but still require at least a bachelor's degree in health services to obtain. And opportunities exist to advance with a master's degree in health services or Ph.D. degree in health services as well, so the sky is really the limit.
Think about a career in health services if you:
Find that medical terminology just rolls off your tongue
Know the difference between HMO, PPO, and POS health plans. Bonus points if you know what each stands for!
Want to work in health care, but on the organizational, less clinical side of things
Are a master at memorization. Those skills will come in handy when learning anatomy, terminology, or medical coding
Are curious about how hospitals and other health organizations function
Enjoy leadership and working with others
Want to join the movement to improve health care as a whole
Are organized or enjoy organizing
Enjoy problem-solving
What other degrees besides health services should I consider?
If you are looking to explore other health-related fields, there are some related degrees you may want to pursue. Some related degrees include:
Health science uses scientific methods to study human and animal health, improve health, formulate cures, and create strategies for disease prevention.
Ensure that medicine is dispensed accurately and safely in order to reduce and prevent medication error. Also, learn drug interactions and counsel patients.
With a focus on health care services, study the financial, legal, and human issues that arise and its effects on a health organization's operational success.
Online Health Administration Degrees
Know how to meet the immediate and long-term medical needs of patients; educate and provide counseling to the injured or those coping with illness.
Learn to help people with disabling conditions adapt and function more normally in their home or work environments.
Online Occupational Therapy Degrees
Study techniques to encourage movement, minimize pain, restore flexibility, and prevent disability in patients.
Online Physical Therapy Degrees
How can I specialize my health services degree?
Health services is a concentration in and of itself. However, some college programs offer more specific concentrations within the health services field. If you want to graduate with a highly-focused specialization, here are five common subfields worth exploring:
Study the physical, sociological, and psychological aspects of aging and their impact.
Manage the resources, systems, and policies that are utilized to meet and exceed patients' needs regarding health care.
Health Promotion & Wellness
Promote healthy behaviors such as smoking cessation, safe sex, good eating habits, and hygiene to reduce disease incidence and increase longevity.
Work to enhance health, monitor and prevent diseases, and eliminate health disparities on a community level through education, policy development, and research.
Health Information Systems
Understand how technology, staff, and resources need to be managed and coordinated within a health care organization or business in order to effectively function.
What are some of the courses in an online health services degree?
Regardless of which degree you pursue in the health services arena, most degree programs mandate some general courses in topics such as biology, accounting, anatomy, economics, health policy, public health, or sociology.
Additionally, most students pursuing a degree in health services will need to complete some fieldwork requirements in addition to their coursework. This can be done in a variety of settings including hospitals, private practices, home health agencies, and assisted living facilities.
Here are some example courses in health services degree programs around the country:
Health Systems Administration
Health Care Human Resources
Chart Auditing
Health Services Organization
Health Promotion and Risk Reduction
Behavioral and Cultural Issues in Health Care
Ethics in Health Care
Medical Terminology
Pharmaceutical Economics and Policy
Health Care Law
Financial Management in Health Care
Non-Profits and Health Care
Medical Billing
Issues in Health Care Delivery
Healthcare Financial Accounting
Health Informatics
Special Topics in Health Services
Management of Health Care Delivery Organizations
What skills might I learn in an online health services degree?
The skills you learn while earning your health services degree will vary according to your concentration and which level degree you're seeking, but these are the skills and competencies acquired most often by health services majors working at the bachelor level:
Knowledge of human anatomy and physiology
Fluency with medical terminology
Ability to spot and challenge disparities in health
Knowledge of health care administration
Familiarity with health care laws
Understanding of management as it relates to health care
Awareness of current public health issues
Ability to conduct thorough research
Beyond the bachelor level, if you choose to pursue graduate work, your skillset will vary according to your chosen concentration. For example, if you want to earn a doctorate in health care administration to one day become a top-level hospital executive, you'll gain the skills above but you'll augment your knowledge by conducting in-depth research and usually completing fieldwork in a hospital or other clinical setting.
What kind of employers hire people with online degrees in health services?
Health care careers do not only exist in doctors' offices and hospitals anymore. With the rise in baby boomers, assisted living facilities are a new option in health care, and they provide another setting in which to practice. Additionally, home health is popular so you could wind up serving in that capacity. Universities are also another potential setting to practice in. With a health services degree, you really can work in a variety of settings. Employment options include:
Health insurance companies
Research organizations
Hospitals
Medical record reviewing companies
Physical therapy offices
Health services firms
Health clinics
Occupational therapy practices
Doctors' offices
Teaching health services at the university level
What are some possible careers in health services?
Health services is a popular degree option because it provides a basis for so many careers in the booming health care industry.
Students that complete degrees in health services can leverage the degree to become:
Medical assistants
Nursing aides
Ambulatory care workers
EMTs
Health care management directors
Medical coding supervisors
Department managers
Health information managers
Patient account supervisors
Home health care managers
Health educators
Nurses
College profesors
---
[1]health.uc.edu/ahec/PDFs/Health Services Industry Overview.pdf