2 Sponsored Online Programs Available
Human Services Online Degree Programs & Schools
Online Human Services Degree Programs help students to establish a foundation of interdisciplinary skills, which students could then use to improve the lives of individuals, families, and communities. Online human services programs may explore topics as broad ranging as law and government, social work, business and leadership skills, sociology and psychology, and more!
Furthermore, some online human services programs may be tailored to the needs of specific communities or social issues. This could include poverty, public health, and education, just to name a few. This specialization makes it possible for students to pursue a human services degree that addresses the needs of their own community, or that supports their current career path more directly.
Best of all, earning that human services degree online may enable a student to pursue that high level expertise while staying involved in your community, so you could continue making a difference while honing those skills in the digital classroom.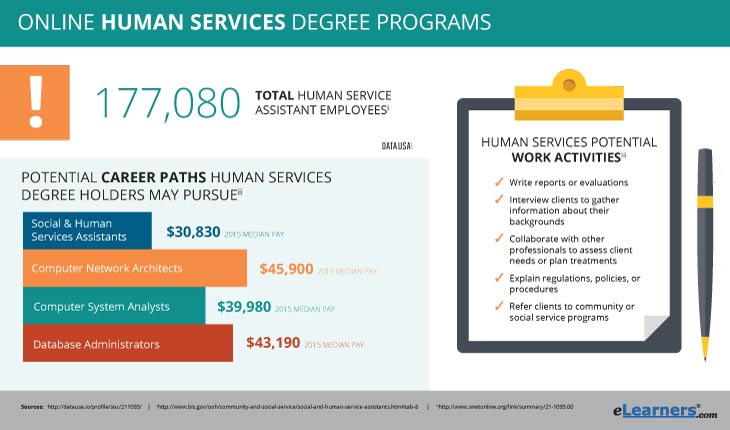 What Is An Online Human Services Degree?
Human Services is a field of study and a profession, focused on helping communities, families, and individuals overcome challenges and thrive. Specifically, this means working within government, public, and nonprofit systems to help improve access to resources to address economic and social issues in a community. It also means ensuring that individuals are aware of and can access the specific resources they need.
As this is a fairly broad topic, in many cases, human services professionals—not to mention the associated academic programs—may focus more narrowly on a specific issue, or the needs of a certain group. This creates a diverse array of program options, and career paths once a student graduates.
Human Services Core Competencies
The types of skills you may work in in your online human services degree program may depend heavily on a few different factors—namely the type of degree you're working on, and your area of focus, if any. However, it's likely that whatever you choose, your online human services degree program may help you to hone your expertise in a few specific areas.
These core competencies may include:
Understanding how people behave in groups and why:
Human services is all about the community. But what "the community" is may change, depending on who and what you're talking about. It could constitute the global community all the way down to a family group. In human services, you may have to work on a variety of scales, making it important to develop a basic understanding of how different types of people behave in groups, why and how those groups form, and how they impact members and outsiders. Human services programs are also likely to discuss how those social groups might impact or be impacted by policy decisions.
Understanding how different challenges affect people:
Human services focuses on helping people overcome challenges in their lives and communities, or access the resources they need to address specific issues. As such, studying human services may entail developing a broad familiarity with the types of issues one might encounter. This could relate to psychological issues, public health, education, socioeconomic status, discrimination, and more! In particular, this topic may vary between programs by area of focus. For example, the types of issues addressed by public health programs may vary from education or child and family services. Programs may also discuss how different types of issues limit people from participating in different aspects of society, or from being happy, healthy or successful.
Identifying issues and selecting the most appropriate intervention strategy:
A big part of human services, as a profession, is helping people to access the resources they need—even if they don't know exactly what those resources are. As such, many programs spend time discussing ways to identify what issues need to be addressed, and choosing a strategy to address those issues. Programs might discuss the different methodologies one might use, and the various skills one might need to plan and execute those strategies effectively.
Understanding how public and social services work:
Of course, one cannot forget an important detail: those in human services must be familiar with what services are actually available, who can access them, and how one might go about navigating that system. This includes the basic organizational structures of the government, public agencies, and nonprofit organizations, as well as the relevant policy and legal issues surrounding them.
Online Human Services Degree Focus Areas
Because online human services degree programs have the potential to be so broad, some programs may allow students to focus their education on certain types of issues, communities, or skill sets. While the specifics vary between school, program, and topic, this option could have an impact on the curriculum and other program expectations.
If you want to earn your human services degree to support a specific career path or interest, a more focused program may be of interest. If you opt to attend a program that does not focus on a specific topic, you may still have the opportunity to attend human services online courses focused on these topics.
Some of the things a program might focus on include:
Addiction: Substance abuse impacts all levels of society—making access to addiction counseling and related services crucial in any community. Human services programs that focus on addition may discuss not only the chemical and behavioral aspects of dependency, but also how addiction impacts families and the community as a whole. Addiction studies programs may also discuss the merits of different intervention strategies for various types of addiction, family situations, and other scenarios.
Child and Family Services: These types of programs would dedicate their attention to topics like child development and how that is impacted by a variety of issues, including physical and intellectual disability, health issues, abuse, trauma and psychological issues, socioeconomic status, and more. Courses may also examine the healthy functioning of diverse family groups, and cultural norms, and intervention strategies in crisis scenarios.
Social Justice: These types of courses focus on the specific challenges and systemic disadvantages faced by certain groups. This could include religious and cultural groups, racial diversity, LGBT issues, women's issues, and more. These programs may also address the different ways institutions could act to address or mitigate some of these issues and encourage social change.
Cultural Studies: Related in many ways to social justice, cultural studies programs examine how different social groups function, both internally and within the larger community—and how that could impact the types of services they need and the concerns they might have.
Criminal Justice: This complex system is a cornerstone of today's society. Human services programs focused on criminal justice study the ins and outs, only of how the criminal justice system itself functions. Courses may also discuss how law enforcement and social mores regarding criminality affect individuals and communities, the victims of crimes, why people re-offend, and more.
Mental Health: Mental health issues are not just a matter of public health. They also have the potential to touch every other aspect of human services, including the ones listed here. Human services programs focused on mental health not only discuss, broadly, the types of mental health issues one might encounter and how to identify them. They also build an in-depth fluency with the types of mental health services available and how to access them, as well as client advocacy skills.
Leadership and Administration: Programs focused on leadership in human services settings, rather than developing fluency in specific social challenges, rather focus on the organizational aspects of providing these services. In addition to honing the leadership and personnel management skills you might need, these programs might hone process development, ethical, policy and law, and project management expertise to help you help your community thrive.
Types of Online Human Services Degree Programs
Whether you're just entering college for the first time out of high school, are looking to change career, or are an experienced professional looking to advance your skills, a variety of online human services degree and certificate programs may be available online at your level. Here's a basic run-down of the types of online human services degree programs that may be available.
Undergraduate Online Human Services Degrees
The majority of undergraduate human services degrees or certificates are likely to be designed for students with little or no experience in the field. As such, while they may allow students to choose a concentration, many programs would aim to develop a general fluency with the human services field on a basic level. However, some second-degree undergraduate programs may also be offered. Types of online undergraduate degrees in human services you might pursue include:
Online Associates in Human Services: Looking for a degree that could help you get situated in human services quickly, so you can go out into the field as soon as you can? Associates degrees, if pursued full time, could often be earned in around two years. At the associates level, these program may cover the basics of human services institutions, as well as the organizational and communication skills one might need in an assistant or aide role.
Online Human Services Bachelors Degree Programs: Programs offering an online bachelors degree in human services could generally be completed in around four years, assuming that one studies full time. They generally focus on the structure and functioning of various human services programs and systems, as well as the communication and client advocacy skills necessary to connect people with the services they need. They're often multidisciplinary in nature, and focus on the needs of both the individual and the community as a whole.
Human Services Certificate Programs Online: At the undergraduate level, these programs may aim to build on pre-existing expertise, whether gained in associates or bachelors programs or on the job. They tend to be shorter than associates or bachelors programs, in that they typically require fewer courses to complete. Often, human services certificate programs focus on a specific topic rather than acting as a broad survey of human services as a discipline.
Graduate Human Services Degrees
At the graduate level, many online human services programs build on prior experience and education. In other words, they might expect or assume that each student is at least somewhat familiar with what working in human services entails. As such, many online human services degree programs, rather than covering the basics, might focus on what it means to act as a leader (or thought leader) or decision maker in different types of human services organizations. As with undergraduate programs, some graduate programs may either focus on a specific type of human services agency or issue, or allow students to select a focus area to study in detail. Types of human services degrees one might pursue in graduate school include:
Online Masters in Human Services: At the masters level, human services programs look mainly at the skills and knowledge manage human services agencies, programs and nonprofit organizations, either in a formal leadership capacity, in a consulting role, or otherwise. These versatile programs might focus on a variety of human services disciplines. In some cases, they might cross over or share content with MSW or Master of Social Work programs.
Online Human Services Doctoral Programs: At the doctoral level, human services programs tend to be about either leadership within a human services organization, or thought leadership throughout the field through research. Human services doctoral programs might look at a broader picture, developing, improving and maintain human services programs, community development initiatives, or quantitative research into the impact of such services or the lack thereof within a community.
Online Human Services Graduate Certificates: Certificates in human services might also be earned at the doctoral level. As with undergraduate certificates, these tend to build on existing knowledge or experience. Masters and post-masters certificates address specific human services topics and issues at the graduate level outside the confines of a degree program.
Studying Human Services Online – Offline Requirements
Earning your degree in human services online, at any level, may bring with it a few key considerations. In particular is the question of offline experience. While not all programs will, some human services might incorporate an element of field experience in their curriculum. This type of requirement would most likely need to be completed in person. If that's the case, make sure you're aware of how the field experience component works, how it's scheduled, and when and how you might need to complete it, to better ensure that online program works in your life.
Similarly, some graduate programs requiring theses or dissertations may require candidates to present their projects to faculty and peers in person, on campus. If the potential for offline components are a concern for you when selecting an online human services program, make sure you reach out to the school for additional information on their online human services degree program.
Search for Online Human Services Degree Programs
If you're ready to start your search for online human services degree programs, eLearners.com is here to help. If you already know what type of degree you'd like to pursue, simply use the menu to select the appropriate option (certificate, associate, bachelors, masters, or doctorate). Then read more about what to expect in those types of programs, and review the sponsored program listings that match your search criteria.
If you'd like to learn more about particular online human services colleges, click on the program name to find out more and get in touch.