74 Sponsored Online Programs Available
EducationDynamics maintains business relationships with the schools it features
Online Human Services Degree Programs
Do you love helping other people?[i] Are you interested in pursuing a career that's diverse and varied?[i] You might be interested in pursuing a career in human services.
Like its name might suggest, human services is about assisting people in need
[i]
. Children, the elderly, the homeless, or others might require help taking care of themselves, and human services workers may arrange and/or provide this help
[i]
. If this sounds like something you might be interested in, you may want to consider online human services degree programs
[i]
For more information on how you might be able to earn online human services degree programs, read on!
[i]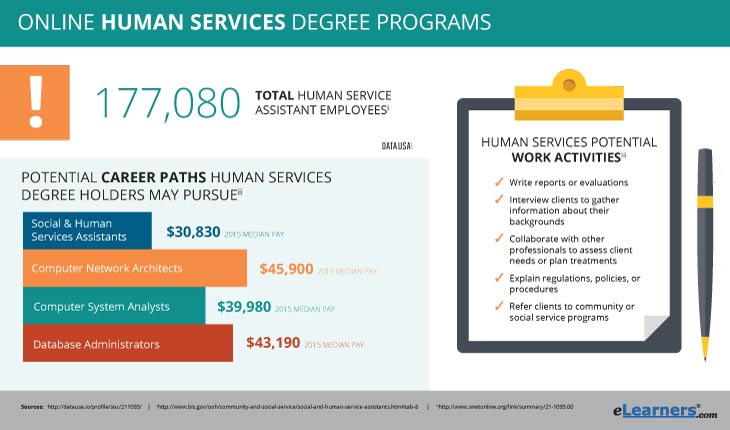 Essentials of Online Human Services Degree Programs
Like the industry it involves, human services degrees may vary greatly. The core part of the education might deal with certain skills, though, that could be applicable to many different human services jobs [i]. These skills could include some of the following:[i]
Communication
Interpersonal skills
Teamwork
Analytical Skills
Beyond that, though online human services degree programs may vary. They could deal with a range of specific disciplines, from counseling to social work to psychology[i]. They could also differ by education level, which might impact the type of career one could pursue if they graduate with a human services degree.
Associate's Degree in Human Services
An Associate's Degree may generally take between 2 and 4 years, and from 60 to 120 credits to complete. For human services students, it may help them prepare to pursue an entry-level career in the field. These human services jobs might deal with managing cases, interviewing clients, or completing paperwork.[i]
Bachelor's Degree in Human Services
Bachelor's Degrees, perhaps the most common first degree for American students, may typically require 4 to 5 years of full-time study to earn. In human services, a bachelor's degree program might prepare a student to pursue a career that involves managing client cases, and potentially offering clinical support.[i]
Master's Degree in Human Services
Considered a graduate degree, Master's Degrees may typically be earned after Bachelor's Degrees, and might take around 2 years to complete. In human services, this type of degree might prepare someone to pursue a career relating to clinical work directly with clients.i Make sure, though, when investigating potential career paths, that you look into whether or not a human services job at this level requires any additional licensure, which could be the case.[i]
Potential Coursework
As mentioned above, human services is a diverse field, and, as such, you may be able to take courses in a variety of subjects while earning a human services degree online. Depending on your interests, experience, and the career you may want to pursue, you might even be able to take courses in a specific area of focus, or concentration. While not every program is structured the same, you might want to contact the school you're interested to see what concentrations they might offer. Some potential examples could include:
Drug counseling
Clinical counseling
Mental health counseling
Non-profit management
Gerontology
Social services
Family studies
Depending on the concentration you might choose, or whether you choose one, you may take a number of different courses. These, again, may vary, but some possible course types that might be offered in online human services degree programs could focus on the following subjects:
Addiction
Group therapy
Counseling theories
Psychopathology
Criminal behavior
Human resource management
If you're looking to take coursework in a specific subject, make sure to contact schools before enrolling to see if they offer it!
Online or In Person?
If you've gathered from the phrase "online human services degree programs" that the coursework might be completed online, you're correct, but you may not be completely right. While programs typically may allow students to complete most coursework online, some schools may have residency requirements, meaning some work must be completed on campus. When looking into programs, make sure you check to see if they have any residency or internship requirements that might mean you have to travel to a specific location.
Careers
With an online degree in human services, there might be a number of human services careers you could pursue. Here are some potential options:[i]
Social and Human Service Assistants [v]
A position that can have a wide array of responsibilities, social and human service assistants might work for nonprofit organizations, local governments, or for-profit service agencies. In general, they may assist in providing services for clients, such as families, in fields as diverse as psychology, rehabilitation, or social work. While the entry-level education requirement is a high school diploma, some employers might prefer additional education, such as an Associate's Degree [i]. The median annual salary for this role was $30,830 in 2015.[v]
Another fairly broad role, social workers might provide the direct help to clients that social and human services assistants assist with. Some social workers, known as clinical social workers, may even diagnose and treat patients, dealing with mental, behavioral, and emotional health. Typically, one might need a Bachelor's Degree to pursue a career in this field, though clinical social workers may need a Master's Degree, plus additional experience and licensure. In 2015, the annual income for this role was $45,900.
Substance Abuse and Behavioral Disorder Counselors [viii]
If you want to help people suffering from addiction, alcoholism, eating disorders, or other behavioral issues, you may want to consider pursuing this career. The typical entry-level education is a bachelor's degree, and the median pay in 2015 was $39,980.
School and Career Counselors [ix]
If you want to help students succeed by assisting them with their academic and social skills, this could be a career you might want to pursue. The typical entry-level education is a Master's Degree, and the median annual salary in 2015 was $53,660.
Mental Health Counselors and Marriage & Family Therapists [x]
Also typically requiring a Master's Degree for entry-level positions, this occupation might be perfect for those who like to help people with mental disorders, family problems, or emotional stress. Growing much faster than the average occupation, at 19% between 2014 and 2024, this role had a median annual income of $43,190 in 2015.
One thing to keep in mind is that certain roles within this field require more than just a degree to pursue. Depending on the state, setting, and occupation, these demands can vary, so make sure to do ample research into the career you're looking to pursue.
Getting Started
Now that you know a little bit about what it might take to earn a degree online in human services, it might be time to get started. You can begin by taking a look at our sponsored listings on eLearners.com. After that, be sure to reach out to the schools you're interested in, to learn more about their online human services degree programs.
---
[i]bls.gov/careeroutlook/2011/fall/art03.pdf [ii]ed.gov/about/offices/list/ous/international/usnei/us/associate.doc [iii]ed.gov/about/offices/list/ous/international/usnei/us/bachelor.doc [iv]ed.gov/about/offices/list/ous/international/usnei/us/master.doc [v]bls.gov/ooh/community-and-social-service/social-and-human-service-assistants.htm#tab-1 [vi]bls.gov/ooh/community-and-social-service/social-and-human-service-assistants.htm#tab-4 [vii]bls.gov/ooh/community-and-social-service/social-workers.htm#tab-1 [viii]bls.gov/ooh/community-and-social-service/substance-abuse-and-behavioral-disorder-counselors.htm [ix]bls.gov/ooh/community-and-social-service/school-and-career-counselors.htm [x]bls.gov/ooh/community-and-social-service/mental-health-counselors-and-marriage-and-family-therapists.htm