0 Sponsored Online Programs Available
Compare Online Engineering Masters Programs
When you earn an online engineering masters degree you may study engineering technology, problem-solving, risk-management, and more. You could study engineering management principles, or delve into a branch of engineering such as electrical, mechanical, chemical, civil, or computer engineering.
Did You Know?

The Ferris Wheel is one of the world's top engineering achievements. The first Ferris Wheel was created in 1893 by the Pittsburgh, Pennsylvania engineer, George W. Ferris.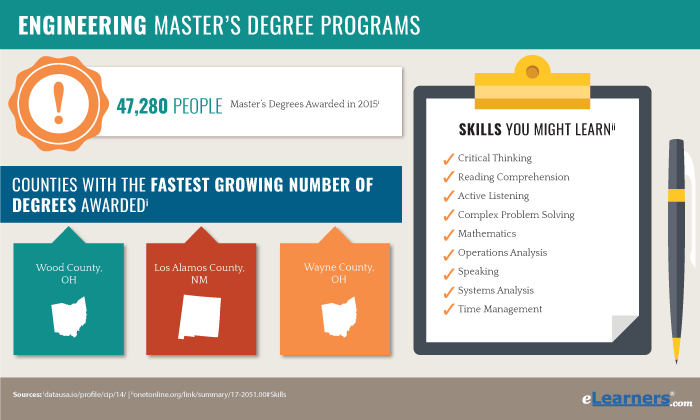 What Is an MEng Degree?
It's a professional masters degree that involves technical knowledge of engineering beyond what a bachelor's program offers. You could pursue an online MEng in a variety of areas, like electrical engineering, bioengineering, chemical engineering, and others. An MEng program may focus on the working engineer, while factoring in potential employers' needs in order to be responsive to industry changes. In other words, the focus may be on the practice of engineering, not engineering research and scholarship. Of course, every MEng program may have a different focus and philosophy.
What Is the Difference Between MEng and MSc?
As we mentioned, an MEng, or Master of Engineering program, may focus on technical courses in an area of engineering. It may be perfect for professionals who hope to apply their technical knowledge in a company or organization. An MSc., or Master of Science in Engineering online program, may offer a more research-based curriculum. It may be aimed at students who want to pursue further education, like a PhD, or roles in research and academia.
You may also note different graduation requirements for the M.E. or MEng and the MSc. or M.S. in Engineering. For example, sometimes the M.S. requires you to earn additional credits, or it may have a thesis component not found in an M.E. However, some online M.E. programs may make you complete a thesis, too. And some have an optional thesis track. Completing a thesis may be recommended for students who plan to pursue a PhD after earning the master of science in engineering.
Admissions Requirements for Online Engineering Masters Programs
Pursuing an online masters engineering program generally requires you to have earned a bachelors degree, first. This may need to be in a specific engineering or science discipline. An undergraduate degree in an area like biology, chemistry, computer science, mathematics, or physics may be accepted. Other requirements may include:
A minimum undergraduate GPA
Graduate Record Examination (GRE) – Not every online engineering masters program may require you to take the GRE. However, those that do may have minimum acceptable scores.
Test of English as a Foreign Language (TOEFL) – Applicants whose undergraduate education did not take place in an English-speaking country may need to take the TOEFL. Programs may vary when it comes to minimum acceptable score.
Reference letters – These should be from someone who can speak to your academic performance, and your potential for thriving in an online engineering masters programs. For example, you might ask your undergraduate professors to recommend you.
Statement of Purpose – Some programs may require you to submit a statement, which might include info on your background, interests, goals, and reason for applying to an online masters engineering program. It's important to follow each program's instructions for the statement.
Work experience – While working in engineering or a related field may not be a requirement for pursuing an online engineering masters degree, some programs may value your experience. They may take your professional history into consideration when evaluating your application.
Did You Know?

Engineering isn't just all work and no play. Engineers design waterslides, sneakers, and movie special effects. An engineer even invented the snowboard!
Types of Engineering Masters Programs Online
As you know, engineering is a broad field with many potential specializations. The online masters in engineering you pursue may depend on whether you hope to design mechanical systems, apply chemistry principles to industry challenges, or even learn to manage a team of engineers within an organization. Here are just a few potential programs to consider.
Online Master of Engineering Management
An online master of engineering management program tends to be aimed at professionals pursuing leadership opportunities in the field of engineering. Building on your prior knowledge of engineering, you may study how management principles are applied to engineering processes. Also learn about project management, engineering writing, accounting & finance, and other business topics with an engineering tie-in. Courses you may take include:
Six Sigma
Engineering Law
Quality Systems
Engineering Leadership
Human Factors Design
Network Optimization
Online Masters Mechanical Engineering
Study the technical principles of mechanical engineering, and how to apply them. Your program may cover material assessment, design, cost, and environmental impact. You may take a closer look at metals and alloys, composite materials, fluid mechanics and thermal sciences, nanomechanics and nanomanufacturing, and more. You may also explore industries where mechanical engineering may be applied, from healthcare to automotive design. Courses may include:
Manufacturing Engineering
Simulation Modeling
Advanced Mechanical Systems
Reliability Engineering
Heat Transfer in Industrial Systems
Fluid Mechanics
Masters in Chemical Engineering Online
An online masters in chemical engineering program explores molecular transformation, as it may be used in research and industry. Students may study chemistry, physics, mathematics, and biology, in order to apply this knowledge to chemical engineering challenges. You may learn about the application of sciences in industries like chemical and petrochemical processing, biopharmaceutical, environmental remediation, and more. You could take courses in subjects like:
Chemical Reaction Engineering
Thermodynamics
Mathematical Models in Chemical Engineering
Polymer Science
Air Pollution
Computer Engineering Masters Online
In an online computer engineering masters program, you may prepare to solve problems in areas like security, network systems, computer architecture, programming, and more. You could study exciting topics like artificial intelligence, data-mining, and how to prepare for a cyber-attack. Plus, you may discover how to apply your theoretical knowledge to practical challenges. An M.S. in computer engineering may be research-oriented, but also suited for working professionals. Here are some courses you might pursue:
Internet Security
Object Oriented Design
Advanced Computer Architecture
Android Programming
Machine Learning
Cryptography
Online Masters, Civil Engineering
Study how to design and maintain key infrastructure, from utilities to transportation. You may use both engineering and technology principles to understand and plan for the infrastructure needs of communities. Your online masters in civil engineering program may have a particular focus, like structural engineering or solving challenges related to water. Plus, you may need to examine environmental concerns to develop sustainable solutions. Courses you might take include:
Engineering Hydrology
Irrigation Systems Design
Reinforced Concrete
Air Quality Modeling
Railroad Track Engineering
Dams, Embankments, and Slopes
Requirements for Earning an Online Masters in Engineering
Graduation requirements may vary by program and the branch of engineering you plan to study. Different degree types, like a master of science in engineering online as opposed to a master of engineering, may also differ. However, here are a few typical requirements for earning your degree:
You must earn a set number of credits. Often, you must earn around 30-32 credits to earn your online engineering masters degree. However, it could be more, depending on the program. Credit breakdowns also vary. For example, you may need to take a certain number of credits in your specialization, like civil engineering, and take the rest as elective courses. Finally, programs may have requirements about course levels. You may have to take a certain number of advanced courses (500-level or above) in order to graduate.
Minimum GPA. You may have to earn a minimum GPA, such as 3.0, to successfully earn your degree.
Thesis. You may have to research and write an original thesis. However, this largely depends on your plans. Some online masters in engineering programs offer both a thesis and no-thesis track. The thesis track may be aimed at those whose future goals involve research, academia, or further education. If that doesn't apply to you, you may choose to look for a program where you don't have to write a thesis. That is, unless thesis-writing sounds like your idea of fun!
Engineering report. Instead of a thesis, some programs may require you to write an engineering project report, instead. However, you may still need to consult with an advisor and defend your work to a committee, as you would with a thesis.
How Long Does It Take to Earn an Online Engineering Masters Degree?
That may depend on whether you are a part-time or full-time student, and how many credits your engineering masters program requires you to earn. However, two years is the typical length of an online masters engineering program. Some can be earned in as few as 18 months, and some take three years or longer.
You may be able to earn the degree in less time if you have transfer credits, though every program may have different policies. For example, some engineering programs may only accept up to six transfer credits, requiring you to complete most of the degree requirements at that school.
All About Engineering Masters Programs Online
It used to be that engineering masters students had to go to a traditional college campus to pursue their studies. Today, all that has changed. Many engineering departments at colleges and universities (including quite well-known ones!) may offer masters programs in an online format. That path may be convenient for those already working in their field. Here are just a few helpful things to know about online engineering masters programs:
Course structure may vary by program. Some engineering masters programs may actually record live courses and make those available for online students. So, you'll be able to watch actual lectures, just as if you were an on-campus student! You'll also submit homework electronically, and stay connected through applications like Skype. Other online engineering masters programs are structured differently. They may offer learning modules specifically designed for online students. These may feature case studies, videos, group discussions, and projects.
You may be able to learn at your own pace. Online programs may be perfect for working professionals who wish to pursue their education part-time. Programs tend to offer asynchronous learning, which means you may pursue coursework at the time that works for you. However, some programs may have a deadline for how long you may take to earn the degree, such as five years. So, you'll need to have a plan for finishing your studies on time!
You may be able to pursue a blended degree. Don't want to give up the benefits of in-person learning? Some masters in engineering programs may offer blended learning, which means you could pursue some courses in person and some online.
What's Next, After Earning My Online Masters Engineering Degree?
After earning your master's degree in engineering, you may have more than one potential path open to you. Those who have earned an M.S. or M.Sc. in Engineering may pursue a PhD, if they are interested in goals like research or academia. On the other hand, graduates may pursue a professional role, with a company or organization. Here are just a few potential career paths that may call for a masters degree in engineering:
Architectural and Engineering Manager [i]
32% said they needed to earn a masters degree.
Median salary (2016) was $134,730.
Aerospace Engineer [ii]
33% said they needed to earn a masters degree.
Median salary (2016) was $109,650.
Civil Engineer [iii]
26% said they needed to earn a masters degree.
Median salary (2016) was $83,540.
Computer Hardware Engineers [iv]
27% said they needed to earn a masters degree.
Median salary (2016) was $115,080.
Environmental Engineer [v]
48% said they needed to earn a masters degree.
Median salary (2016) was $84,890.
Start Comparing Online Engineering Masters Programs
Whether you're hoping to pursue an M.Eng or an M.S. in Engineering, you're in the right place! Compare our sponsored listings for accredited engineering masters programs. You'll find potential degree programs in areas like computer engineering, civil engineering, engineering management, and more. If you see a program that interests you, click to learn more about it.