Want to Find Work-at-Home Careers? Earn These Online Degrees
Thanks in part to advanced technology, more and more companies hire employees who want to establish work-at-home careers. Digital access to data and online systems for communicating and sharing information make working from home possible in several industries.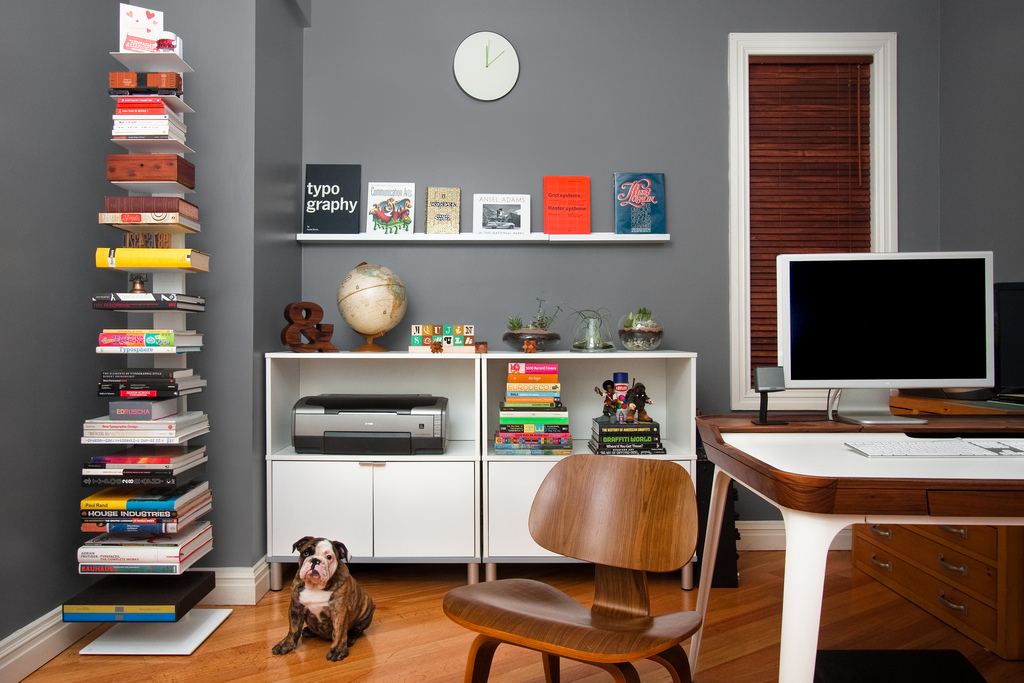 Here are some fields that don't require in-person interaction and countless office amenities to provide quality service:
Technology
Technologies companies throughout the world sometimes hire experts in technology to work in various capacities from home. You could work as a web developer, software developer, computer training and support person, or in a number of other capacities.
Some degrees you might consider earning include an associate's or a bachelor's degree in:
Business information systems
Computer science
Computer training and support
Database management
Information security
Information technology
Software and application management
Graphic design and media
Instructional technology
Within these and other areas, you could provide technical support, customer service, design services, and other skills to customers.
Engineering
Different branches of engineering serve different purposes in our society. However, engineers across areas provide technical solutions to problems and help design, manufacture, and maintain products across industries. While some aspects of engineering involve working with material matter and in conjunction with others, others involve working with technology. Enter your working-from-home option.
While some engineering jobs may enable you to work entirely from your home computer, others may require that you blend at-home work with work that happens on location.
Some types of engineering you might study include:
Electrical engineering
Civil engineering
Environmental engineering
Industrial and mechanical engineering
Biological and biomedical engineering
Writing, Editing, and Translating   
Writers, editors, and translators often have the most intimate relationship not with their coworkers, but with their computers and documents. This means that if you work as one, you may find employers that allow you to work from home. Whether you do so as a freelancer or direct employer depends on your desires and job availability.
Here are some subjects you might study to become a writer, editor, or translator:
English
Writing (professional, technical, or creative, for example)
Language (Spanish, Chinese, or Arabic, for example)
Communications and public relations
Journalism
Health
Some aspects of the health industry don't involve seeing patients or otherwise interacting face-to-face with people. Health professionals who bill, transcribe information, and do coding, for example, don't necessarily need to be in the office. Depending on your employer, you might be able to work entirely from home or with very few visits to the office. Some degrees you might pursue to work in the field of health from the comfort of your home include:
Health informatics
Healthcare administration
Medical billing, coding, and transcription
Teaching
With the proliferation of online education, more and more teachers get the option to work from home. Whether you work in K-12 education or at the college level, you could find schools that offer courses either entirely online or partially online. Here are some subjects to study to work in the field of education, potentially from home:
Curriculum and instruction
Education, technology, and online education
ESL/TESOL
General education
K-12 education
Higher education
Counseling and Therapy
Counseling and therapy are fields that might quite literally allow you to work from the comfort of your couch. While you could work for a healthcare provider or other institution, you could also start your own counseling, coaching, or therapy business. Earn a degree in one of these areas to work in this field:
Alternative health
Christian counseling
Counseling psychology
Ministry
Psychology
Business and Entrepreneurship
Whether you opt to start your own business or act as a consultant, pursuing a degree in business could help you work primarily from home. While you might have to leave the house to run some aspects of your business or to meet with clients, you could work primarily from home or at least on your own schedule. Earn degrees in these areas to pursue this path:
Accounting
Business administration and management
Entrepreneurship
Finance
Marketing
Non-profit administration
Project management
Within the realm of business, as long as you have business smarts, you could earn a degree in the subject connected to your business. You might, for example, earn a degree in engineering and start your own engineering consulting firm. Or you might earn a degree in fine arts and establish an art business.
Online Degrees in Disciplines that Are Work-From-Home Friendly  
Located in Los Angeles, CA, the University of Southern California is one of the world's leading research universities and a global center for arts, technology, and international business. It was founded in 1880 when L.A. was but an undeveloped frontier town. Today, the school thrives in the heart of one of the most populated cities in the U.S. It offers online programs to students throughout the world.
Online Degrees for People Who Want to Work from Home: Geographic Information Science and Technology, Health Administration, Organizational Change and Leadership
Ashford University specializes in providing online education. Offering a full range of support such as digital access to faculty, classmates, librarians, writing assistants, and career services specialists, Ashford University strives to provide quality online education. It is a private, for-profit institution.  
Online Degrees for People Who Want to Work from Home: Psychology, Business Administration, Business Information Systems, Education Studies, English, Health Care Administration, Health Care Informatics Systems, Journalism and Mass Communication, Teaching and Learning with Technology, MBA in Entrepreneurship, and others.  
Colorado Technical University uses innovative technology to provide quality online programs in areas well beyond the technical. It hires real-world faculty and helps students develop a powerful professional network.
Online Degrees for People Who Want to Work from Home: Psychology, Business Administration; Business Administration in Data Analytics or Information Technology; Cyber Security; Healthcare Management; Health Informatics; Information Technology in Network Management, Security, Software Application Programming, or Software Systems Engineering; and others.
Florida Southern University was founded in 1883 and is now the oldest comprehensive college in Florida. It embraces Methodist teachings and values, and faculty push students to contribute to their communities. The school offers on-campus and online programs.
Online Degrees for People Who Want to Work from Home: Business Administration, Elementary Education, Collaborative Teaching and Learning
Located in Phoenix, Arizona, Grand Canyon University is a private Christian university. Its key values include responsible leadership, critical thinking, effective communication, and global citizenship. The school emphasizes community involvement and contribution through scholarship, service, and culture. 
Online Degrees for People Who Want to Work from Home: Psychology, Business analytics, Health Care Informatics, Information Technology Management, D.B.A. in Data Analytics, and others.  
Liberty University is a Christian University that emphasizes counseling and ministry programs. It offers accredited, 100 percent online programs at all levels. The school gives partial credit for students with experience in the military, insurance, real estate, and emergency response.
Online Degrees for People Who Want to Work from Home: Counseling in Addictions and Recovery, Counseling in Business, Counseling in Criminal Justice, Counseling in Health and Wellness, Counseling in Life Coaching, and others.  
Northcentral University is an online university that strives to provide high-quality, accessible, and relevant degree options, especially for working professionals. The school embraces a one-to-one teaching model that places one of NCU's doctoral faculty with each student. 
Online Degrees for People Who Want to Work from Home: Computer Science, Cybersecurity, Data Science, Engineering Management, IT Project Management, Information Systems, Couples Therapy, LGBTQ Couple and Family Therapy, Military Family Therapy, and others.
Pacific Oaks College is a not-for-profit school that focuses on providing online degrees in human development, counseling, and education. The school takes a progressive approach to education and engages unique pedagogies to teach.
Online Degrees for People Who Want to Work from Home: Human Development with Preliminary Multiple Subject Teaching Credential, Human Development, Education Specialist Instruction Credential, Early Childhood Education, and others.
Just after Harvard and MIT, UMass Online is part of a public research institution that is the third largest in Massachusetts. With the Carnegie Foundation's Community Engagement Classification, UMass is proud to be of service to the public and the school's surrounding communities. The school focuses on hiring professors who are well-known in their fields and helping students use their knowledge to build their own academic and professional proficiencies.
Online Degrees for People Who Want to Work from Home: Information Technology, Business Studies, Writing, English, General Business Administration, and others. 
Southern New Hampshire University is a non-profit institution that offers certificates, associate's degrees, bachelor's degrees, master's degrees, and doctorate degrees. It offers online degrees across disciplines and focuses on serving military and veteran communities among others.
Online Degrees for People Who Want to Work from Home: Business Administration, Communication and Professional Writing, Creative Writing/English, Creative Writing in Fiction Writing, Poetry, or Screenwriting, Game Art and Development, Psychology in Addictions, Mental Health, or Social Psychology, and others.
Establish a Career at Home
While there is no guarantee that earning a degree in one of these areas will lead to at-home employment, you can at least give it the college try. Freelance positions and positions that utilize technology and do not depend on in-person interaction and office amenities present opportunities to work from the comfort of your couch and computer.
Explore your program options through the colleges above and see what opportunities arise!