What Does It Mean to Be a Military Friendly college?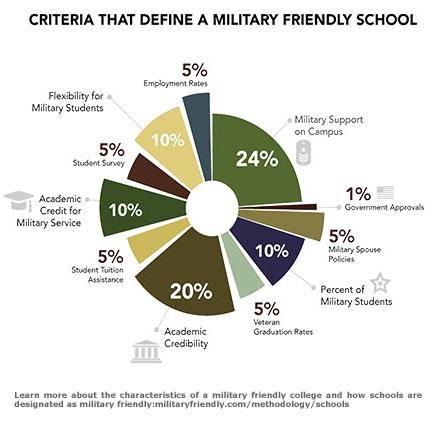 Though the U.S. Department of Veterans Affairs (VA) approves over 10,000 colleges to accept GI Bill® funds, according to Victory Media, which is a private veteran-owned company that sponsored the survey that resulted in the 2016 list of Military Friendly Schools®, not all of these schools have earned the designation "military friendly." In addition to providing tuition assistance to eligible students, Military friendly colleges have characteristics that may be important to veterans and current servicemembers, such as military support on campus and academic credit for military service. Also important are veteran graduation rates, post-degree employment rates, and the availability of tuition assistance. Finally, military friendly colleges typically offer flexible options, such as evening and online courses. Online colleges for military members may help students to balance college with other duties, including deployment.
Many veterans and current servicemembers may be drawn to military friendly schools because they appreciate the supportive environment, community of learners with similar experiences, and other benefits of attending an institution that values and accommodates military members.
How Are Colleges Awarded a Military Friendly Designation?
If you're a veteran or active servicemember, you may be interested in attending a military friendly university. But how do schools receive this designation? The 2014 list of Military friendly colleges are evaluated based on eleven criteria that include military support on campus, academic credibility or accreditation, number of military members enrolled, and others. The criteria are assessed based on a survey given to more than 10,000 VA-approved schools.
What Potential Options Are Available to Servicemembers After a Career in the Military?
Thinking about your next step after the military? Former military members often possess a wide range of qualities and experience that may uniquely prepare them for certain civilian careers. Veterans may pursue opportunities in public service, where their military connections and commitment to serving their country may be valuable in government jobs. Alternatively, military members may be able to apply their technology skills to careers in math, science, and IT.
Earning an MBA may also be a good fit for servicemembers, as a career in business could encourage them to tap into their personal discipline, leadership skills, and other qualities commonly found in veterans and military members. If you are an active duty servicemember hoping to remain in your military career long term, an MBA may help you to be competitive for career enhancement opportunities. Many MBA degrees can be earned partially or fully online, potentially making this degree option the ideal choice for students who frequently change locations.
Click here to discover other reasons why an MBA may be a good fit for student veterans and active duty servicemembers.
This list does not include all schools that accept GI Bill funding or VA Benefits. For a more complete list of schools, click here.
Learn more about the characteristics of a military friendly college and how schools are designated as military friendly: militaryfriendly.com/methodology/schools