1 Sponsored Online Programs Available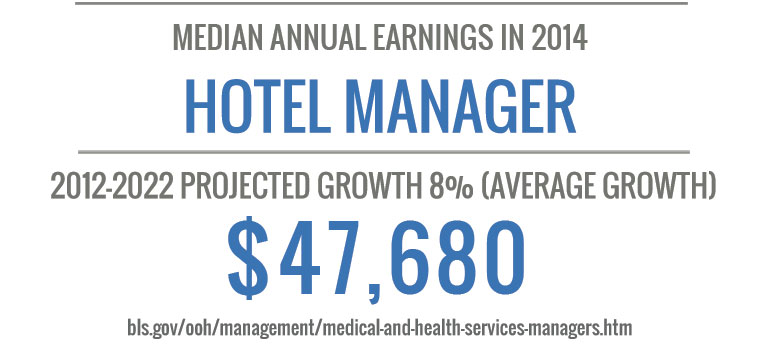 Bachelor of Hospitality Management Online
Hospitality Management Bachelor online classes model the keen business sense it takes to run any business that is based on welcoming and serving guests. Students in a Hospitality Management Bachelor Degree program focus on learning the key skills of how to manage a hotel, market a casino, or design tourism packages, for example. Classes may also cover how to work for restaurants, resorts, hotels, theme parks, and other businesses that serve customers around the globe.
What Will I Study in a Hospitality Management Bachelor Online Program?
At the bachelors degree level, you'll study general education and major subjects. Your bachelors degree in hospitality management will comprise core and elective courses. Your core courses will cover many business concepts. Management, marketing, finance, and accounting name a few. They'll also cover subjects in the hospitality industry. Here are some subjects you'll study.
Hospitality and tourism
Food service systems
Hospitality systems
Human resources in the hospitality industry
Law and ethics in hospitality
Tourism
Restaurant operations
Service management
You'll also take economics and statistics courses that will focus on the hospitality industry.
Your elective classes will teach real business skills that cover certain areas of hospitality. The hospitality industry is very broad. This means that in your hospitality management bachelor online degree you might study anything from casino hospitality, to guest relations on a cruise ship, to high-end fine dining.
Keep in mind that all programs are distinct. What you'll study depends on the program. So always check with the schools you are reviewing to learn more.
Why Pursue an Online Bachelors Degree in Hospitality Management?
It's helpful to gain real, on-the-job experience while you earn your degree. And earning an online bachelors degree in hospitality management could help you work and study at the same time. Perhaps you can work in a restaurant or at a resort. Maybe you can work for a tourism agency or a food services center. You could graduate from your program with both experience and a degree. That's a powerful duo.
Also, hospitality workers are needed locally, nationally, and internationally. What if you could travel throughout the U.S. or to other parts of the world while you're studying hospitality? What if you could scope tourism while exploring Europe or study restaurants while eating your way though Japan? What if you could learn while you're spending time in other parts of the world? This could help you graduate with business, hospitality, and global sense all at once.
How Do I Find My Perfect Program?
You can start right here. We've gathered a list of programs in the area of hospitality management. Everything you find on this page is online and at the bachelors degree level. Explore your options and contact programs right through our site for more information. Begin now! A career that requires your smarts and creativity awaits.