Meeting, convention, and event planners coordinate all aspects of events, which could include weddings, professional conferences, tradeshows, fundraisers, and other gatherings. People in this occupation should have superb attention to detail and exceptional organization skills as they are responsible for every piece of planning, from beginning to end. Effective meeting, convention, and event planners should also have great communication skills, excel in customer service, and be able to find solutions to all types of problems.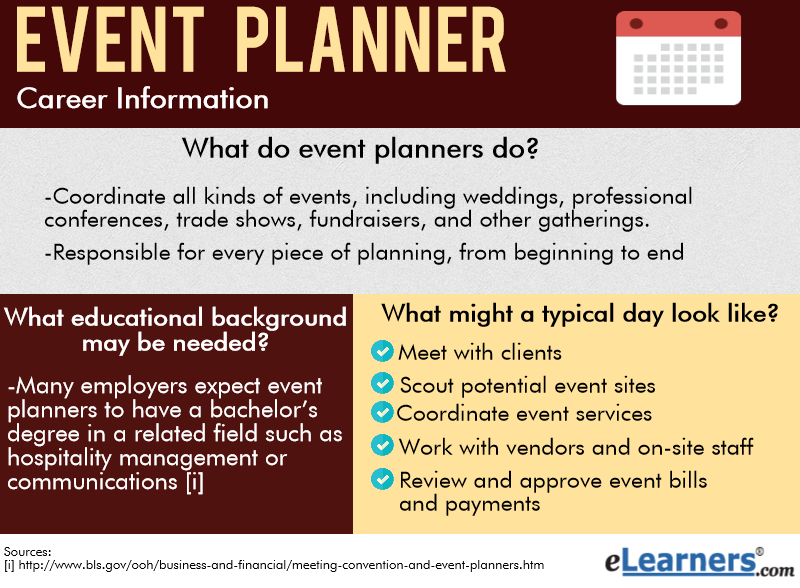 What Might a Typical Day in Event Planning Look Like?
Event planners' responsibilities could include meeting with clients to determine their needs; scouting potential event sites; working with vendors, such as florists or photographers; coordinating event services; working with the on-site staff; and reviewing and approving event bills and payment.
How Could I Pursue a Career in Event Planning?
Most employers expect event planners to have a bachelor's degree in a related field. A degree in hospitality management or communication could help prepare you for this career[i], where the 2013 median annual wage was $46,260.[ii] This career, projected to grow "much faster than average," is expected to grow 33 percent in the next eight years. Organizations of all sizes are recognizing the value of professionally planned meetings, which helps the need for meeting and event planning careers. [iii]
Which Online Degrees Might Support This Career Goal?
According to the Bureau of Labor Statiscs' 2010 Occupational Outlook Handbook, "job opportunities should be best for [event planners] with a bachelor's degree in hospitality management."  Learn more about these options:
---
[i] http://www.bls.gov/ooh/business-and-financial/meeting-convention-and-event-planners.htm#tab-4 | [ii] http://www.bls.gov/oes/current/oes131121.htm | [iii] http://www.bls.gov/ooh/business-and-financial/meeting-convention-and-event-planners.htm#tab-1