Sponsored Online Programs Available
Online Masters in Hospitality Management
Masters in hospitality management online degree programs offer individuals the opportunity to solidify business management skills that are needed across service industries. Distance learning brings the classroom to your computer, a convenience which may align with the scheduling needs of working professionals. As an academic subject, hospitality management is the study of the hospitality industry. Sometimes, online Masters degrees in hospitality management are categorized as hotel management, hotel and tourism management or hotel administration.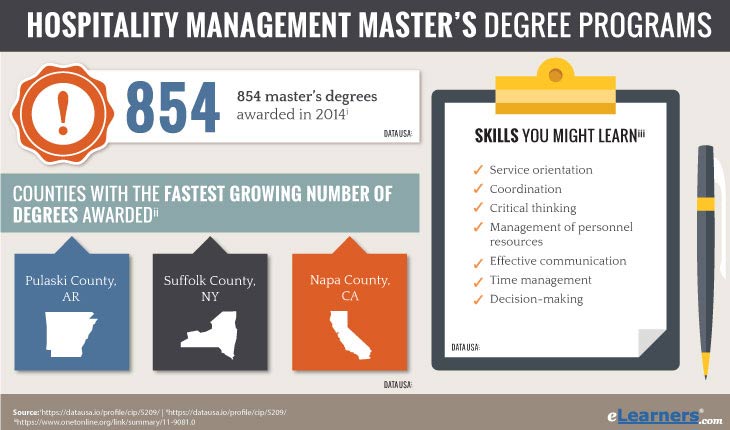 Why Consider a Masters in Hospitality Management Online Degree Program?
Masters in hospitality online degree programs prepare graduates to potentially pursue managerial and leadership roles in a variety of hospitality and tourism-related careers. Travelers continue to demand quality service from restaurants, resorts, casinos, amusement parks, the entertainment business, hotels, and on a larger scale, from tourism in general. If you have a passion for customer care, administration, and promotion within hospitality operations, the hospitality major may be rewarding.
FACT: 854 Master's degrees in hospitality management were awarded in 2014[i]
What Does It Mean to Major in Hospitality Management?
Most Masters inhospitality management online programs analyze current issues and challenges within the hospitality, tourism and entertainment sectors. Students majoring in hospitality with a Masters in Hospitality Management Online may learn how to apply this theoretical knowledge into their current workplace, or to pursue a wide variety of potential career paths. As specialized business programs, curriculums for online Masters degree in hospitality management programs may vary. Some of the general topics that may be covered within a Masters in hospitality management degree program might include:
Human resources
Conflict resolution
Customer Service
Travel arrangements, traveler facilities
Promotion
Principles of operations in travel and tourism
Principles of operations in hotel and lodging facilities
Food services
Recreation facility management
Hospitality marketing strategies
Hospitality planning
Management and coordination of franchise operations
Business management
Accounting and financial management
Hospitality transportation and logistics
Hospitality industry policies and regulations
About Masters in Hospitality Online Degree Programs
Online Masters in hospitality management degrees may be offered as MBA hospitality, Master of Science MS) in hospitality and tourism management and Master of Tourism Management. Program lengths and course requirements vary depending on whether you pursue full-time or part-time studies. Some Masters in Hospitality Management Online programs may average from one to two years, and approximately 30 credits. There are variables; for instance, apart from coursework, students may have to write a thesis, and/or participate in internships or work placement experience.
Online Masters in Hospitality: Potential Requirements
Some students may apply to online masters in hospitality management programs with an undergraduate degree in hospitality. Others may have earned a Bachelor of business administration, have a background in marketing, accounting or another related field. Check the admission requirements specific to a prospective program.
Online MS in Hospitality Management
Online Master of Science in hospitality management degree programs may offer an analytic framework for students whose orientation might lie in strategic management, company profitability or brand development and market competitiveness. Applicants may have to have completed courses in upper level statistics, accounting, economics and computer science and/or have previous experience in hospitality, business or a tourism-related field. Some MS hospitality programs may have a thesis option; this may be an option that some students use if they plan on using their Masters degree in hospitality as a stepping stone for a doctorate degree. Coursework may include[ii]:
Marketing and sales
Operations management
Project management
Business development
Hotel administration accounting
Food service management
Hospitality specific software programs
Online Master of Tourism Management (MTM)
Students interested in earning an online Master of Tourism Management might learn the skills necessary to make sound business decision within the tourism industry. Whether you are specifically interested in destination marketing, ski hill management or eco-tourism, this type of program is often interdisciplinary. Students might learn topics such as:
Strategic management for travel-related enterprises
Travel agency management
Convention, or tour services management
Convention, event planning
Travel industry operations and procedures
Tourism marketing and promotion strategies
Travel counseling
Travel industry law
International and domestic operations
Travel and tourism policy
MBA Hospitality Online
Online MBA hospitality management degree programs are generally designed to prepare graduates with core business administration skills that may provide the leadership skills needed to meet the needs of travelers and guests. MBA hospitality online programs may allow students to seek a specific concentration area with the larger context of service, such as tourism, international business, retail, or advertising. Students usually take core courses that might include:
Accounting
Human resources
Finance
Economics
Marketing
Business communication
To apply into an MBA hospitality online program, students typically need to have earned a bachelor's degree from an accredited school. Some hospitality management schools may have a minimum GPA requirement. Other requirements might include college transcripts, GMAT scores, resume of work experience, essays and personal letter of intent.
Online Masters in Hospitality Degree Program: Cultivate These 7 Skills
What do hotel managers other service industry professionals need to excel in the workplace?
Service orientation
Coordination
Critical thinking
Management of personnel resources
Effective communication
Time management
Decision-making
Online Masters in Hospitality and Management: Potential Format
There is no one format that hospitality schools use for their online masters in hospitality and management programs. Seek out a program that has engaging content to keep you motivated, and one with online support that makes you feel comfortable. Potential features of online learning environments might include:
Easy online access to instructors
Collaborative tools such as online discussion boards that foster participation
Different media (podcasts, video, animation)
Traditional lectures (synchronous or asynchronous)
After Graduation: Potential Next Steps
After graduating with a Masters in hospitality management online degree, students might choose to pursue doctoral studies such as a Doctor of Business Administration. Others may work towards extra certifications such as the Certification in Hotel Industry Analytics (CHIA) through the American Hotel & Lodging Educational Institute (AHLEI)[iii]. Potential career paths for graduates might include:
Luxury Hotel Managers
Revenue Managers
Food Services Manager
Meeting, Convention and Event planner
Resort Manager
Sustainable Tourism
Destination Marketing
Find Accredited Masters in Hospitality Degree Programs
Students seeking an online Masters in hospitality management should look for a nationally and regionally accredited school. Specific programmatic accreditation for business schools might come from an agency such as the AACSB International. The Accreditation Commission for Programs in Hospitality Administration also accredits about 60 hospitality management programs[iv].
Take the Next Step
The tourism industry continues to evolve and generate employment in some fast-growing sectors. Per the BLS, employment of lodging managers is projected to see an 8% growth from 2014 to 2024[v]Compare Masters in Hospitality Management Online. Review sponsored listings on our site, then use our on-page navigation to request more information.
---