19 Sponsored Online Programs Available
EducationDynamics maintains business relationships with the schools it features
Earn a Hospitality Management Degree Online
Make your playground your workplace. Resorts, Las Vegas, Gala Benefits, Festivals, and Chic Retreats aren't just where you have the time of your life. Somebody creates and delivers those perfect experiences.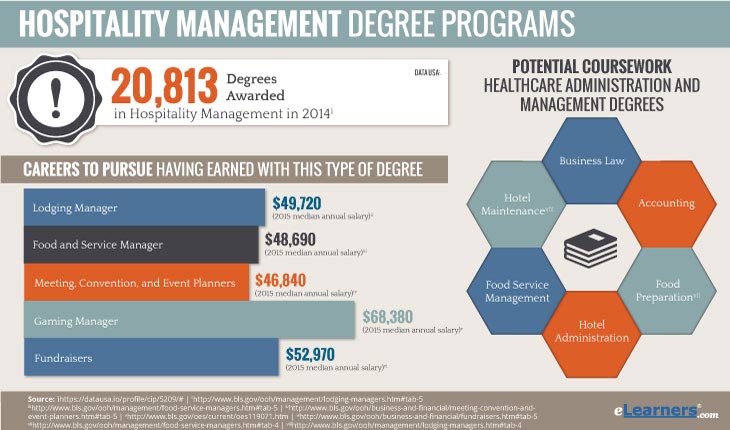 Nostalgic feelings probably bring to mind either a favorite life-changing event or perhaps an unforgettable trip. But no matter which, that happy occasion was made possible thanks to Hospitality Management.
A Hospitality Business Management course of study offers a tremendous variety of choices. There's a world of possibility out there for these students because it's an industry that literally spans the planet. Whether working at the Olympics is a dream or visiting every country represented at those games, the Hospitality industry is here, there, and everywhere. Not only that, there are many ways to go about it. Hospitality encompasses three major categories: Lodging, Gaming, and Event Planning.
When the word Hospitality comes up most probably think of hotels and it composes a large part of the industry. There are high level management positions, perfect for someone with a degree in Hospitality Business Management, at each and every hotel and…
Fun Fact

In the United States alone there were already more than five million hotel rooms available for use in 2015. That's tons of hospitality!
Lodging Managers are one position well-suited for a Hospitality Management degree holder. They focus mainly on welcoming guests and raising enterprise standards to make a guest's visit exceptional. Meanwhile, the world is a multiplying map of enticing homes-away-from-home. So this is a career that need never be boring with the world of opportunities it offers.
Every type of lodging imaginable awaits
Resorts, luxury chalets, cruise ships, decadent villas, and rustic log cabins are only the beginning in a list of places to stay when away. No matter where it is, this is a booming industry. The Global hotel industry is projected to a retail value of $553.8 Billion in 2018.
Spectacular Shelters Alert
Perhaps you'd like to try sleeping in an igloo to cuddle up all cozy while gazing at the stars? Try the coolness of this Arctic lodging experience - http://www.kakslauttanen.fi/en/accommodation/
Or how about a floating hotel room in paradise? Not only does this hotel float in a pristine sea, it's literally an underwater bedroom too. As pictured below, the Manta Resort on Pemba Island, off Tanzania, offers guests the chance to stay in a Swedish-designed boudoir below the sea.
What if you gotta be on the move 24/7 or life's just not fast enough for your taste? There's a hotel for you too. Cabin Hotel just got $3.3 million for seed funding at the end of June 2017 but this moving hotel vehicle is already up and running - literally. The hotel travels between Los Angeles and San Francisco with evening trips leaving at 11PM that arrive at 7AM. A witty reframe for your work commute. https://uncrate.com/article/cabin-moving-hotel/ You'll snooze for sure thanks to blackout drapes and soundproof walls.
Did You Know?

Globally, the hotel industry generates roughly between 400 and 500 billion U.S. dollars in revenue every year. One third of that revenue is attributable to the United States. And, travelers from China, Germany, and the United States are among the biggest spenders.

Click to Tweet
Did you know? [i]
Not only do Lodging Manager workplace choices abound, they also encounter people from all over the world face to face and on the phone every day. It's a career with limitless chances to welcome people one would never meet in ordinary life.
So, if you love to make new connections with all kinds of people, this could be a dream job.
100% in this industry say their career involves "Constant contact with others"
Also they're on the telephone every day at work, say 98%
While 89% find working with a group or team extremely important on the job.
And variety doesn't end there because the Hospitality industry offers several types of Lodging Manager roles. General Managers supervise operations and coordinate all the departments. Then there are Revenue Managers who manage all financial matters for the enterprise. Also, there are more specifically tailored roles like Front Office Manager and Convention Manager for those with particular management interests. [i]
The choices just keep coming, no matter the role in a Hospitality Lodging career, because accommodations stay open 24 hours a day year round. So, you can work at any time too.
And for all you bottom-liners out there, $51,840 was the Lodging Manager median salary for 2016. [ii]
When people think of Hospitality Management, lodging may come to mind first but there's much more to it and with lots of fun and entertainment to boot.
Gaming
Everybody wants to play. From glitzy Las Vegas to the SuperBowl - we all love GAMES. It could be about high stakes in competition, the thrill of a lucky break, or the rush of an underdog's hard won victory. No matter what the pull, we keep coming back for more.
Gaming Managers have an exhilarating career and set of responsibilities, so put on your grown up gear - it's mandatory. They remove suspected cheaters from casinos, explain and interpret the rules of the house for inquisitive clients, and track money supplies. And what's more fun than counting money? That's right - nothing. [i]
Did you know?

Speaking of money, the annual median salary for Gaming Managers in 2016 was $69,180. That's more than $10,000 greater than the average median household income. In other words, Gaming Managers can splurge for that fancypants brand of grown up gear.
Are you an indoor type? Casinos were made for you, baby! 100% of the Gaming Managers asked describe their everyday workplace as indoors and environmentally controlled. That means air conditioning and a 0% frizz factor for your blowout. You're welcome. [i]
Fun Facts: Gambling's Main Street USA these days

Two decades ago, only two states had legal gambling and 48 states outlawed it. Today, 48 states have some form of legal gambling. With only Hawaii and Utah as non-participants.

Over 60% of American adults gambled last year or over the past twelve months on some activity. Over 80% say that gambling is legitimate and casinos are okay.

Gambling generates $40 billion dollars a year. That's more revenue than movies, spectator sports, theme parks, cruise ships and recorded music combined.
But don't forget that the Gaming industry isn't just about gambling. There's even greater excitement beyond the casino from Olympics to the Kentucky Derby, or courtside at Wimbledon, Gaming Managers are in on the spectator sport action. So even you outdoorsy types can find happiness in the Gaming side of the Hospitality industry.
Speaking of exciting events, there are tons of non-sports related events included in the Hospitality Management world as well. That brings us to our next, and last, fantastic category.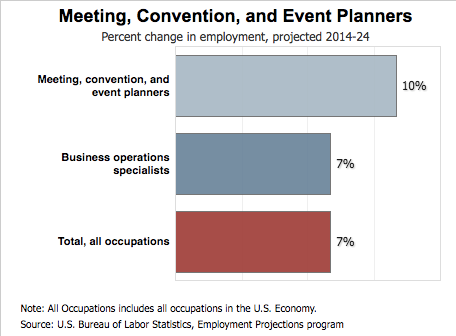 Event Planning
From fundraisers and festivals, to conventions, concerts, and fabulous parties these event experiences create fun and fond memories that last. Such events also make billions for businesses, individuals, and charities alike. But the parties aren't the one and only best part - the prospects are fantastic for Planners too.
Employment opportunities abound and many of them involve giving back to the community. So, not only are you likely to get a job, you may just find meaning in it as well. Fundraising benefits and galas are a wonderful application for a Hospitality Business Marketing degree. They raise aid to assist the needy while fun-filled events give donors the time of their life. We all know positive reinforcement for good deeds helps keep them coming. Turns out we're already on the right track here in the United States of giving.
Did you Know - Americans Are Givers?

No matter what the headlines say, there are lots of generous people around. 67% of Americans donated to a charity last year. Not only that, they averaged donations that equaled a whopping 4% of their income.
So, the fundraising side of event planning is perfectly suited to our already generous culture. And with Event Planning you could be a part of something far greater for your community than just planning a glamorous party or selecting an ideal venue. But those parts can be loads of fun too! It's a win-win all around. Studying Hospitality Business Management is an optimal way to get on the track to these kinds of meaningful opportunities
The best part is you don't even have to make a specific choice about which focus in Hospitality Business Management is optimal for you right now. Those particulars can come later. You can make these choices as it suits your schedule and while you familiarize yourself with the course of study. Truth is that no matter where you end up in the hospitality industry, it's all good anyway. There's growth and opportunity in all aspects of the Leisure and Hospitality marketplace. For instance…
Did You Know?

The US leisure travel market notched its fourth straight year of 5% growth in 2015, reaching $341 billion. Even stronger growth (closer to 6%) is projected for 2017, pushing the market closer to $381 billion by the end of 2017. That means more and more customers out there are seeking hospitality and thus increased demand for those of us who want to offer them a warm and welcoming hand.
Employment numbers are spectacular too. The Leisure and Hospitality industry employs 15.6 million people and about 12% of them are supervisory or managerial roles. These are precisely the types of jobs out there that are well-suited to a Hospitality Business Management graduate.
You're in the ideal place right now on eLearners.com to get matched to the perfect Hospitality Management Studies program. Click around the links on this page to find the next step that's right for you.
---
[i] onetonline.org/link/summary/11-9081.00 [ii] bls.gov/ooh/management/lodging-managers.htm#tab-1