19 Sponsored Online Programs Available
EducationDynamics maintains business relationships with the schools it features
Earn a Hospitality Management Degree Online
Earning your Online Hospitality Degree may help provide you with the skills and knowledge necessary to succeed in the hospitality and service industry. That's why
hospitality management programs teach the many different aspects of providing room and board, entertainment, and meals to those traveling on vacation or for business.
i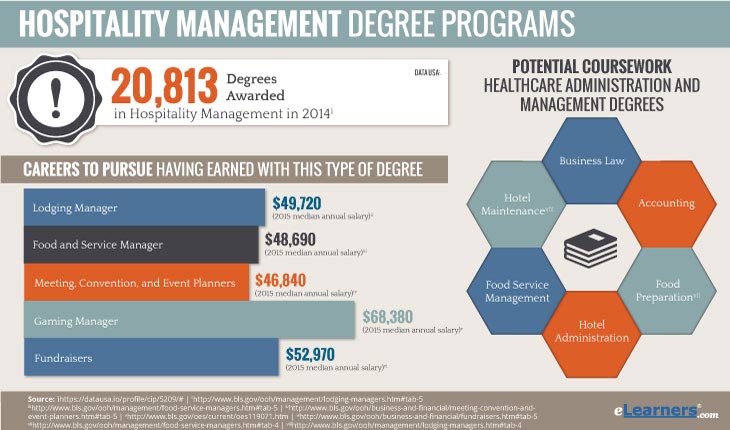 Some cities and countries rely entirely on the tourism and hospitality industries to succeed (think Orlando, Florida; or perhaps Venice, Italy; or the island nation of Fiji), which makes hospitality one of the largest industries in the United States and around the world.ii
The hospitality and service industry includes, but isn't limited to, these industries.
Lodging
Restaurants
Tourism
Casinos and Gaming
Hotels
Bed and Breakfasts
Hosting Conventions
Club Management
Airlines
Cruise Management
Theme parks
Many more
So, if you enjoy providing great rooms, great food, or great service to others, earning your online hospitality degree in management may be the perfect option for you. Continue reading to learn your different degree options, accreditations to look for, and possible careers you may be able to pursue after earning your degree.
Earning Your Online Hospitality Degree: Basics
When choosing to earn your hospitality management degree online, you're choosing the flexibility and the freedom to perform your coursework around your schedule. Many reports have shown that not only is online learning growing in popularity, but it may also help students learn. These may include better class discussions because some students may feel free to share their true opinions and an increase in knowledge retention through the use of multimedia, such as webinars and infographics.
While you pursue your hospitality management degree online, you may be taught a combination of business courses, hospitality, tourism, the humanities, and social sciences. The program goal of an online hospitality degree is to give you the skills and knowledge necessary to excel in a management position in one of the many different components of the service and hospitality field.
Did You Know?

Globally, the hotel industry generates roughly between 400 and 500 billion U.S. dollars in revenue every year. One third of that revenue is attributable to the United States. And, travelers from China, Germany, and the United States are among the biggest spenders.

Click to Tweet
Hospitality Management Programs: Choosing the Right One
While pursuing your online hospitality management degree program, coursework and curriculum focus on providing you the skills and knowledge to work in the hospitality and service industry. This includes business courses with special attention on the unique aspects of providing hospitality and entertainment. These courses may include rooms division management, food and beverage operations management, financial analysis for the hospitality industry, and hospitality facilities management.
Online hospitality degree Courses may teach you how to:
Coordinate front office activities of hotels
Monitor staff performance
Order supplies, such as food and beverage, equipment, and supplies
Manage budgets and payroll recordsiii
Because there are so many different options available to those who have earned a hospitality management degree online, coursework typically provides the fundamental knowledge necessary to succeed in a number of different positions. Different degree levels may provide you with different levels of education and prepare you for different roles upon earning your degree. For instance, you'll be taught different aspects when pursuing an associates degree than you would when pursuing a doctorates. Keep that in mind while searching for hospitality management programs.
Different Online Hospitality Management Degrees
While scanning the sponsored listings on this page, you'll quickly notice a wide variety of names for hospitality management degrees online. That's because the hospitality management field covers so many different roles and responsibilities. Each of the online hospitality degree programs may have a different focus. That may include different curriculum, admission requirements, and coursework. And the different programs may prepare you for roles in different industries inside of the hospitality and service field.
For instance, some of the degree names and options you may see include, but aren't limited to:
Associates:
AAS in Business Administration – Meeting and Event Planning
Associates in Hospitality Management
Associates in International Hospitality and Tourism Management
Bachelors:
BA/ Service Management – Hospitality Enterprise Specialty
BS in Hospitality Management
Bachelor of Science in Hospitality and Tourism Management
Masters:
Master of Science in Hospitality and Tourism Management
Master of Science in Entertainment Business
Master of Tourism Management
These different options are why it's important for you to research individual schools and programs so that you may find the perfect hospitality management degree online program for you.
Accreditation for Hospitality Management Programs
The Accreditation Commission for Programs in Hospitality Administration (ACPHA) is the combination of two former accrediting bodies for hospitality management programs. Formerly, the ACPHA focused on accrediting bachelors degree programs in hospitality management and the Commission for Accreditation of Hospitality Management Programs (CAHM) focused on accrediting associates degree programs.
In 2008, the two bodies combined to form the current ACPHA. Now, the ACPHA sets the standards to ensure students, the public, and future employers that programs in hospitality management provide students with a certain level of education. These standards include properly using the resources and teaching methods available to provide students with the knowledge and skills necessary to excel in the decision-making roles of hospitality management.
Possible Careers After Earning Your Hospitality Management Degree Online
There are many different careers you may pursue after earning your hospitality management degree online. The most common professions are food service manager, meeting, convention, or event planner, and lodging manager. None of these professions require any type of post-secondary degree. Instead, many who hold these jobs only have a high school diploma or equivalent, plus years of experience in the respective field. However, more and more employers are looking for some post-secondary education.iv
For example, when it comes to event planners, more employers are looking for candidates with a bachelors degree because of the increasing complexity of their responsibilities.v This is also true for food service managers at upscale restaurantsvi and for lodging managers. Most large, full-service hotels require applicants to have at least a bachelors degree, possibly a bachelors online hospitality degree.
The United States Bureau of Labor Statistics (BLS) expects job growth for both food service managers and lodging managers to increase at an average pace for the years 2014 to 2024. For food service managers, the BLS expects a 5% increasevii and for lodging managers an 8% increase.viii When it comes to convention and event planners, the BLS expects there to be a 10% increase during those ten years, which is an above average increase.ix
Take the Next Step to Earn Your Online Hospitality Management Degree
Earning your hospitality management degree online may help provide you with the freedom and the flexibility to perform coursework around your busy schedule. And, as those in the service industry often work outside normal 9-to-5 business hours, this may provide an opportunity to work in the hospitality and service industry while pursuing your degree.
Hospitality management covers a number of different aspects of the service industry. Click on any of the sponsored listings on this page to learn more about specific programs and then contact the schools directly to request more information.
---
[i] bls.gov/ooh/management/lodging-managers.htm#tab-2 [ii] www.bls.gov/emp/ep_table_201.htm [iii] bls.gov/ooh/management/food-service-managers.htm#tab-2 [iv] bls.gov/ooh/management/lodging-managers.htm#tab-4 [v] bls.gov/ooh/business-and-financial/meeting-convention-and-event-planners.htm#tab-4 [vi] bls.gov/ooh/management/food-service-managers.htm#tab-4 [vii] bls.gov/ooh/management/food-service-managers.htm#tab-6 [viii] bls.gov/ooh/management/lodging-managers.htm#tab-6 [ix] bls.gov/ooh/business-and-financial/meeting-convention-and-event-planners.htm#tab-6