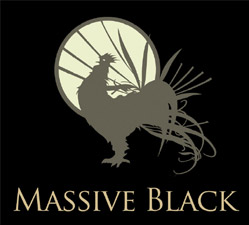 Video games have come a long way since 1980, when Pac-Man began eating his way through a computer-generated maze and into arcades across America.  But even with today's mind-blowing innovations in technology and design software, modern computer animation still relies on one key thing: good, old-fashioned creative vision.
As President, CEO and co-founder of Massive Black, a full production art, design, and animation studio, Chris Hatala knows all about pushing technological and artistic boundaries for the sake of creating visual magic.  Hatala and his company are experts in cutting-edge concept art, illustration, development and animation for film, television and video games.  I-Robot, King Kong, and the Academy Award-winning Lord of the Rings series are just a few major films featuring Hatala's work. 
Prior to working with director Peter Jackson on the Lord of the Rings films, Hatala worked at Tippett Studio on the films Cats & Dogs and Evolution.  But his work doesn't stop with animation for films.  He has also contributed his skills to an array of video game projects, including Project Offset for Intel, the Tomb Raider series, and Bioshock 2.
In addition to his work as an animator, Hatala has established himself as an educator in the field, lecturing conferences, workshops, and symposiums around the world. Notable engagements include TEDx Brussels, Thinking Digital, and GDC Europe.  Read on to learn how Hatala became a trailblazer in the computer animation world and how he keeps fueling that innovation today. 
eLearners:When did you first find yourself interested in computer animation?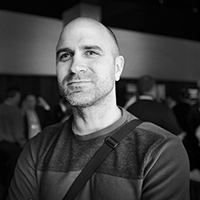 I think every kid has at least some interest in animation from the cartoons or movies they see. Animation is a medium that easily transports the viewer into an alternate world, one where the possibilities are endless. So, my love for animation started early, pretty much like any other regular kid, and progressed as time went on: Saturday morning cartoons, Disney movies, live action game changers like Star Wars, and later, video games.
While I always dreamed of working in a traditional animation studio, and did well in early scholastic art courses, I didn't really have much experience in animation, if any at all, before college. The only real [loose] experience I received in traditional animation was an opportunity in high school to work at an animation advertising studio, called Bandelier. I say "loosely" since my job was to paint animation [celluloids], not to actually animate anything. Regardless, I thought it was an epic opportunity, and absolutely cherished my time there. Without question, this cemented my desire to pursue animation and started me on my path.
eLearners: Your undergraduate degree was in Industrial Technology. What is that? 
At the time, Industrial Technology was really the only degree ASU offered which required the use of computers (yeah, I'm old). It mostly consisted of using Autodesk's AutoCAD to draw orthographic machine parts. The official degree was "Industrial Technology: Interactive Computer Graphics (ICG)." There weren't many animation opportunities within the degree, but there were some, and that was enough for me. I would occasionally visit the restricted Silicon Graphics computer lab on campus where the pros would show me demos, etc., and I was just blown away by what those machines could do; I knew I wanted to learn more. Upon finishing my undergraduate degree, I had a fair knowledge of using the many different software of the day (3D Studio R1/R2 [without the 'Max' part], Lightwave [love that Video Toaster!], Photoshop, Macromedia's Director, After Effects, and Premiere), and how to author a CD Rom, which is pretty much dead with the dodo bird now. Regardless, this certainly prepared me for what was yet to come.
eLearners: As compared to your undergraduate degree, how did your MFA prepare you for your professional journey?
Contrary to the somewhat general nature of my undergraduate degree, pursuing my MFA was a much more focused effort from an animation standpoint. Like most schools, even in a Masters program, I did have my fair share of required, non-animation courses. But ultimately, I was able to pursue that which I always wanted, real 3D animation skills. I started with a limited knowledge of 3D animation, and animation in general, so my first task was to get the fundamentals down and to also learn the tools/software, which, at the time, was called 'Power Animator'. Power Animator was definitely a tough program to get my head around. I finished one rendered bouncing ball animation before the first version of 'Maya' came on the scene. Maya was a godsend and is by far the most elegant animation software I've used to date. Knowing my animation skills were still very lacking, I figured it was wise for me to learn Maya as thoroughly as I could, much like an artist learns to use graphite, charcoal, or paint. Along with taking classes in animation, I simply went through every tutorial available. It didn't matter if I remembered all the instructions of a particular tutorial; it was more about going through the motions. I knew if I was going to make a profession out of this someday, I would need to spend literally thousands of hours in this program.
Once I received my MFA degree, while I did have a decent foundation in animation, I was so hungry for more. Funny enough, the most important thing I took away with me were my connections with the industry professionals that had been my instructors. These relationships eventually led to my first animation job in the film industry.  
eLearners: After being a successful animator on major big budget films, what prompted you to found your company?
Chris Hatala's Film Animation Reel
I consider myself extremely lucky to have been able to work alongside the industry legends and plethora of extremely talented folks at Tippett Studio and Weta Digital. I am still in awe of how good everyone was at their craft – masters. If you go into either of those places with an ego, you won't last long. The amount of animation knowledge I gained through these experiences was intense, truly a dream come true. And while I will always be grateful for the direction and knowledge passed down to me from all the incredibly talented folks at these studios, I was also curious what it would be like to strike out on my own. In college, a good friend of mine, Justin "Coro" Kaufman, and I would always daydream, talking about what it would be like to run our own studio. To my memory, we never really considered it an actual possibility since it was just so far out of our grasp at the time. But lo and behold, in 2004, after a mere four or so years in the film animation industry, I got a call from him where we discussed the actual possibility of starting our own thing. Some other friends were interested as well, so, while the company officially formed in 2004, I finished work on King Kong (2005), and then headed back to San Francisco to give it a go.
eLearners: What are some of the biggest challenges you face as a leader in your industry?
There are so many challenges; it's hard to know where to begin. The difference between animating eight or more hours a day for someone else and owning/operating your own business is pretty much the difference between night and day. There are of course many more responsibilities: worrying about getting your next client, keeping the team happy, and making sure the business has longevity are just a few. The team is assembled of such talented artists that it was never an issue of quality – they crush every project thrown at them. And while we did get a fair amount of animation jobs in the first few years, as time went on, I personally found myself animating less, which was a challenge in itself. I would say the greatest artistic challenge of all is staying relevant. For instance, I probably can't even count of the amount of times the team has been tasked with concepting a "space marine," so always maintaining originality in a hugely popular icon can be challenging. While the team never seemed to have a problem with it, I'm guessing that has a lot to do with them staying up to date on what's out there already: movies, games, TV, etc.
eLearners: What are some of the most recent/biggest game changers in the animation industry that will directly affect the future of gaming?
Animation in games today is an ever evolving beast. The success of a well animated game today seems to have more to with good programmers, than finding a great animator. Games are a super complicated medium which take a lot of time, energy, and money to complete (likely more than anyone not in the games industry would ever believe). Having great animations is just a very small piece of the pie. The way those animations are played, transitioned, and used, make all the difference in the world. Thus having great animations and poor programming can result in a "not so great" looking product. On that note, there are always new tools being written for the game engines out there to help assist in this. From Unreal to Unity to Cryengine, the game engines of our time are constantly trying to help make this process easier and as slick as possible. Also, if funding and time allows, some teams have the daunting option of making their own game engine in order to do things exactly the way they want. That team, I think, are the real game changers.    
eLearners: Animation has evolved immensely over the years. How do you stay relevant? Has your skillset evolved along with the industry?
This answer is easy: work hard and watch as much animation as you can. I can't tell you how many times I've seen a movie, game, or whatever with animations that are just jaw dropping. Stuff that makes me think, "Wow, that is incredible. How did they do that?" The animation is just so good, I'm taken back. I mean, I know how they did it since it all goes back to hard work, but I certainly question if I personally could ever have achieved the quality mark they hit. While this may seem like a downer, it's actually a great feeling, since it pushes and challenges you to do better. The worst place you can be from an animator's standpoint is one of complacency. How can you ever get better if you're never challenged or no one is better than you? So, when you see something like that, don't get all bummed out, study it, learn from it, and apply what you see to your own stuff.  
eLearners: From your perspective, what are some of the most inspirational innovations in the industry?
Hmm… I guess this would just be software driven, like updates to Maya, or Max, or Motion Builder. The more tools out there that help an animator do their job more cleanly and efficiently, the better. Maybe someone will take the initiative to create new software that takes all the best parts of existing animation software and combine them. Sign me up!
eLearners: Where did the idea come from to create Zombie Playground?

Zombie Playground is the brain child of the amazing Jason Chan. Jason created a piece of artwork he affectionately titled "Zombie Playground" that has gone on to not only inspire us, but also thousands of others out there. You can check it out here. We all loved the painting so much, and just thought it would make an incredible game idea. Thus, "Zombie Playground" the game was born. It's taken a lot of work to get to where we are now with the game, and we are hopeful we can release what we have to masses sometime in '14 (fingers crossed). There's still plenty of work to be done in order to make the game stable, feature-full, and most importantly, fun. But we are confident that upon release it will be all those things and more. You can check out more of Jason Chan's incredible artwork here.
eLearners: For individuals hoping to have a career in animation or game design, what are some of the programs and skills that are absolutely necessary?
There's really only one thing anyone needs to do to get into these professions: work your ass off. And when you are sure you're working at your maximum capacity… work harder. I wouldn't say there are any particular programs that are absolutely necessary, since it's a skill set you are trying to build, not a knowledge of a particular software. If you have the skill set, an employer will train you in the software. So, pick whatever comes most naturally from a software perspective and just go for it. There's tons of free stuff out there, like the Unity game engine, and some educational versions of popular animation software. Just get your hands on whatever and start going. It's not something you can learn in a week or a day or a month – this stuff takes time – so the sooner you get on it the better. Don't get hindered by thinking you need a particular software to be successful, because that will only slow down the process.
eLearners: Is it difficult for someone to decide to make a career change and pursue a design or animation career? Are there any professions that seem to transition more easily than others?
The difficulty solely lies in the amount of time you can dedicate to the craft. The more time you do something, the better you become at it, so it's just all about time and how hard you work. Of course, if you're going from a profession where you use computer software all day, you may have an easier time transitioning to a new profession that also uses software. But the similarity likely ends there. Even transitioning from design to animation or vice versa is a drastic switch. I guess that's why they are both considered their own profession and not just lumped together as one. 
eLearners: Is it ever too early to start building a portfolio? 
It's not really ever too early. Just don't get depressed when someone tears apart your portfolio – get inspired. Also, school is to learn, so try not to put your school projects in your portfolio. You should learn the skill, idea, or application in class, but then transition it to your own work at home. All too often I see school homework in demo reels, and it's pretty obvious. That typically means you're not working hard enough.
Yes, if you are pursuing a job in animation, no one wants to see how great you are at making textures, doing lighting, rendering a scene, or even your life drawing skills; we want to see your animation! Forget all that other stuff and focus. Focus on what you want to do most, and just do that. All those other things are in and of themselves true professions, so make sure you don't get sidetracked. It's quite different if some of those things interest you, of course, but don't get caught thinking they need to be incorporated into an animation demo reel.
In a portfolio, I simply look for a firm grasp of animation fundamentals. If I see that, it's typically a pretty good demo reel. I also like to see a wide range of things: characters, creatures, spaceships, etc. Having a variety of animations on your reel tells me you can handle anything that's thrown your way. But be warned, don't put anything on your demo reel that you absolutely hate to animate, or else you could be stuck doing that the rest of your life.
eLearners: You must be inundated with resumes and requests for internships or employment opportunities. What are some of the things you look for when considering new hires (personality traits, background, experience, skills, degree types, etc.)?
The crew at Massive Black is on the smaller side and very tight. If there happens to be an opening for employment, we of course look for talent first. That said, it's also just as important that the candidate is good natured, can get along with the rest of the team, and leaves their ego at home (or else it will surely be crushed).
eLearners: Do you have any parting words of wisdom or advice for aspiring animators? Is there anything you hope to see from future animators?
I said it earlier, but it can't be said enough. To all you aspiring animators, work your ass off! There is a direct correlation between how hard you work versus actually attaining what you strive for. It's an easy formula really, as long as you don't get lazy and complacent. Once you reach your goal, you will have the choice to relax a bit, since you'll then know what it takes to stay where you are. Until then, forget about sleep, drink lots of water, and work your ass off. If you do that, your animation dreams will surely come to fruition.
Thanks for this interview opportunity; I wish you all the best! And never give up on your dreams!

The expert interviewed for this article may be compensated to provide opinions on products, services, websites and various other topics. Even though the expert may receive compensation for this interview, the views, opinions, and positions expressed by the expert are his or hers alone, are not endorsed by, and do not necessarily reflect the views, opinions, and positions of [eLearners.com] or EducationDynamics, LLC. [eLearners.com] and EducationDynamics, LLC make no representations as to the accuracy, completeness, timeliness, suitability, or validity of any information in this article and will not be liable for any errors, omissions, or delays in or resulting from this information or any losses or damages arising from its display or use.