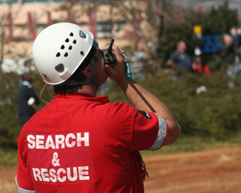 Superstorm Sandy devastated towns and cities from Florida to Maine, leaving millions of Americans without power, food, escape routes—or even homes, in the worst cases. Some experts believe we'll see more storms like this in the future. These scientists report severe weather patterns—recipes for hurricanes, tornados, tsunamis, dust storms, flooding, etc.—may be the result of global warming.[i] Whatever the causes, we know that our manmade communities can't always withstand Mother Nature's forces. And we know emergency help is essential.
If you felt inspired by the relief efforts and the teams of rescuers that came to curb Sandy's effects, you might be happy in an emergency management career.  Emergency professionals work for different groups—including local, state, and federal government; environmentally-conscious corporations; and nonprofit charities like The Red Cross or The Salvation Army. They can perform all different kinds of work—from behind-the-scenes office support, to hands-on rescuing.
Here are just a few roles that could help you get involved…
Disaster Response Program Coordinator
In different organizations these pros may have different titles, but program coordinators are essentially managers, who supervise and coordinate disaster response efforts or emergency preparedness programs. Coordinators often recruit and assign volunteers. They may oversee training and manage program budgets. Some coordinators travel to industry conferences or political meetings, where they learn and advocate on behalf of their group's mission. Program coordinators are typically stationed in office environments, but they may perform on-scene duties during actual emergencies or extended periods of crisis.
Management and supervisory experience may be helpful in landing a job like this. A bachelor degree in business or project management may also be useful, if not an MBA. And if you hope to work for a nonprofit organization, you might want to start building your volunteer resume now. Read more about volunteer plans and work experience here.
Disaster Assistance Employee (a.k.a. FEMA Reservist)
Delivering emergency support can be noble work, but crisis-level assignments are stressful. And disaster doesn't strike every day. If you're open to the idea of on-call emergency work, you might want to pursue a DAE role with an agency like FEMA. DAE stands for disaster assistance employee—a worker who is called to disaster areas periodically, to work alongside team members with specialized skills. DAEs are paid an hourly rate (ranging from $11 to $42, depending on skill set and experience), and reimbursed for travel to affected areas.[ii]
If you study information technology or technology management, you might be suited to tech-based role within a joint field office or disaster recovery center. If you study law enforcement or public safety, you might be suited to maintain ground-level security—preventing looting and enforcing curfews or evacuation orders. Specific education and/or background experience requirements may be attached to individual job openings.
Disaster Mental Health Workers
If you've ever thought about working as a counselor or a psychologist, and you have a particular interest in post traumatic stress or community service, you might want to lend your talents to a disaster action team—like the ones assembled by some branches of the Red Cross.[iii] Action teams deliver on-site support to victims of disaster/destructive events. Teams may include volunteers and employed professionals, each with specific skills or training.
Not all of the mental health professionals who work in emergency relief are salaried employees. Some volunteer their services in the wake of a disaster, or they may be paid for hours worked during a particular crisis situation (but not a fulltime salary). To keep your options open, look for counseling/psychology programs that are designed to prepare graduates for state licensure. Or consider a nursing degree with a concentration in psychiatric/mental health nursing. (These programs are mostly available to graduate nursing students who intend to work as nurse practitioners.)
Phlebotomist (or Blood Collection Specialist)
Organizations like the Red Cross often conduct blood drives or maintain blood banks so that life-saving supplies are available in the event of a medical crisis or natural disaster. These organizations may employ full-time collection specialists who work with donors and oversee collection activities. Hiring requirements vary by employer and state regulations, but a credential in phlebotomy or some blood collection experience is usually required.
Unless you are already a licensed nurse or healthcare worker with similar experience, phlebotomy training must include hands-on practice in actual blood drawing/collection. Find out what your state's requirements are, and look for campus colleges in your area that offer relevant diplomas/certificates.
---
[i] news.nationalgeographic.com/news/2012/08/120820-extreme-weather-heat-waves-science-environment-global-warming/
[ii] fema.gov/terms-employment#2
[iii] arkansasredcross.org/general.asp?SN=17167&OP=17168&SUOP=17178&IDCapitulo=8t5vd1p333