You may think that working within finance only revolves around handling money. While money is a large part of this sector, you could choose from a diverse array of top finance jobs because the finance industry is so multi-faceted.
What are the different specialties within finance?
Within the finance industry, there are sub-industries that may include niche opportunities. Some possible specializations are investment banking, hedge funds, commercial banking, private equity, venture capital, public accounting, and insurance.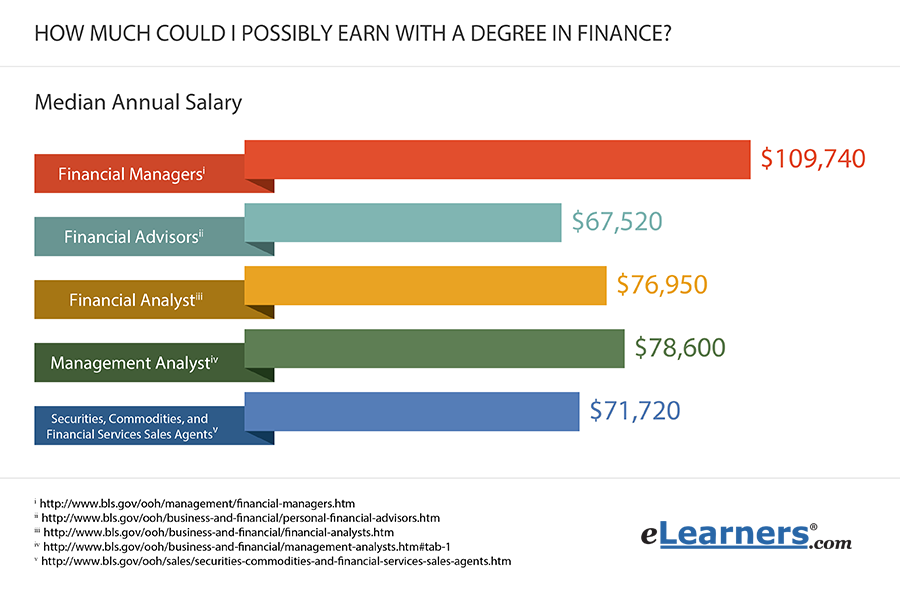 Below are some potential finance job titles, finance salary information, and finance job outlooks that may help you when selecting a finance career.
Financial Managers[i]
Financial managers often work in industries like banking and insurance and they comprise plans for the long-term financial goals of organizations.
Median annual salary: $109,740
Job projection: 9%
 
Financial Advisors[ii]
Financial advisors give financial advice to people along with assisting with investments, taxes, and insurance decisions.
Median annual salary: $67,520
Job projection: 27%
 
Financial Analysts[iii]
Financial analysts evaluate investment opportunities, may work in banks, pension funds, mutual funds, and provide guidance for organizations and people making investment decisions.
Median annual salary: $76,950
Job projection: 16%
 
Management Analysts[iv]
Management analysts, or management consultants, often travel to meet with clients and advise managers how to increase an organization's profits.
Median annual salary: $78,600
Job projection: 19%
Auditors[viii]
Auditors prep financial records, ensure that they are accurate, and assess financial operations to make sure they are running smoothly.
Median annual salary: $63,550
Job projection: 13%
 
Loan Officers[ix]
Loan officers could work in commercial banks, mortgage companies, or credit unions. They analyze, authorize, or recommend approval of loan applications for people or organizations.
Median annual salary: $59,820
Job projection: 8%
What are some possible benefits for earning your MBA in finance?
If you're curious about a MBA in finance salary, you should know that an advanced degree could mean MBA finance degree holders have the competitive edge. When it comes to finance careers, an MBA may indicate dedication and perseverance to potential employers. Graduate level coursework might help students in applying theoretical concepts to real-world situations and similar strategies could be employed in middle and upper-level management finance positions. Furthermore, MBA graduates who jumpstart their finance careers in top management slots may enjoy additional perks such as expense allowances, club membership, vacation packages, and stock options.
What about the potential perks of earning a doctorate in finance?
While earning a doctorate in finance may seem daunting, it could be a great opportunity. Performing independent research in an area you choose might signal to future employers that you have what it takes to begin and finish large projects—with minimal supervision. Pursuing your doctorate could show that you're an expert in your field—especially if your thesis is closely related to your intended career path. PhDs also tend to attract respect.
---
[i] bls.gov/ooh/management/financial-managers.htm  [ii] bls.gov/ooh/business-and-financial/personal-financial-advisors.htm  [iii] bls.gov/ooh/business-and-financial/financial-analysts.htm  [iv] bls.gov/ooh/business-and-financial/management-analysts.htm#tab-1  [v] bls.gov/ooh/sales/securities-commodities-and-financial-services-sales-agents.htm  [vi] bls.gov/ooh/business-and-financial/mobile/financial-examiners.htm  [vii] bls.gov/ooh/business-and-financial/market-research-analysts.htm  [viii] bls.gov/ooh/business-and-financial/accountants-and-auditors.htm  [ix] bls.gov/ooh/business-and-financial/loan-officers.htm  [x] bls.gov/ooh/management/sales-managers.htm