The field of financial planning involves establishing both short-term and long-term financial goals, utilizing budgets, assessing assets and liabilities, and considering investment options. This comprehensive strategy integrates financial goals, including risk management, investments, as well as tax planning, retirement, and estate planning. This industry also includes financial analysts who study the financial performance of companies.
What do financial planners do?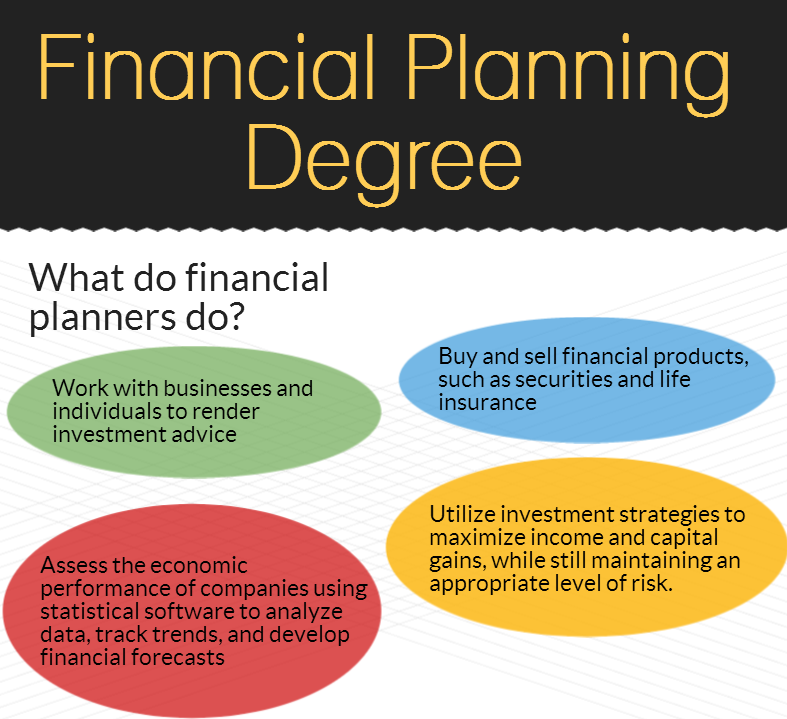 Financial planners work with businesses and individuals to render investment advice, as well as financial planning services.
Taking into consideration the client's short-term and long-term financial goals, financial planners utilize various investment strategies to maximize income and capital gains, while still maintaining an appropriate level of risk. Some of the ways financial planners help their clients meet their needs is through purchasing securities such as stocks and bonds as well as through mutual funds, exchange traded funds, and various insurance products.
To assist clients in making sound investment decisions, financial planners gather financial information, analyze it, and make recommendations. Financial planners may choose to specialize and work strictly with businesses, or with individuals to assist them with retirement, estate planning, and funding college education.
Financial planners working with businesses are often referred to as financial analysts. They assess the economic performance of companies and firms and use excel models and statistical software to analyze financial data, track trends, and develop financial forecasts. They also may work strictly on the buy side or the sell side, or choose to focus on a specific industry, region, or type of product.
Many financial planners buy and sell financial products, such as securities and life insurance. A large portion of their income comes from fees and commissions associated with these products. Because of the commission-based nature of buying and selling financial products, financial planners are economically incentivized to build a large client base. Therefore finding new clients is an important, ongoing task that takes up a great deal of time. Financial planners grow their client base primarily through referrals from current clients, making sales calls, and marketing their services.
Many advisors participate in financial planning seminars, give lectures, and participate in business networking associations to meet potential clients. They meet with their clients on an ongoing basis to make sure their client's portfolio and financial goals are in line with the current economic climate.
What are some characteristics of successful financial planners?
To meet the competitive demands of this field, financial planners should possess the following characteristics:
Strong academic background

Excel in course work related to finance, accounting, and economics

Strong sales-related skills

Good interpersonal skills

Ability to work independently

Excellent communication skills

Computer skills
What is the work environment like for financial planners?
Financial planners typically work in office settings, although many spend a fair amount of time traveling to meet with clients.
Although they typically work within standard office hours, it is not uncommon to find a financial planner working evenings and weekends to accommodate his or her clients' schedules.
The week of a financial planner is typically filled with phone calls, meetings, conducting research, traveling, attending conferences, giving presentations, and teaching classes or holding seminars.
What kind of education background is necessary to become a financial planner?
Typically a bachelor's degree in finance, business administration, accounting, statistics, or economics is necessary to work as a financial planner. Some examples of specific undergraduate degree programs include: Associate of Science in Financial Services, Bachelor of Science in Finance, and Bachelor of Business Administration in Financial Management.
A master's degree is often desirable and helps to provide a competitive edge in this field. Course work in investments, tax law, estate planning, and risk management are also helpful. Examples of graduate degree programs include: Master of Science in Management/Financial Management, Master of Business Administration, and Master of Science in Banking and Financial.
What salary is typical for financial planners?
According to the Bureau of Labor Statistics, the median annual pay for financial advisors in 2012 was $67,520[i]. Many financial advisors also earn bonuses and commissions as part of their compensation package.
What is the outlook for the financial planning industry?
The need for financial advisors and analysts is expected to grow at a much faster than average rate for all occupations. A few factors pertaining to this increased need include:
People living longer and the need for finances to last longer

Fewer businesses offering pension plans and employees planning for their retirement on their own

The ever-changing and complex nature of investments

The baby-boomer generation expecting to retire in the next ten years

More parents saving for their children's college education early on
Despite the growing need for financial advisors, the competition is still expected to be fierce for this higher-paying occupation.
Is a financial planner certification right for you?
Prospective students searching for financial planning certificates will need to hold at least an associate's degree. Certificate programs in the area of financial management and planning are offered at both the undergraduate and graduate level.
Success in an online program is always dependent on the effort put forth by the student. The majority of financial planner programs are designed and structured for individuals with previous academic and professional experience in the areas of accounting, banking, financial operations, investing, and related fields.
If you are interested in becoming a financial planner, but currently do not have a college degree, you will benefit greatly from an associate's degree program in the subject of accounting, business, or finance.
---
[i] bls.gov/ooh/business-and-financial/personal-financial-advisors.htm